In recent times, the already-huge adult industry has gone from a grower to a shower. According to Forbes, pornography alone generates $12 billion dollars each year — more than the collective bukkake-fest of ABC, NBC, and CBS.
Also according to data, the industry is still in half-chub mode, with plenty of room for swelling even further. Is it any wonder, then, that everyone wants a piece of that creampie?
However, before dipping a toe — or another body part — into these lucrative waters, you should do your research and decide what kind of porn site you want to make.
True enough, anyone can find a place in the adult industry, but not everyone will be happy running any type of business. This is a decision you will want to make early and stick with. Switching between types of porn sites later on will be almost impossible without starting from scratch.
While the sites we will list later will each have their quirks, many will have the same essential requirements:
Some of them, like tube sites and adult membership websites, will be available as themes such as PornX. That means that they'll be much easier and cheaper to create; all you'll have to do is purchase a theme and have it adapted to your needs.
The full list includes:
Adult Tube Website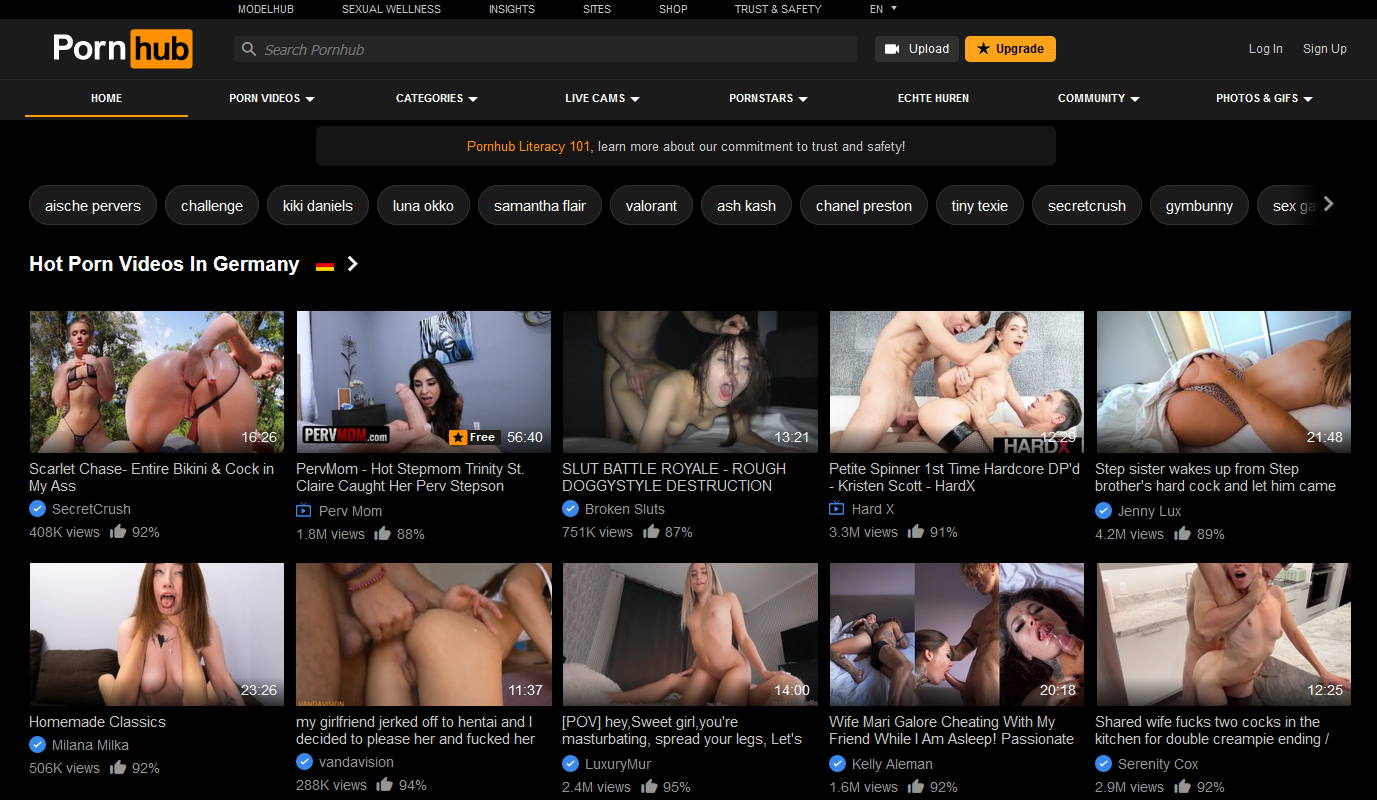 Unless they've been living under a rock for the last 15 years, pretty much everyone knows what these are. All of them — or at least the more successful ones — follow the same format.
Each is a gallery that lets users play videos by clicking on their thumbnails. The videos are sorted into categories and assigned pornstars and tags to make them easier to find. Most adult tube sites allow users to upload videos themselves.
These are popular among users and webmasters alike.
Users enjoy them because they offer a quick jolt of satisfaction at any time. Also, their sheer number guarantees variety; somewhere out there, there's a porn tube servicing any kink, no matter how specific.
They are the ultimate one-night stand, with no strings attached and no shame — unless that's your thing.
Webmasters, on the other side, like them because they can be set up with ease. In practical terms, anyone can make an adult tube website with little investment.
Also, they may be free to use, but that doesn't mean that they aren't making any money. You can monetize an adult website by finding potential partners and running their ads on your videos.
Successful tube sites are some of the most famous adult websites around. Point at a random person on the street, and chances are that they've heard of Pornhub.
Not every tube site tries to appeal to everyone, though. Some, like HeavyFetish, specialize in specific porn niches few would think of, let alone make.
Hosting-wise, you'll find that the Princess of Sin VPS plan is a great start. As for the theme, PornX will be your shake-and-bake solution; ready in one hour or less.
To learn more, check our guide on how to launch an adult tube website.
Adult Membership Website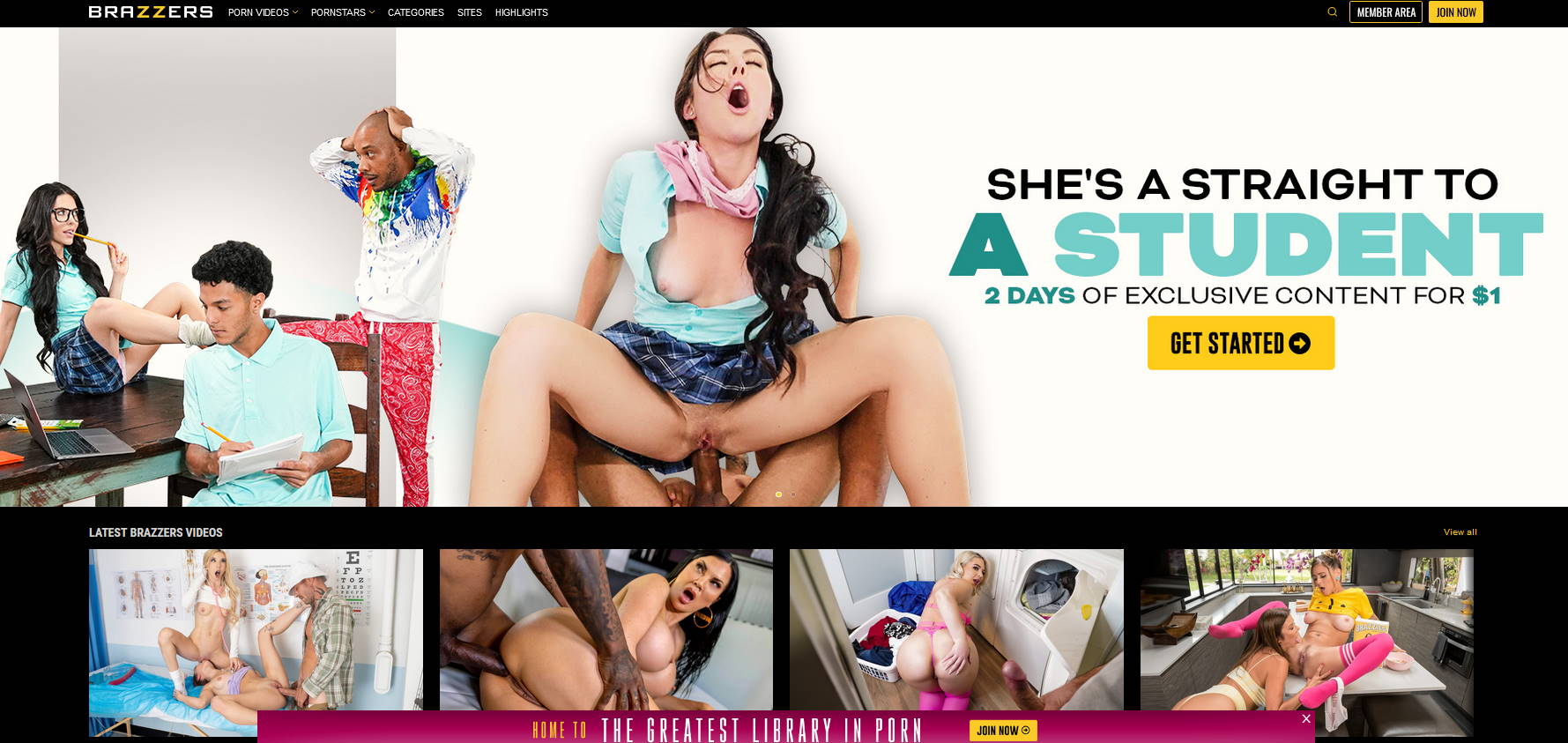 An adult membership website is basically Netflix's naughty cousin. These are similar to adult tube sites, but with gated content that users have to pay for.
Behind the paywall, they will look almost identical, with video galleries sorted by content, pornstars, and other factors. Outside the paywall, they will usually display teasers, followed by subscribe buttons.
Obviously, these sites earn by having users pay to access their content. Most offer both a free and paid trial, with the paid trial essentially being a brief subscription.
Users can often download any videos that they can view. Because all customers are paying customers, adult membership websites that manage to find their audiences often become reliable businesses.
Most adult membership websites on the internet belong to porn producers. For instance, Brazzers is an industry giant that proudly boasts of being the best porn site in the world. Blacked is another heavy hitter that focuses on interracial porn videos.
When it comes to hosting and theme, what works for tubes will also work for membership sites. The Princess of Sin and PornX will give you everything you need to conquer the fapping world.
Sex Blog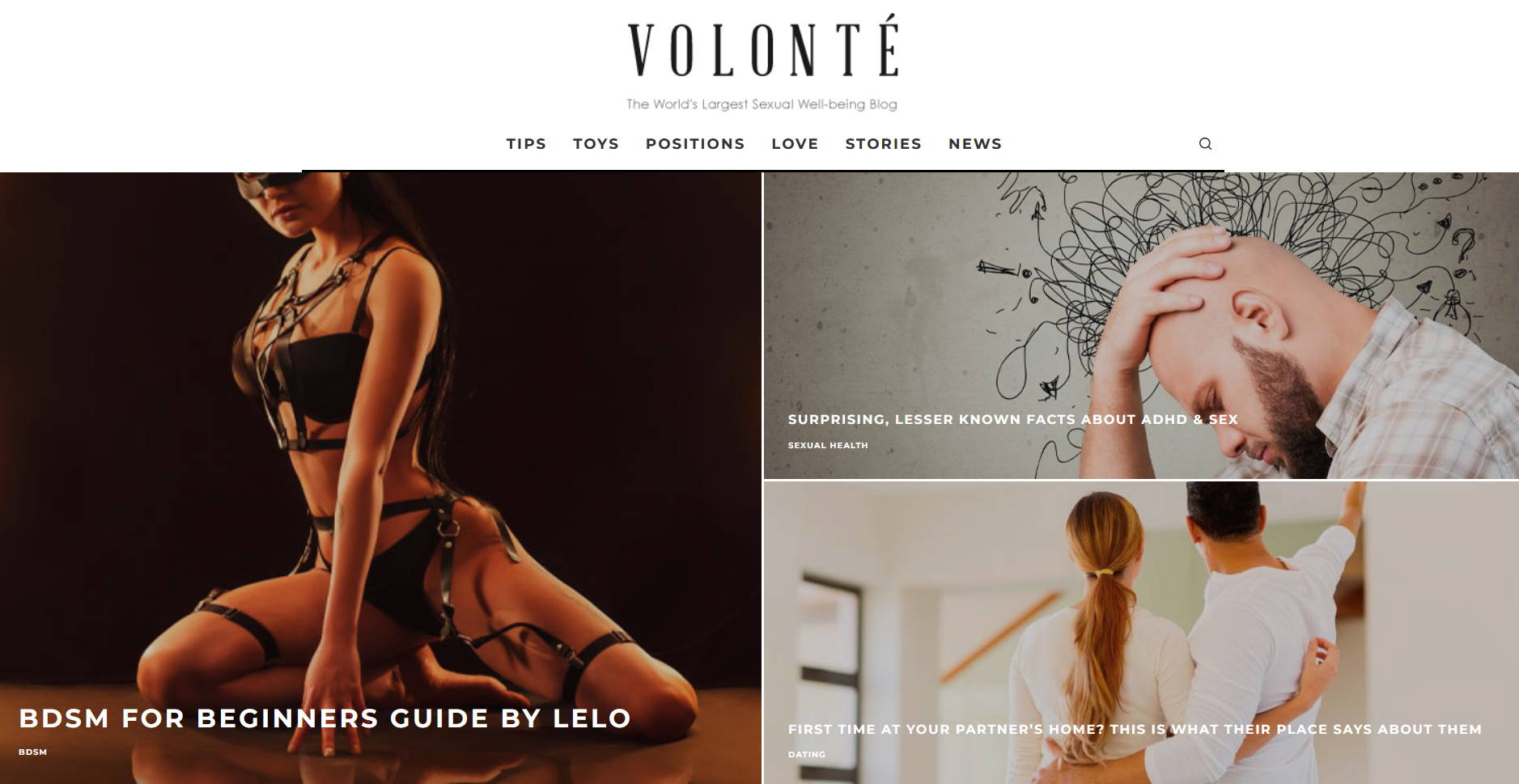 A sex blog is just that; a blog focused on written adult content.
You can base yours around a wide range of topics, from sex advice, your own sexual experiences, sex toy reviews, adult industry news, and more. Similarly, you can focus on a single niche, or cover several.
Sex blogs are flexible, but even though they may include images, captions, GIFs, or videos, they all center around text content.
They are also extremely easy to make. A popular platform like WordPress will let you create and decorate one with no coding knowledge.
A sex blog can earn you money in two ways: affiliate marketing and ads.
The former is an arrangement that you can make with other websites. In exchange for sending traffic their way, they will pay you in accordance with your deal.
Ads work as you might expect: you find a partner, sprinkle their ads over your blog, and earn from clicks.
The Lelo Blog is a great example of a typical sex blog. In contrast, the Bad Girls Bible includes detailed illustrations alongside text content.
Blogs can have longer domain names. Think of domains like josiessextoyreviews.com, dreamingofyou.sex, mykinkyadventures.xxx, and go from there.
Just remember that the more specific your domain is, the harder it will be to diversify later. For instance, if you name your blog vibratingdreams.xxx, ranking for content that doesn't cover sex toys will not be easy.
Because blogs don't require a lot of storage space, you won't need an expensive hosting plan. Our starter shared hosting plan called Playboy Bunny will only cost you $5 and easily handle a sex blog.
If we've piqued your interest in starting a sex blog, we happen to have a detailed guide on the topic.
Adult Model Website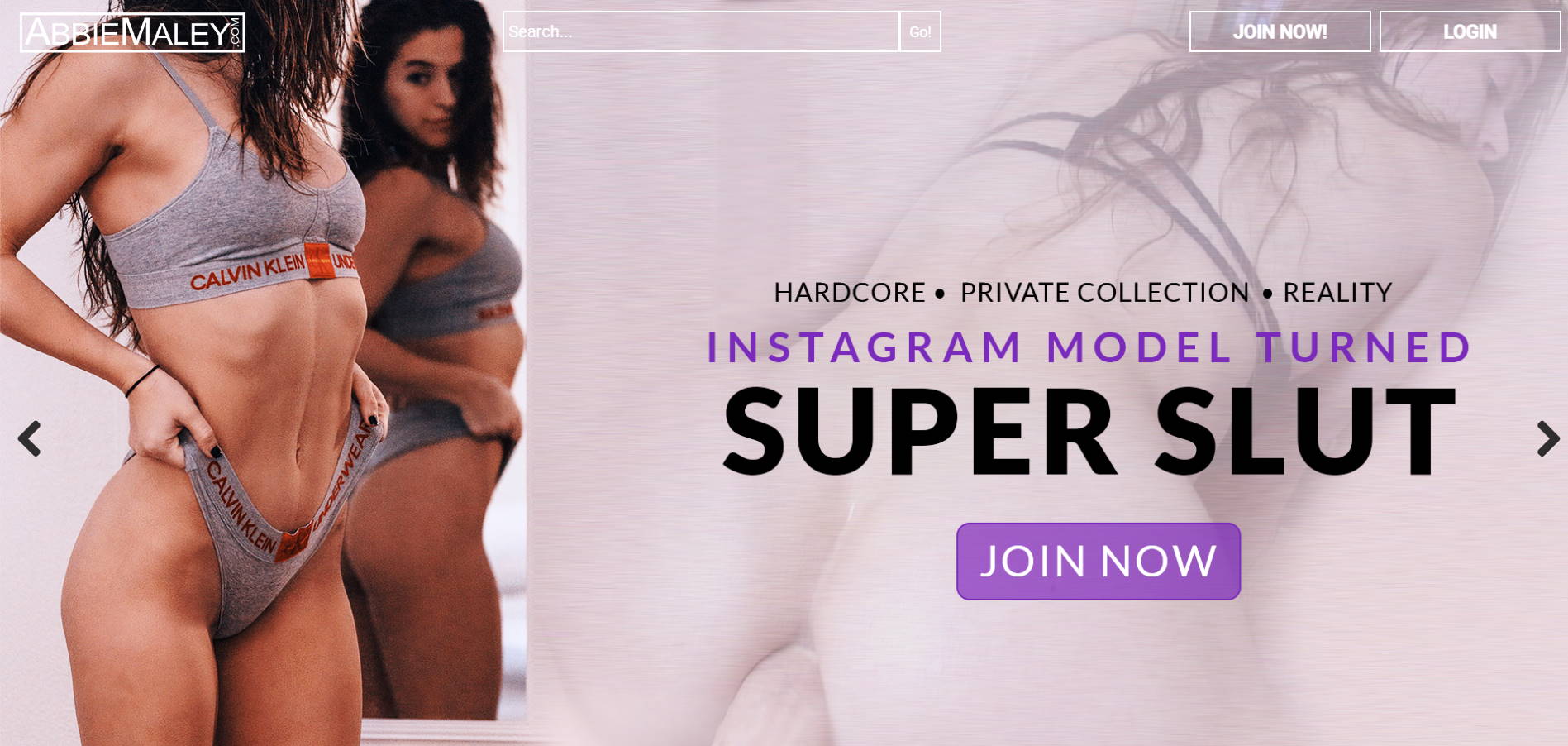 If you've got it, flaunt it. Among the many different types of porn sites, these are some of the best ways for any adult model to promote themselves and earn extra money.
An adult model website can include various functions. Most revolve around a webcam streaming feature, letting the model organize private shows for their audience.
The vast majority will also have a subscription model, letting fans pay to access gated content. A large number of adult model websites include their own stores, where users can purchase the model's pictures and videos.
Most of the time, they will also have a tipping feature for a particularly dedicated audience.
Because all of the above is monetized, a popular model can earn huge amounts of money. And if that's not enough, you can further monetize an adult model website like you would a sex blog.
Admittedly, the fans may not be too thrilled to see ads, but the option is always there.
For an example of an adult model who's killing it with softcore content, look no further than Alice Goodwin. If you're interested in the more hardcore side of things, check out Abbie Maley.
You guessed it, an adult model website's domain should include the model's name. Hosting-wise, the Princess of Sin Storage Equivalent is a great plan to start with, and you can scale later if needed.
Webcam Platform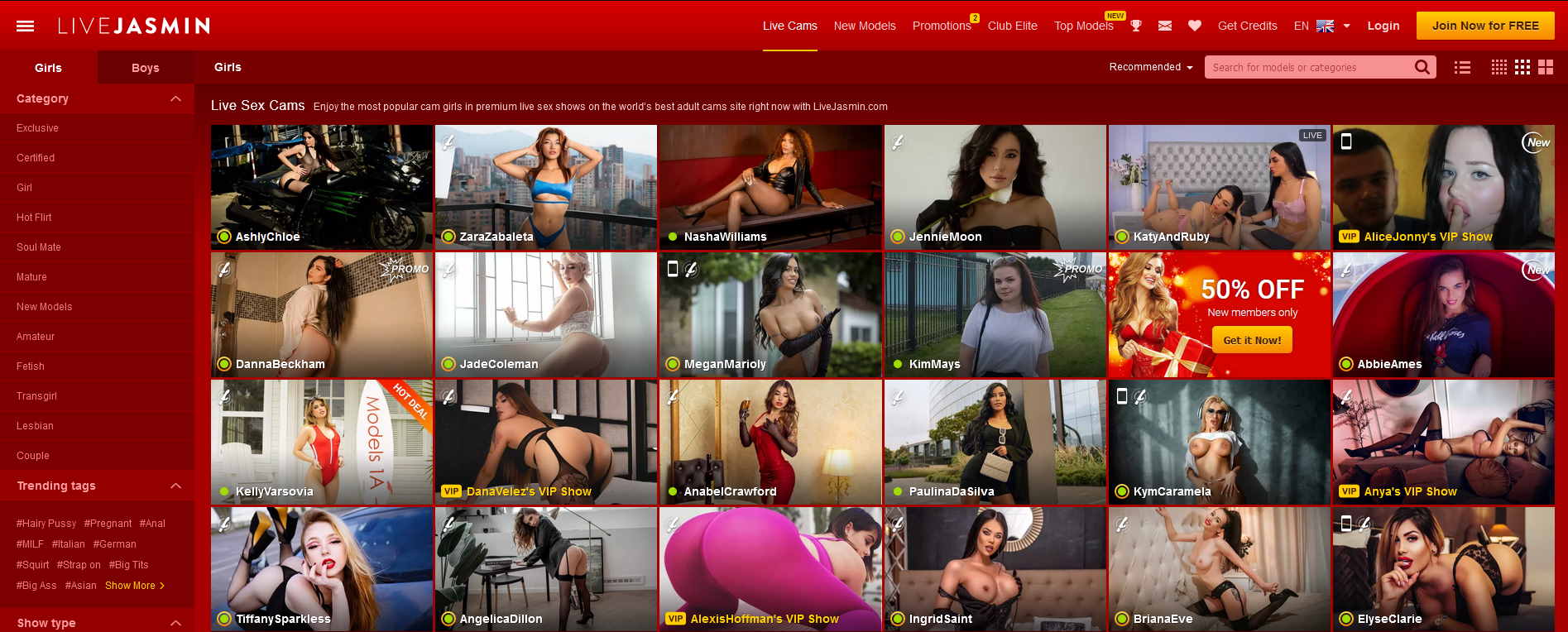 A webcam platform is essentially an adult tube site that only features live streaming, without an archive of content.
If you decide to go for one of these, you'll be taking on the role of a manager. As such, getting models to join your project and keeping them on board will be up to you.
Expectedly, a webcam platform will include all the functionality of an adult model website, with an added model gallery.
Monetization will typically work a bit differently, with models hosting premium shows that users will need to pay to watch. As the manager, you will, of course, earn a percentage of what they make.
To see the height of what a webcam platform can achieve, take a look at LiveJasmin. True Unicorns, on the other hand, is a newer and constantly growing cam site.
For a webcam platform, you'll want to start with the Three-breasted Elf plan, then upgrade that plan as your business grows.
For more tips on starting an online webcam business, we suggest reading our detailed guide.
Sex Toy Shop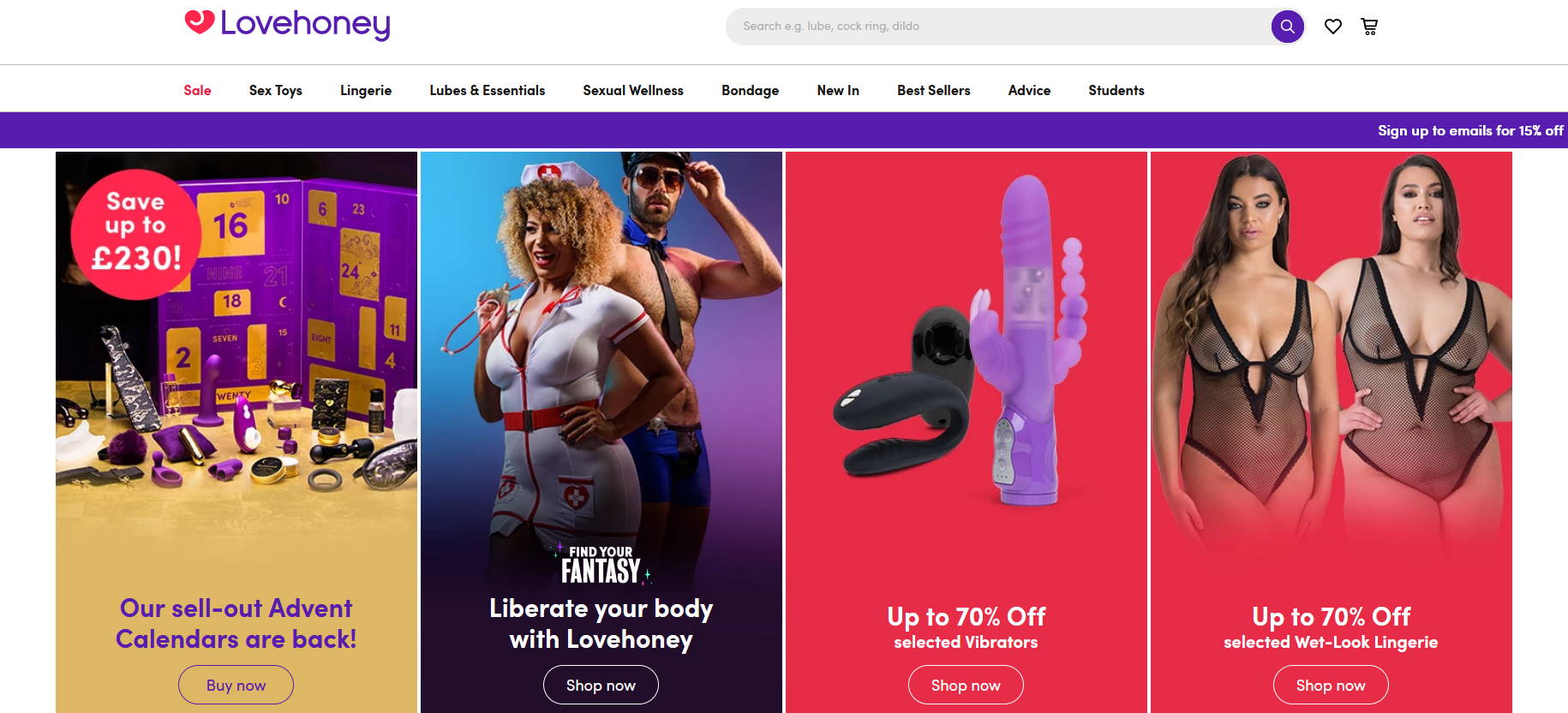 Everyone has a sex toy. If they say they don't, that just means they have two.
Jokes aside, around 44% of women between 18 and 60 have used a sex toy at least once. Men also aren't in the dark when it comes to enjoying that plastic goodness. According to one study, around 42% of men own or have bought a sex toy.
Aside from being much more fun to browse, a sex toy shop is functionally an online store. Therefore, it has a search function, a catalog, a cart and checkout, and so on.
As the owner, you will earn when users purchase your goods. Who says that money can't buy happiness?
Some of the more successful sex toy shops include the Adult Toy Mega Store and Love Honey.
You could get away by purchasing a more modest hosting plan like the Stallion for your sex toy shop, but we would still recommend a VPS plan like the Blessed Dwarf. You'll get a lot more storage space, stability, reliability, and maximum traffic.
If you want to get down to business with sex toys, check our guide on setting up a sex toy shop.
Escort Directory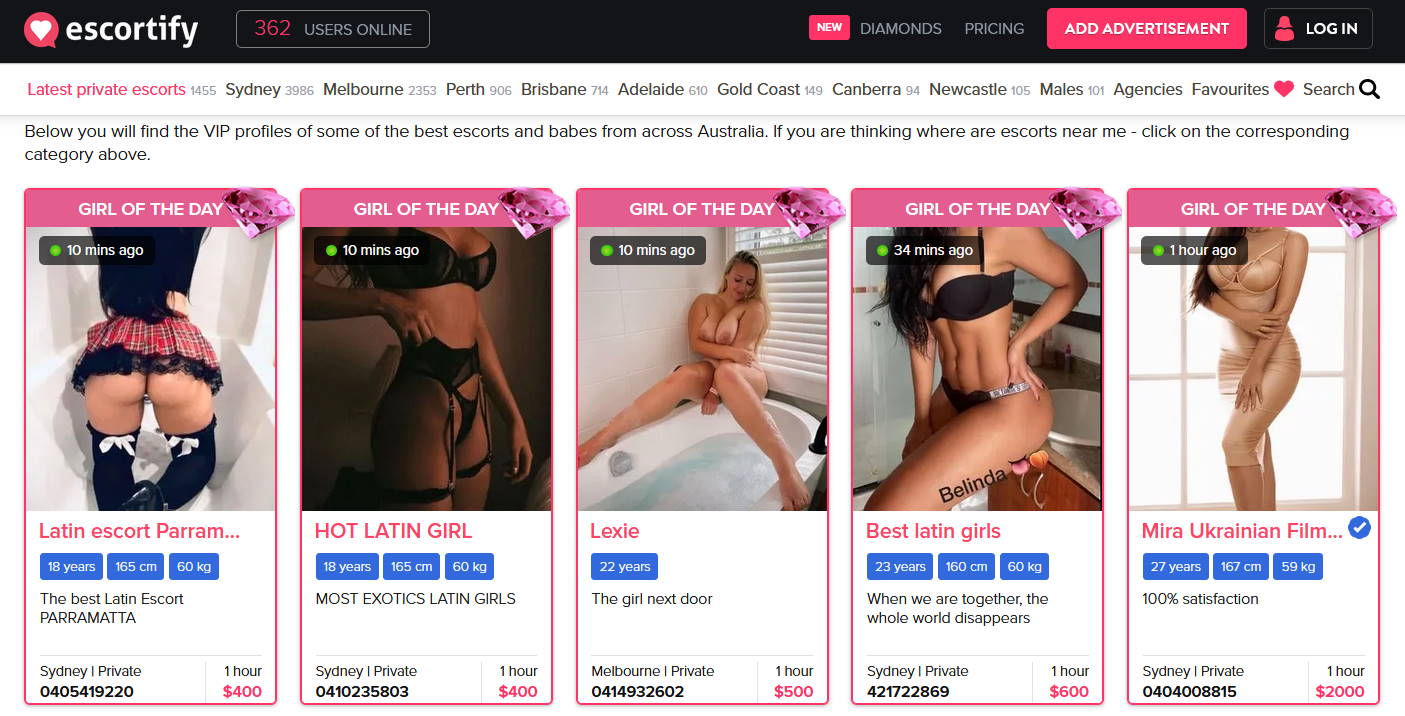 Escort directories are like online candy catalogs — if your preferred candy is tits, ass, or cock. They make their business by listing escorts in exchange for fees, and typically offer a lot of variety.
Escort directory must-haves include a catalog, a search function with detailed filters, and a chat system. Bonuses include a forum and a membership system.
When running an escort directory, it's crucial to keep it updated. Nothing kills your business like listing inaccurate information, retired escorts, etc. You'll find none of that in cream of the crop websites like Escortify and City of Love.
For the hosting plan, you can't go wrong with the versatile Princess of Sin VPS. If you're working on a budget, though, a cheaper hosting plan like the Mattress Actress will do the job.
Escort Agency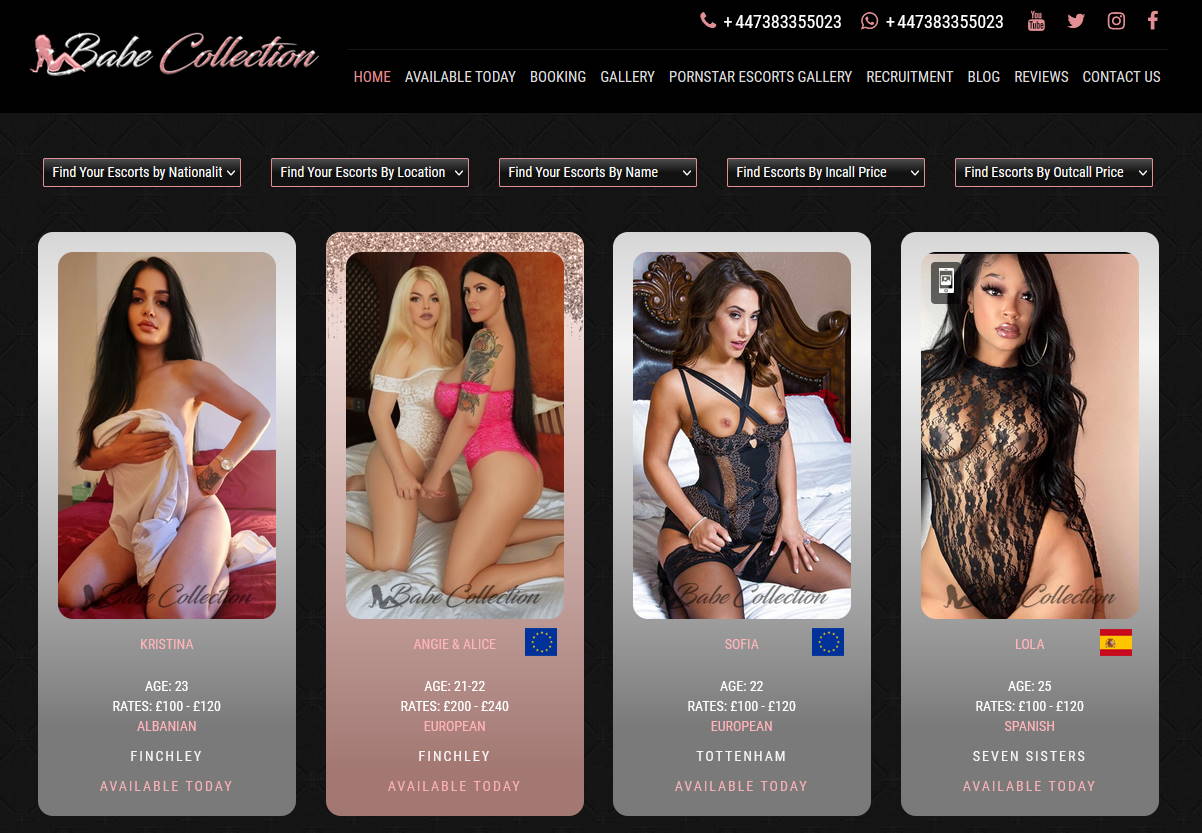 Given that they deal in the same kind of sweets, escort agencies and directories are quite similar. They have almost the same structure, with agencies focusing on quality over quantity and variety.
With these, users won't find as many different escorts as they would in directories, but whoever they end up hiring will give them the ride of a lifetime.
As the name implies, the escorts you list on your agency's website will see you as their agent. This is not a fire-and-forget sort of business.
Take care of your girls and guys, and they'll take care of you. See the Babe Collection and Gentlemen4hire for lessons on how to do it right. A purple suit and a limo are not required, but checking our article on starting an escort business would certainly help.
Like with escorts themselves, you get what you pay for.
If you want your escort agency lean, responsive, and STD-free, you'll go with the Princess of Sin VPS hosting plan. Otherwise, stick with the more-budget friendly Blessed Dwarf.
Adult Social Media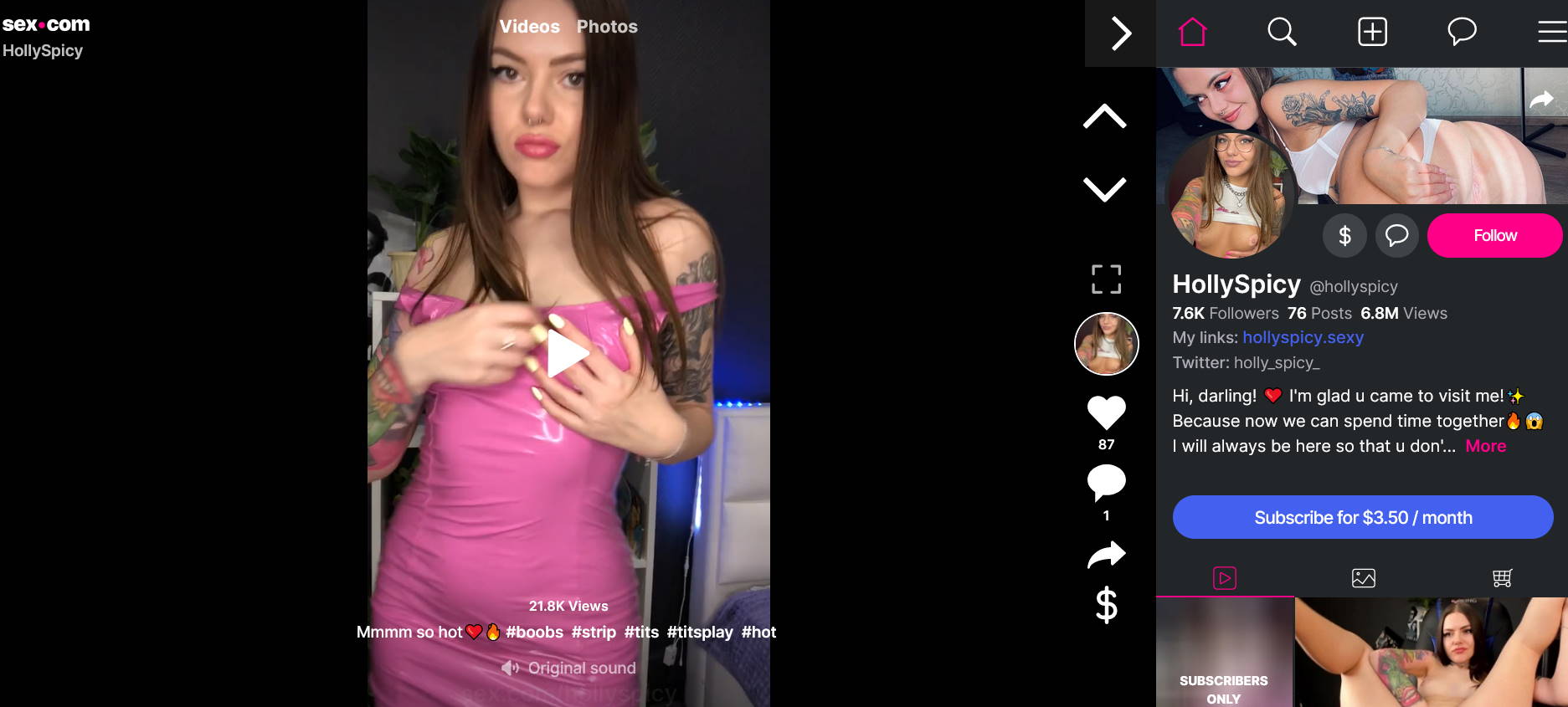 With sex being such a huge part of people's lives, you'd think that they'd be eager to talk about it. Instead, most major social media sites are going in the opposite direction.
At the moment, only Twitter and Reddit will let you show a nip, let alone (gasp) a dick or vag.
If you count OnlyFans, you have just three ways of exposing your adult content to a wide audience. Given that exposure is usually the whole reason behind having a social media presence, that's bad news.
A light at the end of the tunnel does exist, however. Adult-focused platforms are on the rise.
Considering how unpredictable major social media websites are when it comes to adult content, it's always good to diversify and create a presence on as many as possible.
They aren't as huge as Facebook or Tumblr, but it's not always about size — it's how you use it.
They are, however, large enough to require a dedicated server. So, if you'd like to go for this website type, you should prepare for slightly heftier hosting costs.
Here are some stand-outs:
Porn Picture Website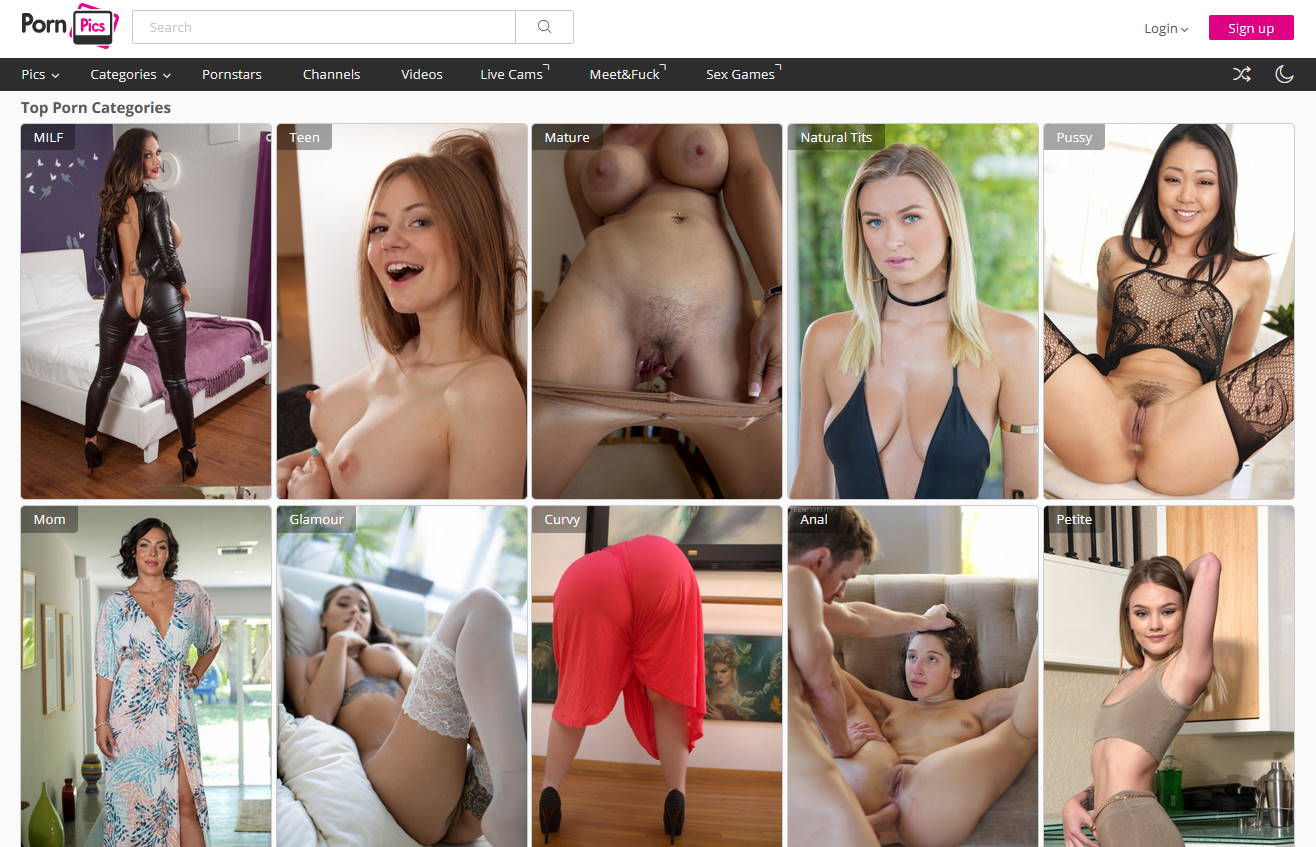 Is there a place for sexy, still images in a world where HD and VR porn are running wild? The answer is an orgasmic yes!
As it turns out, many people have specific, picture-perfect (pun intended) fantasies that get them going in all the right ways. With images, they can rub one (or two, or however many they want) out in peace, without having to rewind or loop a great scene.
A good porn picture website will let them have that. It needs (obviously) an image gallery, an image upload feature, and a search function with advanced filtering options.
Some picture websites have affiliate systems, where they pay users for uploading images and drawing traffic to their uploads.
As compensation for your efforts, you can earn by running ads or going for a subscription model. We don't advise using both, but the option is there.
If you want proof that porn picture websites can do great in this day and age, look no further than PornPics and ImageFap.
Because pictures take much less space than videos, you could go with a more modest hosting plan. We still recommend the Blessed Dwarf Storage Equivalent, though.
Porn Business Website
A porn business website is simply a site that represents an adult business. If these seem less interesting than some other types of porn sites out there, ask yourself this: does money excite me?
If you have a pulse, chances are that you'll say yes. And a good business is your ticket to lots and lots of money.
So, how does one start an adult business? Like every other business, of course!
You'll want to research your market, define your target audience, write a business plan, handle the legal aspects, and so on. Because the term business is so broad, though, we can't give you exact pointers.
Your best bet would be to read a guide on starting your own online business and work from there. A good example of one of these bad boys would be Calendar Girls, or any other gentlemen's club with a strong online presence.
While any porn site is technically a business, with these you'll really want to maintain an air of professionalism. In that regard, your brand won't go far if your website is slow to load or keeps crashing.
To prevent such problems, you'll need a hosting plan at the rank of Princess of Sin, at the very least.
Dating Website
Today, bars and parties have given way to computers and mobile devices. Say what you want about the social implications of it all, but one fact is certain: dating websites are thriving.
With these, a built-in questionnaire feature is a must because you'll want to sort users by their traits and interests. Next, you'll need a search and filter system, and a matching system (like the one from Tinder).
You'll also want an image gallery, perhaps even one with videos. Of course, no dating website is complete without a chat function, as well as a monetization system.
Speaking of monetization, the freemium model is by far the most popular due to how many people it can attract. You can also include digital gifting, where users send money to those they like, and you earn a percentage of that money.
A subscription model is the opposite of freemium, offering a lot more money at the cost of reach. In addition, you can run ads or create an affiliate network, though your users won't be too thrilled about that.
Aside from Tinder, great examples include Hinge (for serious relationships), and The League (for people with high standards).
For hosting a dating website, we recommend a VPS plan like the Princess of Sin.
To learn more, check our guide on how to start a dating website.
Sex Chatting Platform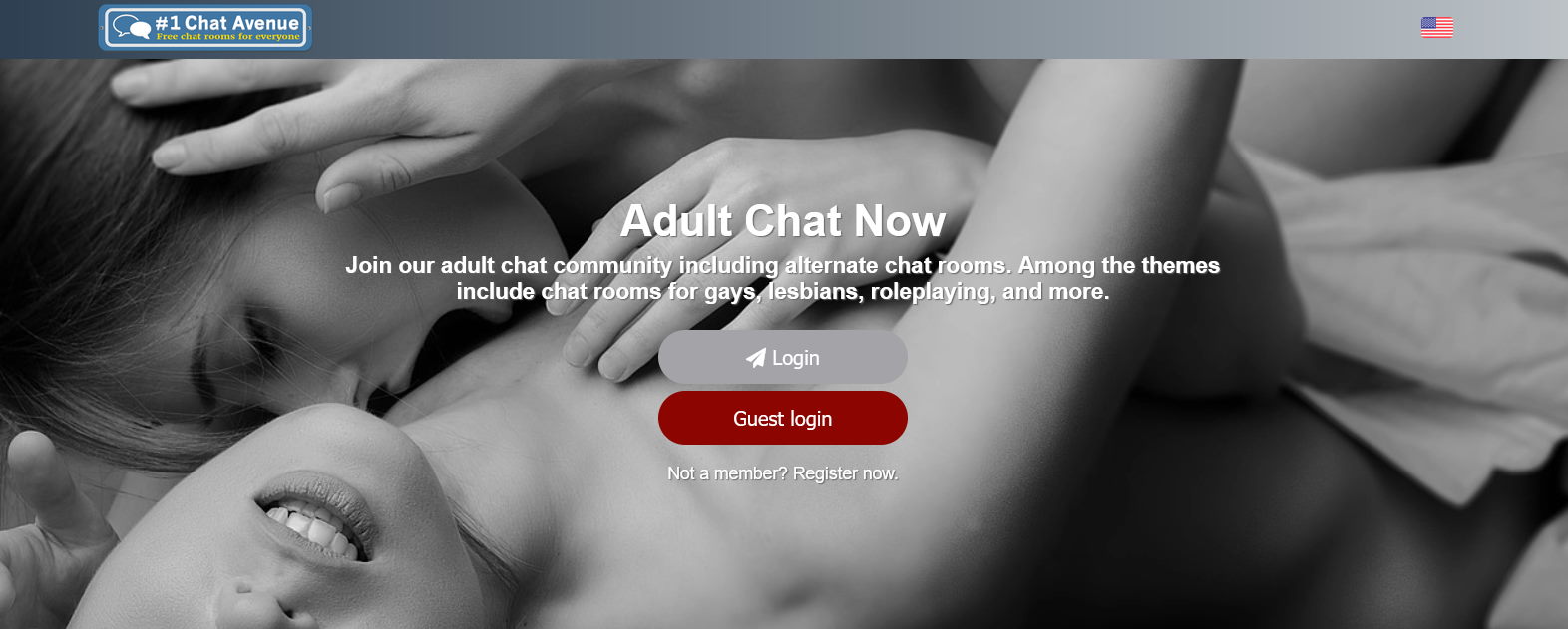 Given how many porn sites focus on visual content, it's easy to forget about the good old art of conversation. The right word can open any door — or pair of legs.
Sex chatting platforms create places for sexting enthusiasts to converse with models about their favorite dirty topics, in exchange for money. They include a model directory, a chat function (often with a video option), and (very often) a token-based monetization system.
You can further monetize a sex chatting platform with ads or affiliate systems, but you'd risk losing customers.
If you doubt that naughty words can bring in lots of cash, just take a look at Chat-avenue.
To make sure that your customers can keep talking dirty without service interruptions, we suggest Three-breasted Elf.
Porn Forum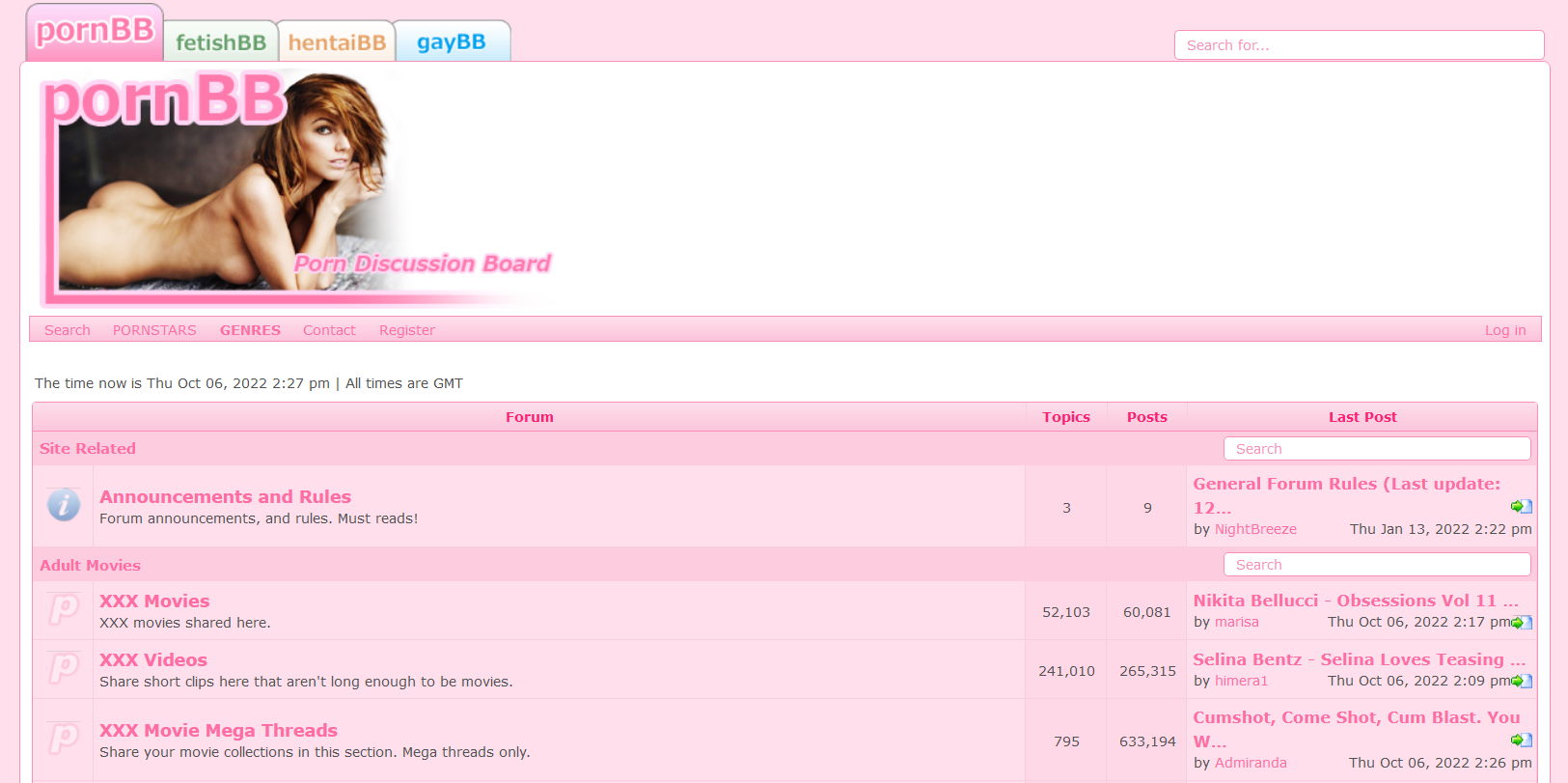 Most porn site types we've listed until now will require a fair bit of expenditure. With a porn forum, though, you can be as cheap as you want after getting a domain and a decent hosting plan.
Forums of all kinds have been around since the early days of the internet, and they've barely changed. So, what's the appeal?
Simply, porn forums allow people to meet and freely discuss their favorite porn genres, performers, and kinks — and even arrange meet-ups. They're extremely popular for topics like fetish niches, amateur porn, and hentai.
So, what functions does an adult forum need? Primarily, it requires a bulletin board that will sort users' posts into topics, a search function, a way for users to customize their profiles, and a chat feature.
Modern forums also include image galleries and often support embedding videos. You'll find most of these features built into many porn scripts and software that you can find online.
Most forums monetize with ads, but some run subscription models, or even have paid subforums.
To get a handle on how popular porn forums look, see PornBB and PornSavant.
As you might expect, you won't need an expensive hosting plan to keep a porn forum up and erect. Until you go big, the Blessed Dwarf VPS plan should be enough.
Porn Gaming Website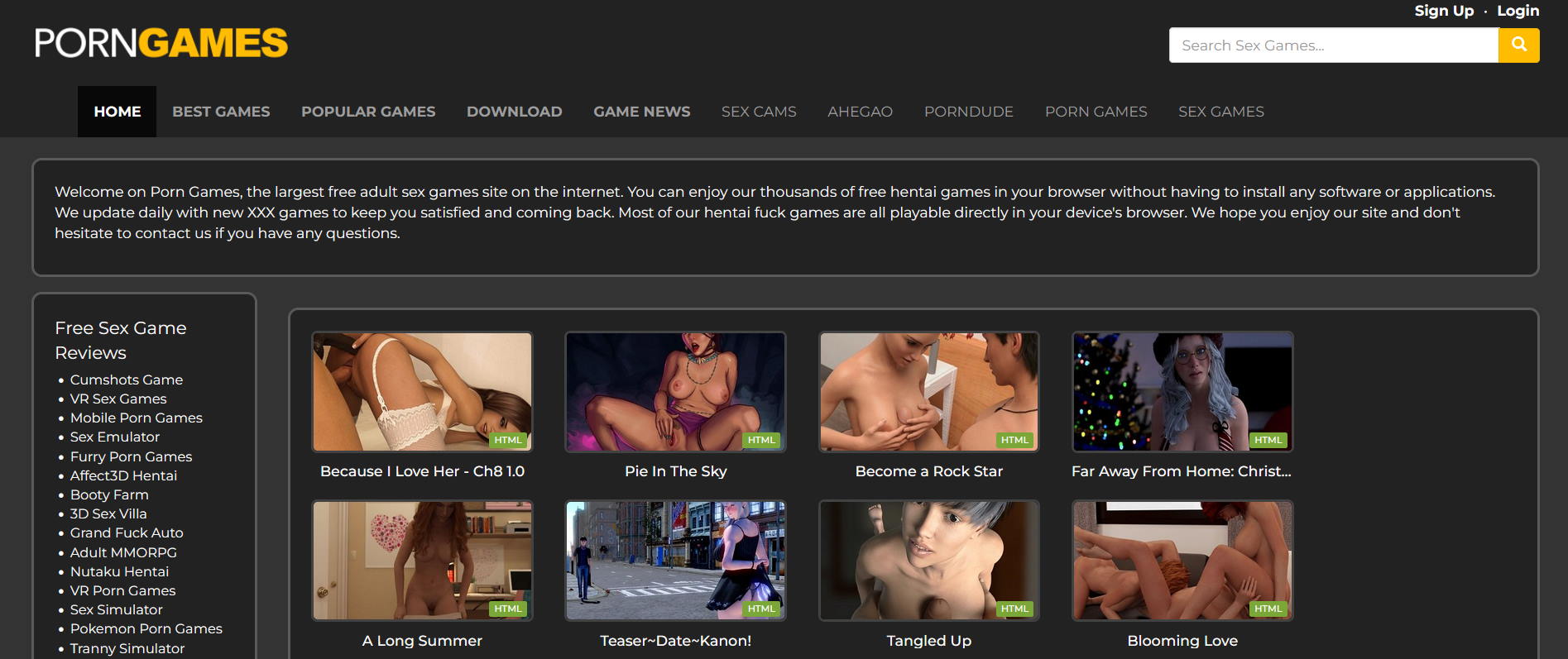 Users who like beating their meat while engaging in some light gaming will find a home on a porn gaming website.
So, one of these is essentially a directory of adult, browser-based games. Users can often rate and review them, and comment on existing reviews.
Some porn gaming sites have built-in forums. Most host the games on their own servers, but some embed them instead, for a cheaper solution.
They often handle monetization with ads and affiliate systems. Sometimes, they also sell sponsored games, and keep a percentage of each sale.
Successful porn gaming websites include Gamcore, PornGames, and many others.
If you want your porn gaming website to feature embedded games, you can get a cheap hosting plan like the Blessed Dwarf. However, if you want to actually host your featured games and run a more serious operation, a dedicated server like the Dildo Launcher will be a much better option.
Porn Search Engine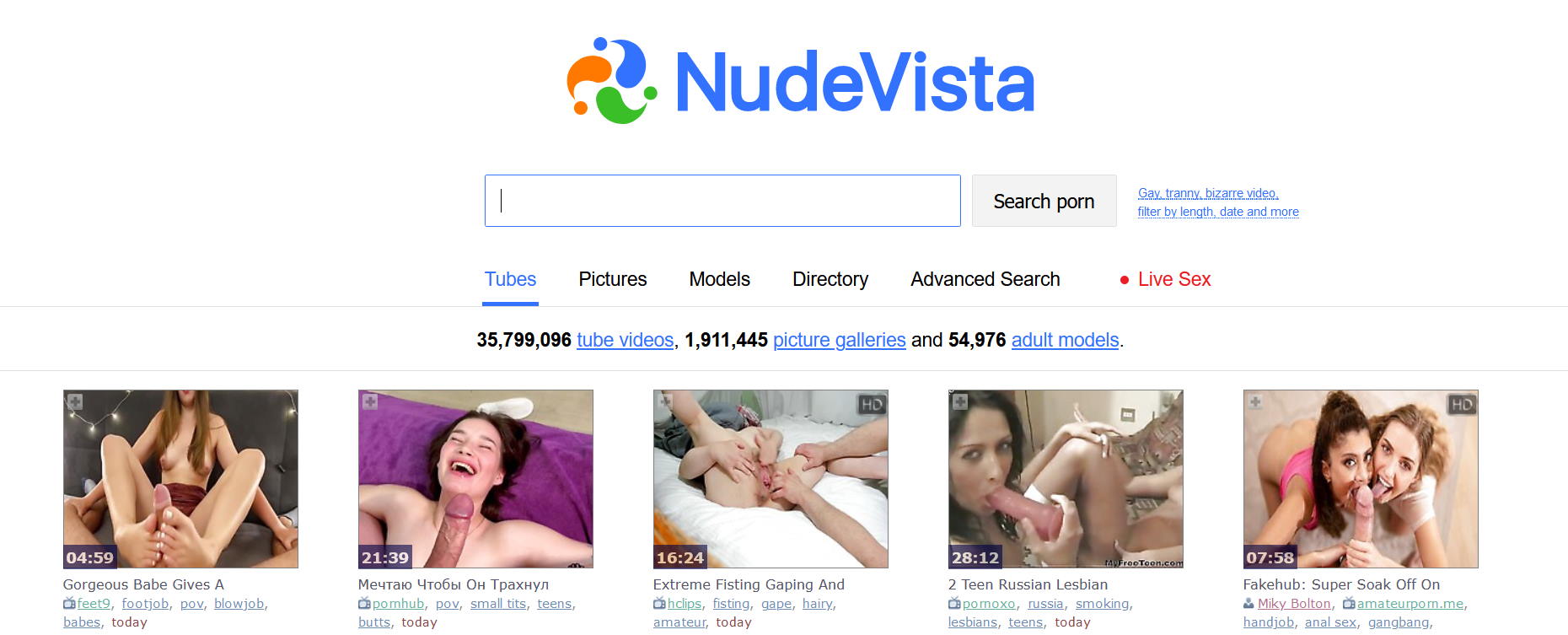 Using Google to find porn is like going down a street and asking random people for directions to a red light district. It'll work, but there are better ways to go about it — porn search engines, in particular.
Some look like Google, others look like most tubes, but all of them will do the same thing. Namely, they will sift through porn sites according to your search parameters, and show you the results.
To make everything easier, a lot of them will let you narrow your search with filters like categories and pornstars.
The only problem is monetizing them, as ads are the only viable option, and users really don't like seeing those on their search engines.
If you choose to run ads, make sure to do so in a non-invasive way. Invasions are for orifices, not search engines.
For example porn search engines, check Porndex and NudeVista.
These websites need to store and constantly update their databases, as well as handle user traffic. Because of that, you'll want a decent hosting plan like the Three-breasted Elf.
Which Types of Porn Sites are for You?
Do you want to join the prestigious ranks of successful porn webmasters, and launch your own website? Here's a quick rundown to help you pick the perfect type of porn site for you:
Adult tube websites are great for first-time website owners
Go for an adult membership website if you don't mind investing in promotion and video production
If you can and want to write quality text content, consider a sex blog
Adult model websites are, of course, for adult models or their managers
Make a webcam platform if you wish to create a network of streaming models
Sex toy shops are a great choice for experienced marketers
Escort directories are for those who prefer a more passive income source
Escort agencies are for outgoing webmasters with developed people skills
You'll want to expand to social media only if you already have an existing adult platform
Porn picture websites are another solid choice for first-time website owners
Obviously, you should make a porn business website if you have an existing adult business, or plan on starting one
Create a dating website if you want to bring people together, and can spare the time to regularly follow user feedback and respond to their queries
Sex chat platforms are for those who can bring in models who are willing and able to deliver great conversation
A porn forum is for you if you don't want to spend much, or want to focus on a specific niche
If you have (or want to make) contacts among coders and video game enthusiasts, a porn gaming website is a great choice
When you want to help map the internet's adult waters, you can go with a porn search engine.
Are you still unsure what kind of porn site you wish to start? Just drop us a message and we'll take you on a romantic stroll, and help you find your calling in the adult industry.