Do you feel like something is missing in your sex life? Is it passion? Sex toys? A second participant?
Just kidding. Who the hell needs that last part?
No, what you actually might be missing is money. Yeah, that's right. And with Pornhub, you can change that.
This guide will teach you how to make money on Pornhub right now, and turn pleasure into business.
Why Pornhub?
Simply, because it's the most popular porn site in the world, and as such, it offers the highest earning potential.
If you're not going to start your own porn site, you should go to the place that gives you the best possible money-making opportunities.
To illustrate, Pornhub is the number one porn site and the 8th most visited website in the world, with over 2.5 billion unique visits each month and over 130 million visits per day in 2021. Its only real rival is XVideos — check this article to make money on that giant.
When a porn site's number of users rivals the sperm count in a bukkake video, it's probably a safe bet that your homemade porn on it will get quite a number of views.
Don't let the fact that Pornhub is free to use fool you. With their Model Program, any ambitious porn amateur can become a pro almost overnight. Just ask Abella Danger, Emily Willis or Sweetie Fox.
And did we mention that models get paid per view? On a website that gets 2.5 billion views per month, how much money do you think that translates to?
SPOILER: a lot.
Also, despite its size, Pornhub is far less competitive than platforms like OnlyFans, and not nearly as hard to start a career on. As a porn site model, you won't have to interact with fans as much as you'd need to when selling nudes.
All you'll need to do is shoot a video, upload it, and grab your earnings at the end of the month. Yes, making money on Pornhub can be just that easy, especially if you follow our instructions.
Is It Really Possible To Make Money On Pornhub?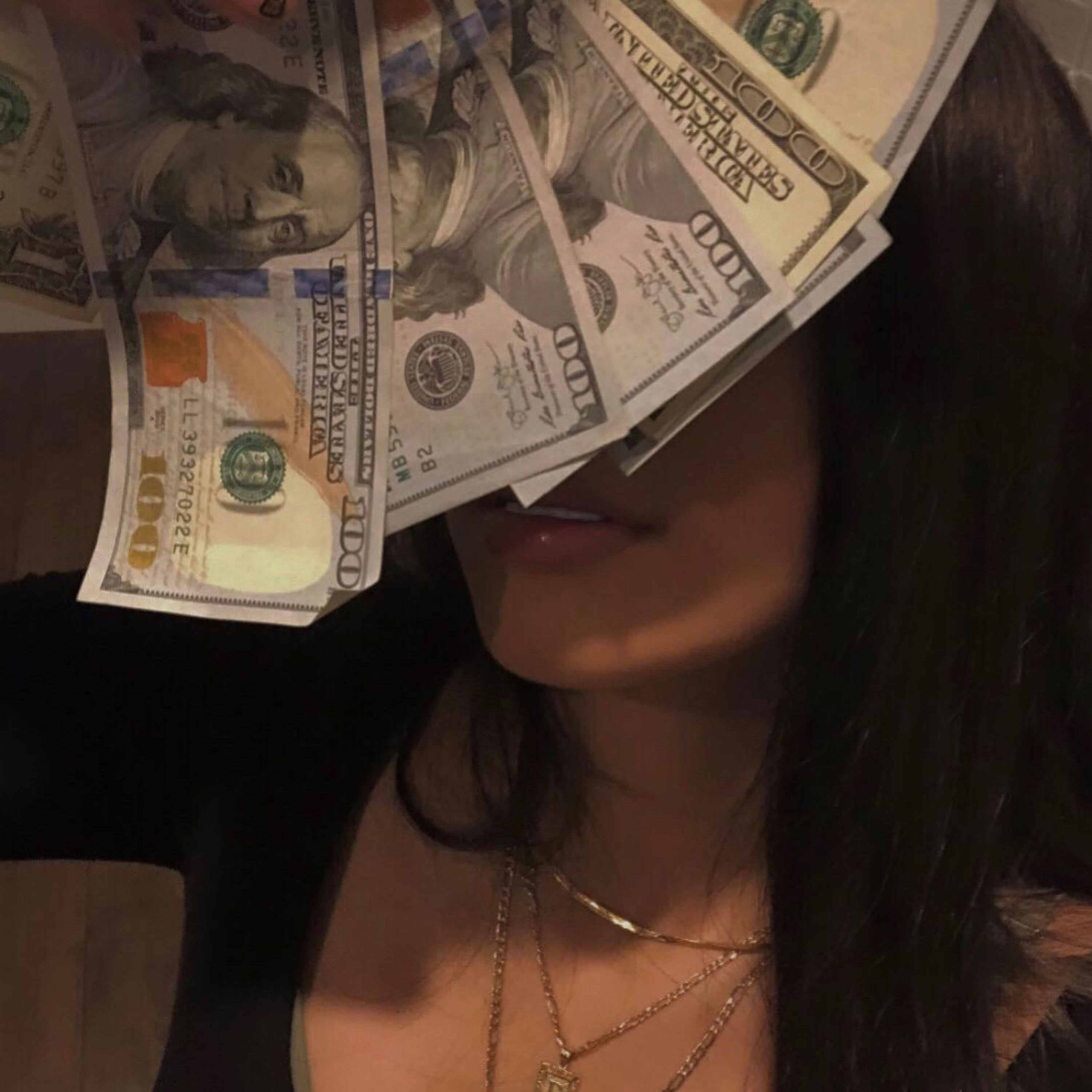 Of course, it is. However, you'll have to be serious about it if you want to make a splash (in whichever bodily fluid you prefer).
There are a lot of videos on Pornhub — and we do mean A LOT — so quality and innovative ideas are a must if you want to shine brighter than the other stars in the porn(hub) galaxy.
So, how to make money on Pornhub? Well, if you're not a hacker, your only real option is the aforementioned Model Program.
HubTraffic — Pornhub's affilliate system, which paid people out for referring others to the Pornhub Network's websites — used to be a thing, as well, but they don't support it at the moment.
There is no need to worry, though, as the aforementioned Model Program offers multiple ways to make money on Pornhub. And we will walk you through all of them.
12 Ways To Make Money With the Model Partner Program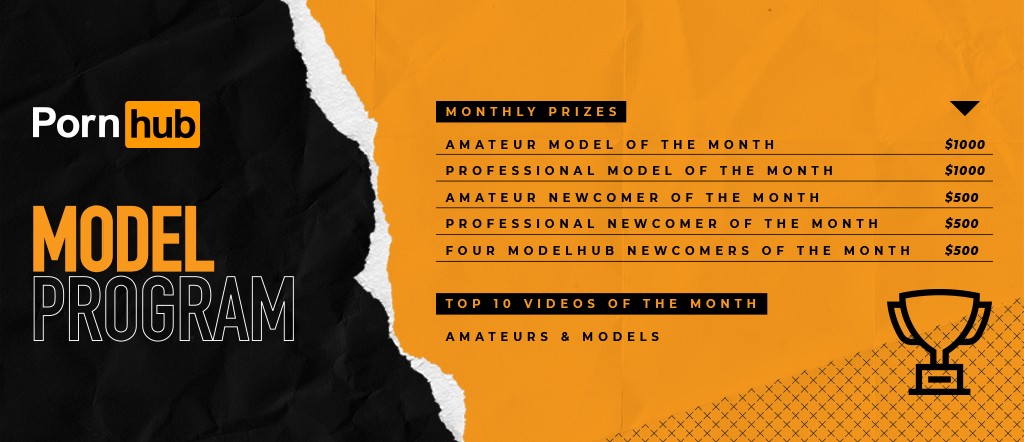 Free-to-view Videos
The most common way to make money on Pornhub is via ad revenue — $0.64 per 1000 views.
While this means that your earnings will depend on your videos' performance, and the numbers might look discouraging at first, there is actually no need to worry.
Since the videos will be free and not hidden behind a paywall, they will undoubtedly find their audience if they're of good quality. With some time and consistency, your account could become a real golden goose.
While the prospect of earning 64 bucks per 100,000 views does seem humble, you should keep in mind that these numbers — impressive by YouTube standards — are nothing in porn. When a video goes big, it's not uncommon to see it reach millions of views, especially from countries where people watch a ton of porn.
Free-to-view Videos With A Download Option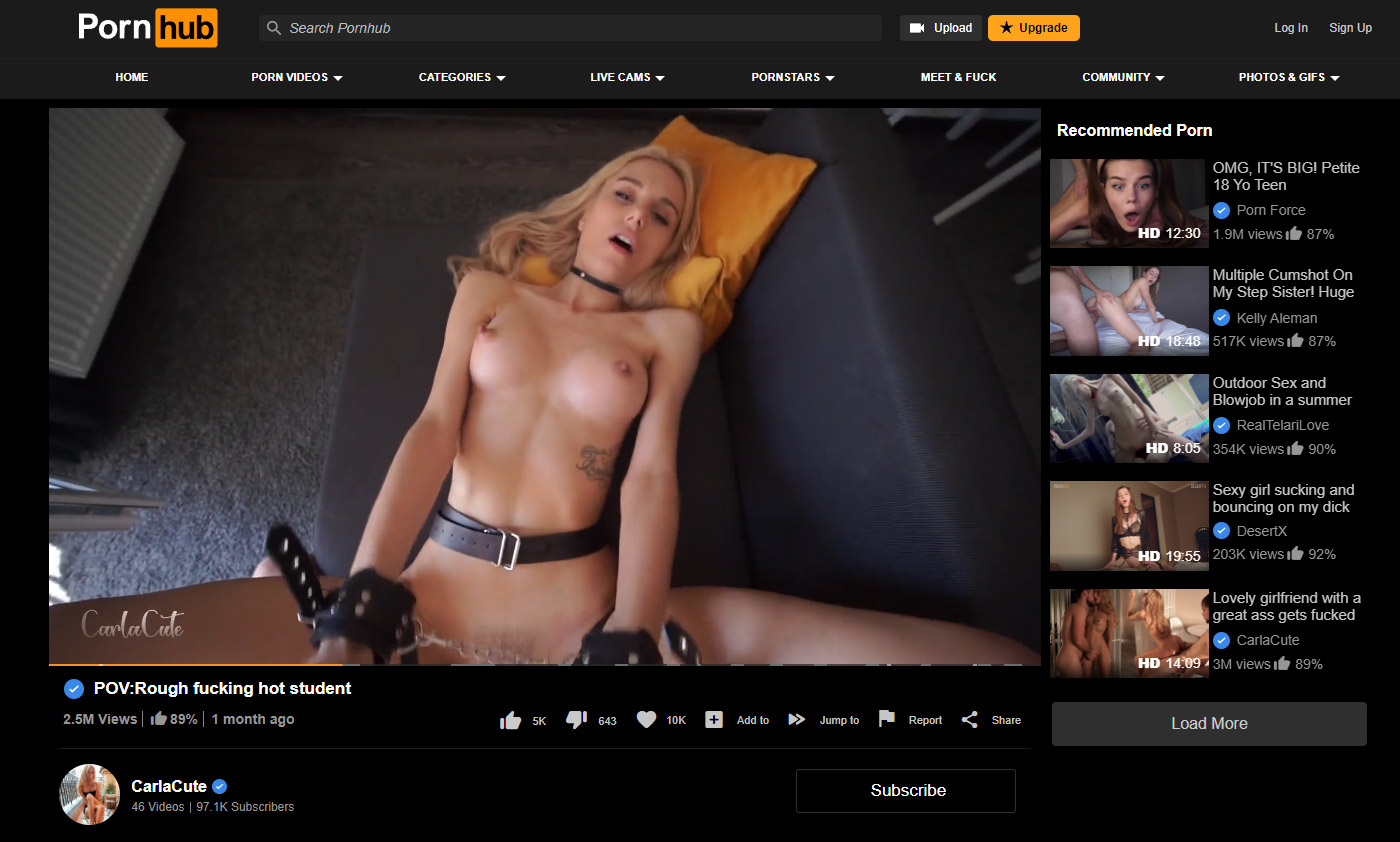 What's better than having one revenue option for your videos?
Two options, of course! Because, as we know, money stacks up faster than Viagra boxes in a porn studio.
What do we mean? Simply, you can provide viewers with the option of downloading your videos for a price you set, effectively adding a video store to your Pornhub account.
Look at it this way — whoever wants your paid videos will download them one way or another. Why not let them support you if they wish?

When you become a verified creator, you get the ability to publish videos only for Premium members by ticking the Viewable on Premium box when posting a video for upload.
Free users can see a Premium video's thumbnail, and preview it to get a taste. However, if they want to dig in, they will have to spend a little.
Namely, Premium Pornhub members pay $9.99/month enjoy HD content without ads (leading to an even safer experience), and the program's exclusivity reflects in the per-view rates:
Pornhub Premium: $45 per 1,000 views
Pornhub: $0.64 per 1,000 views
Modelhub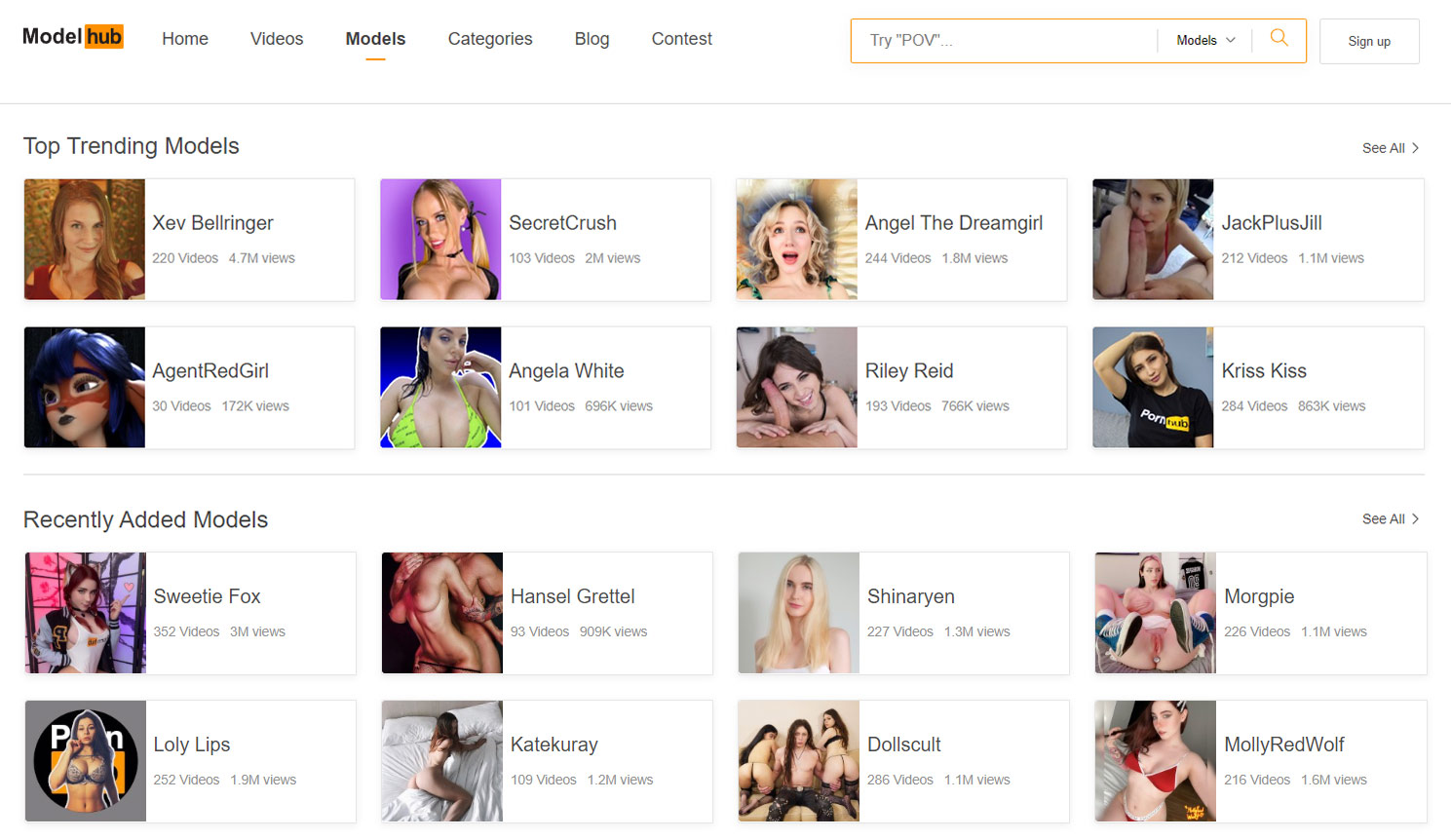 Modelhub is Pornhub's sister site, and it integrates directly with big brother — meaning they'll work hand in hand, leading to more money in your pockets.
The website was built with creators in mind, with every feature revolving around the wants and needs of actual models.
Specifically, you can make your own online shop where you can sell videos, merch, and accept custom requests from fans. There will be more on that last bit later.
At least in part due to how creator-friendly it is, Modelhub is the fastest-growing adult marketplace on the web. On it, models have full control over their pricing, and the ability to keep 65% of the price of each item sold.
Custom Videos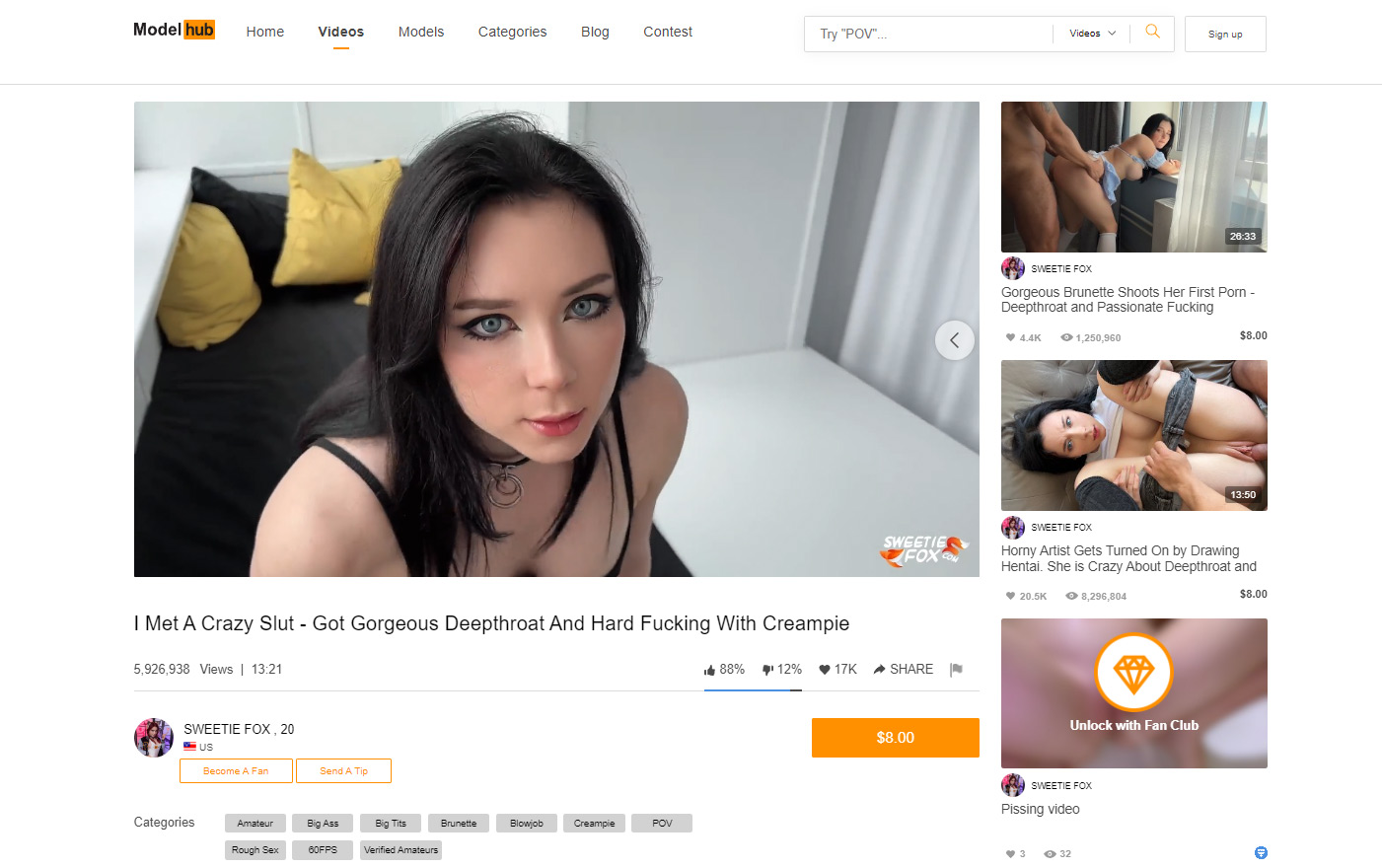 Fulfilling your fans' custom requests while setting the fees yourself is another great way to make money on Pornhub.
Although they are requests, you'll still have complete creative control at the end of the day. You decide how much to charge for every video detail, such as length, video quality, clothes, acts performed, etc.
You can find more info about custom videos and how to make them work for you on the Pornhub Help page or in this video, if you're more of a visual person.
Pro tip: You can sell the same custom video to multiple customers (unless it's an exclusive video, which costs a pretty penny), as long as you're delivering what was requested.
Fan Club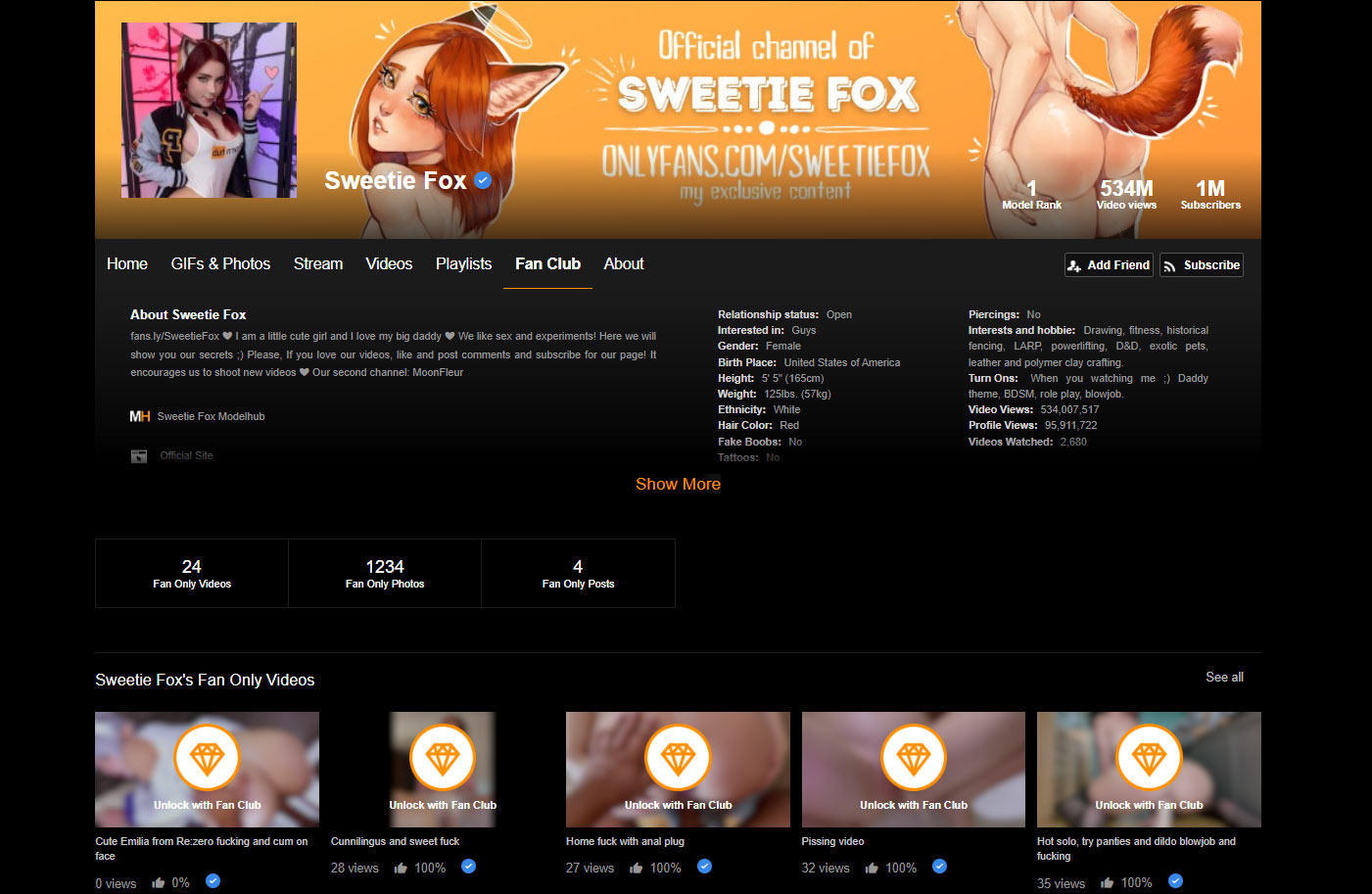 The best way to make money (and spunk) rain on Pornhub is by growing a following. Shocking, right?
The Fan Club offers exclusive members-only content such as videos, photos, text posts, and even one-on-one messaging in return for a monthly subscription, which you can put anywhere within the $0.99 to $99 price range.
Think of it as Pornhub's version of OnlyFans. If you happen to have both, you can just simultaneously publish what you make, and enjoy double the earnings for the same amount of work.
Aside from being a great way to earn money on Pornhub, the Fan Club is perfect for growing your fanbase and personally engaging with them.
Contests & Awards
Pornhub holds monthly Model Contests where participants can win monetary awards and gain exposure within the community.
For example, this July is all about the booty. So, you better put yours to work fast if you want to make additions to your bank account and trophy cabinet.
All Pornhub amateur models can join these contests, so you should always check if your videos are eligible after uploading them.
Tips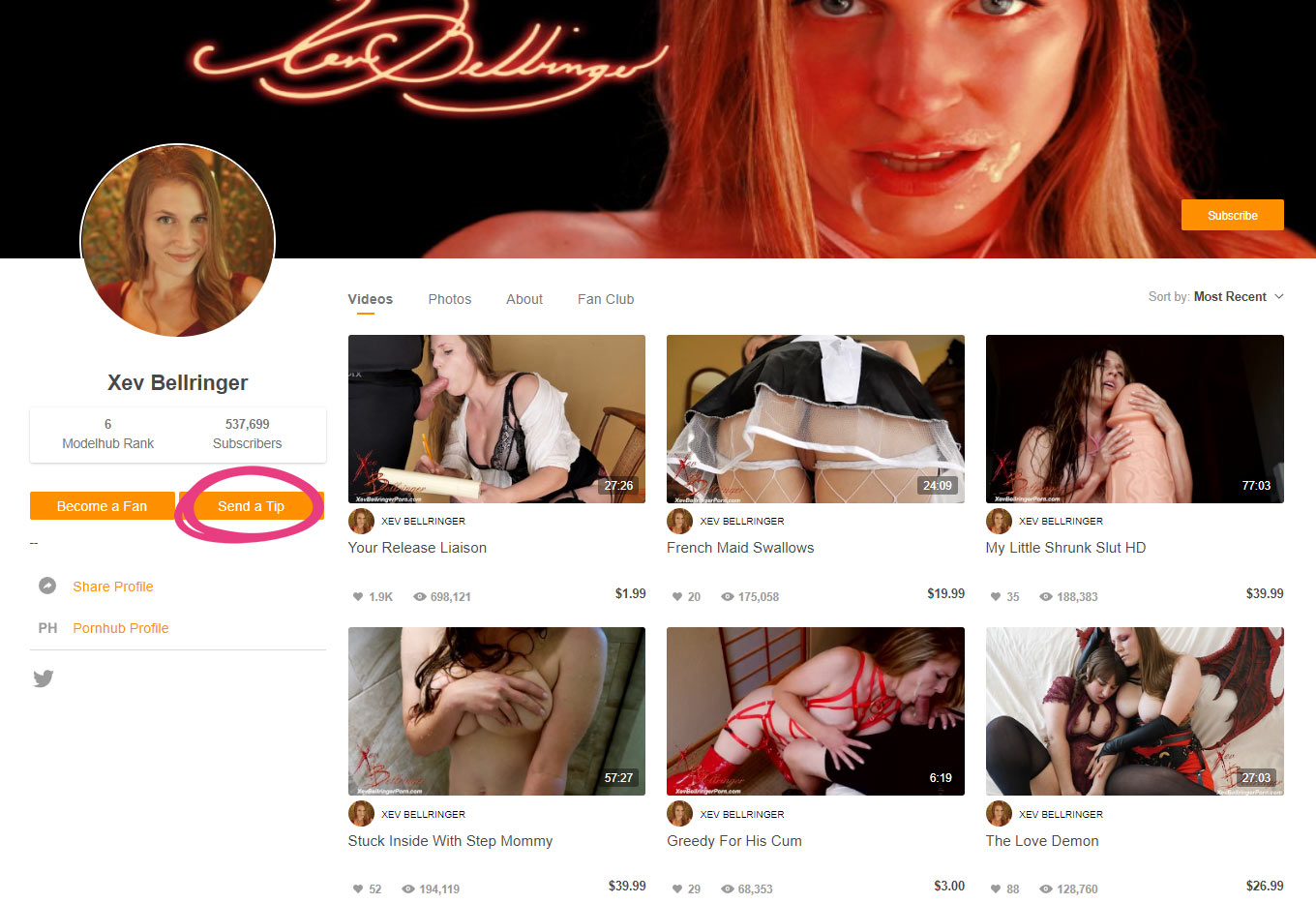 The legend says that once a man busts a load to the same model a certain number of times, he feels inclined to leave a tip.
Users can directly tip you on your Pornhub and Modelhub profiles. 80% of those tips are yours to keep, as Pornhub takes a 5% cut and 15% in processing fees.
Referrals
As a verified model, you will receive a referral code that you can share with anyone interested in joining Pornhub.
If a person who signed up via that code happens to upload two unique and verified videos, you will be $50 richer.
There are no limits on how many new people can join via your code. However, keep in mind that it could take up to a month for the referral bonus to appear in your earnings tab.
You can find the referral section here, but the link will only work properly if you are logged in as a model. Otherwise, you will be redirected to the model program's informative page, as will be the case with many upcoming links.
Pornhub's Partners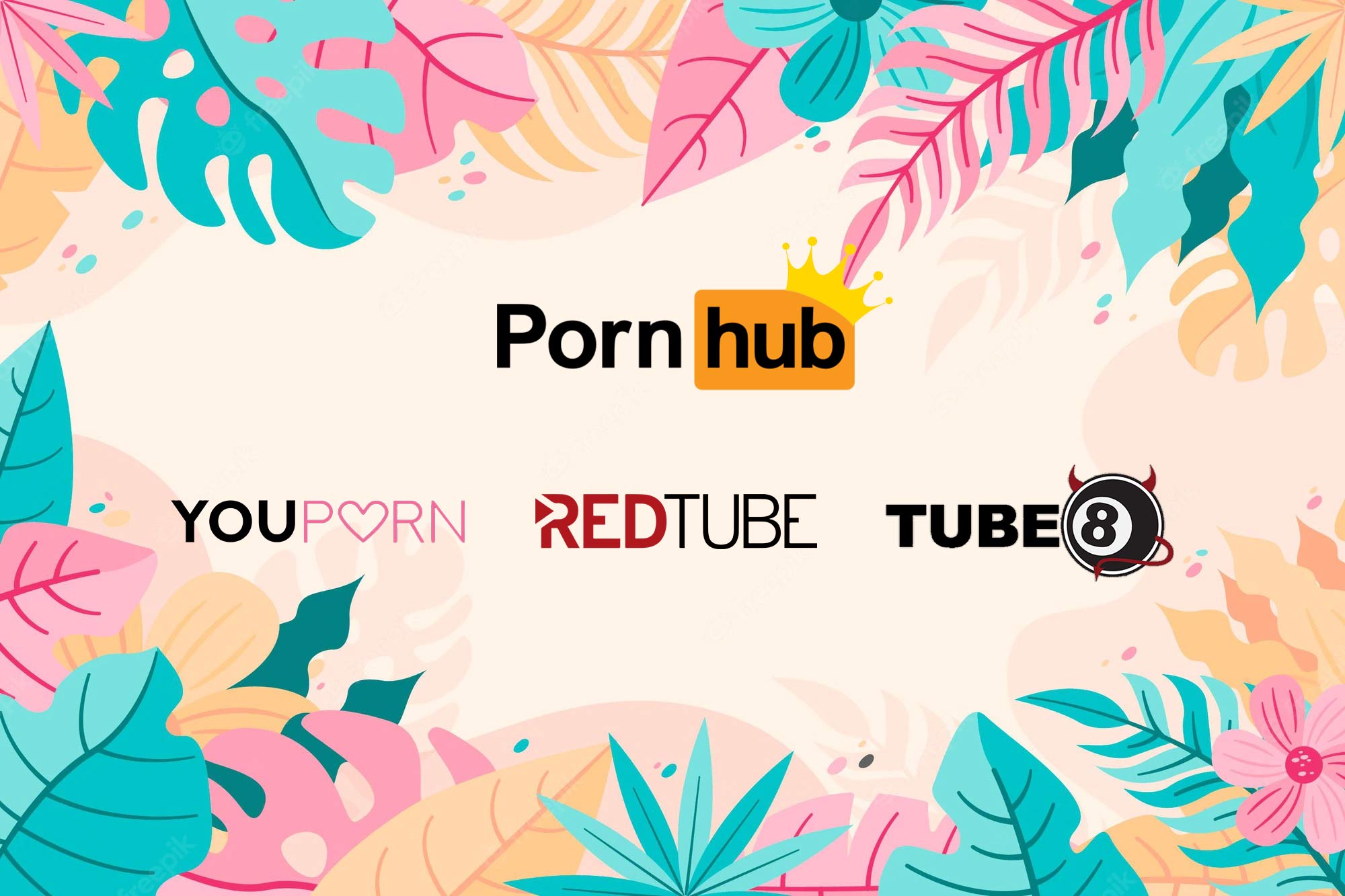 What if we told you that there's a feature that you can use to automatically export your videos to Pornhub's partners — YouPorn, Redtube, and Tube8? You can find it in the Model Settings tab, and you can opt in and out whenever.
There are two things to keep in mind, however:
The partnered websites track views differently than Pornhub does, as any page visit counts as a video view on them. Pornhub's rules are stricter, to avoid spam views.
Don't reupload the videos manually. Allowing Pornhub to handle transfers is the only way to accumulate earnings via this program.
Animation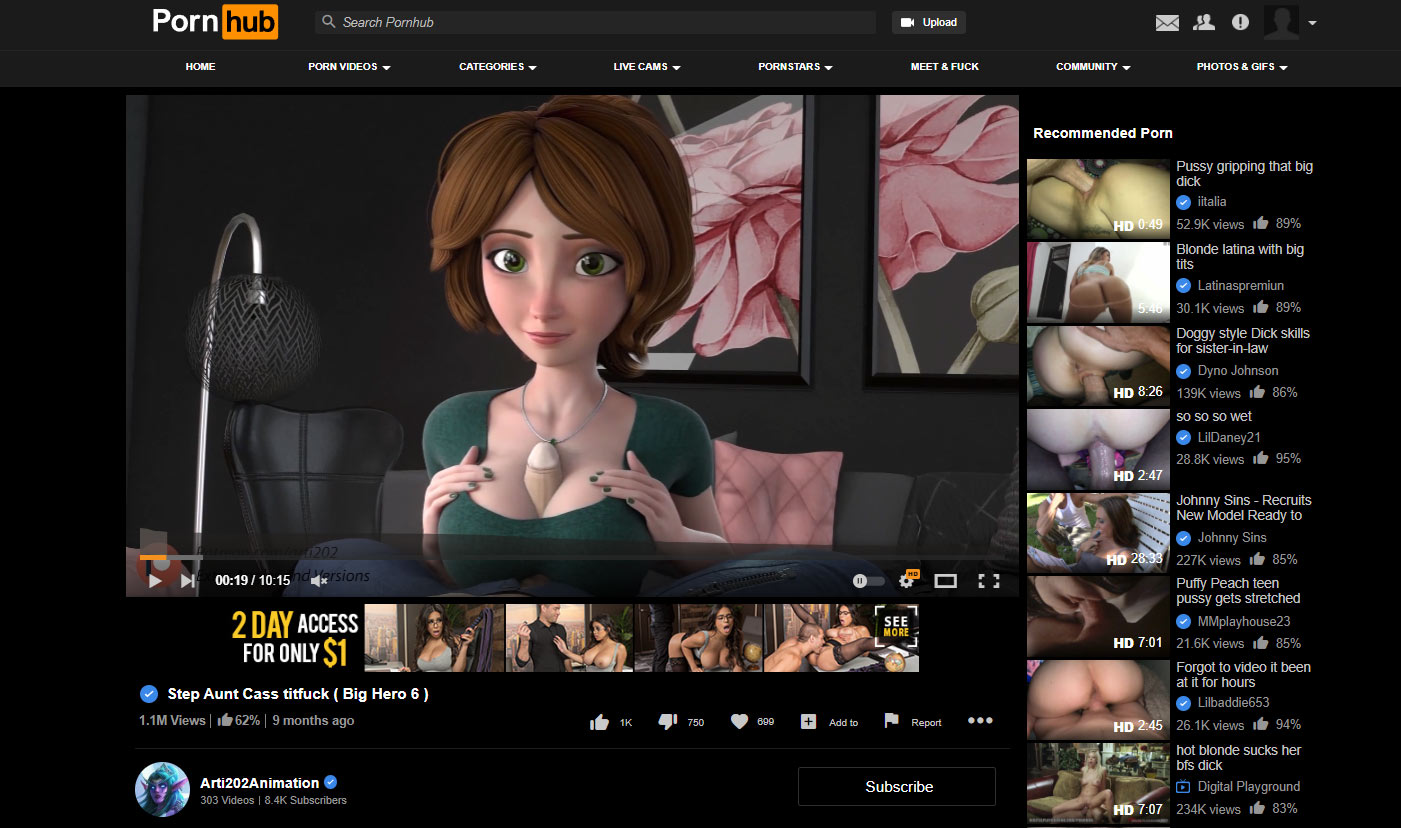 If you have a knack for animation, you could translate that talent into a way to earn on Pornhub.
Yes, those titty drawings you used to make in elementary school may in fact pay up! Don't believe us? Here's a big, throbbing example.
Art 202 Animation is a Pornhub channel worked on by three people: Arhoangel, FpsBlyck, and noname55. Noname55 has a Patreon page with over 2,300 supporters, which nets him around $28,000 a month.
That's just one of his revenue streams, though. The other one is, of course, Pornhub, where the group has hundreds of videos with millions of views
And those are just some of the many successful animators on Pornhub. If you have the talent and skills, you could potentially become a part of this lucrative group.
Getting Started
So, you're interested in becoming a Pornhub animator? Well, we have a good news/bad news situation for you.
The good news is that the software you'll require to bump animated uglies is becoming more affordable. You could maybe even get your hands on some for free.
Combine this with the fact that most modern computers can handle simple animation projects (mostly 2D), and you'll realize that you won't need a lot of money to get started.
The bad news is that mastering the craft takes time. Luckily, you don't have to be a Disney-level talent to produce animations that will make your pockets — and other things — swell.
Explaining all there is to know about animation would take longer than bringing a porn model to orgasm, though, so we suggest that you read this, or get started with YouTube tutorials.
Also, please keep in mind that getting verified as a Porhnhub animator will be just a little bit more complicated than what actual porn performers go through. You can review the whole process here.
Gaming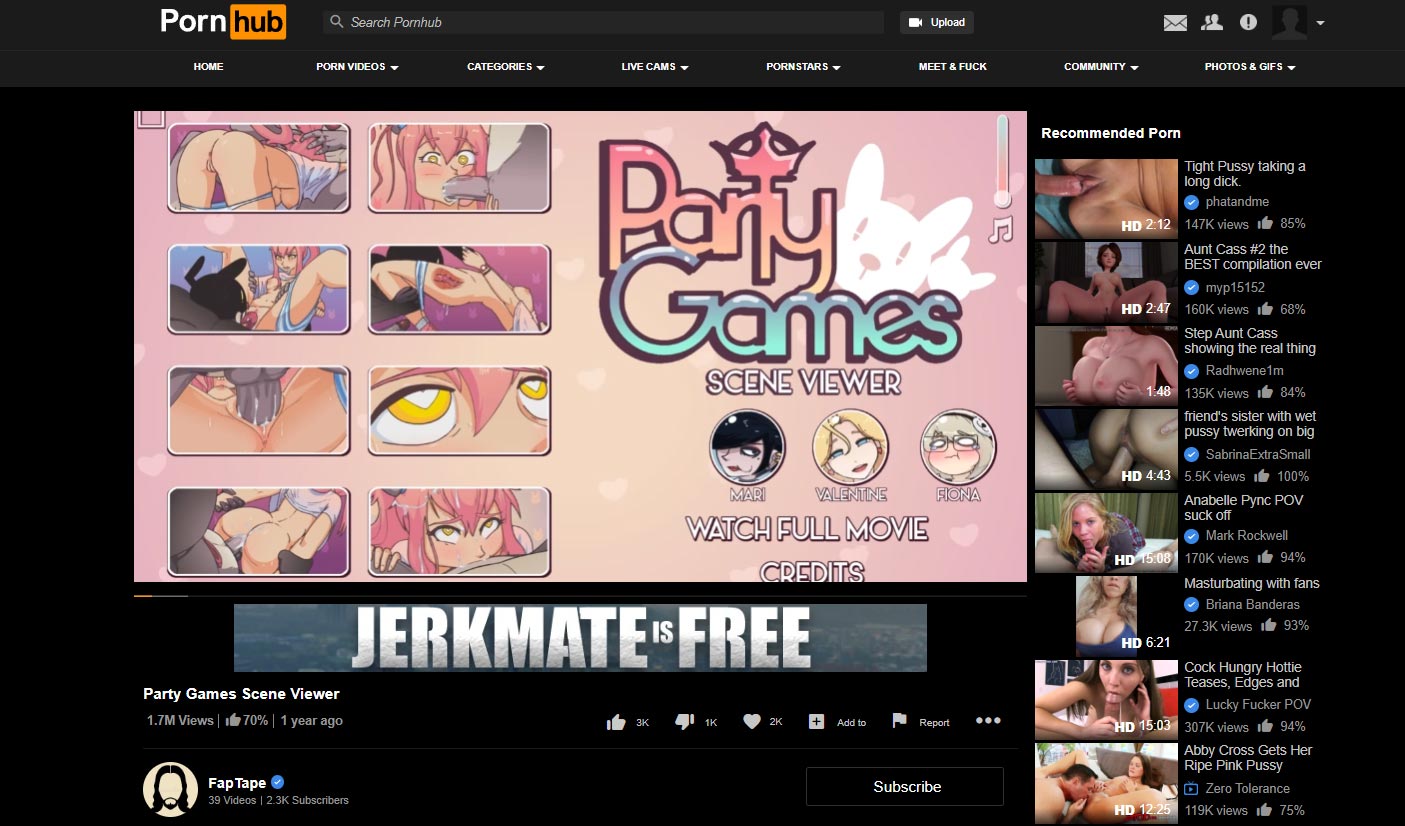 Believe it or not, gaming is also a niche on Pornhub.
The reason for that is pretty simple: not all games are for kids. Mommies, daddies, and the rest of the kinky family also like to play.
Games rated 18+ have their audience, but you obviously can't share their gameplay footage on YouTube or Twitch. This is where Pornhub comes into play.
In the past, even footage of non-18+ titles got leaked and uploaded to Pornhub (New World in 2018 and Fallout 4 in 2015, before its release). The perps did it hoping to prevent the leaks from being taken down due to DMCA strikes, since doing so on a porn site is much harder than on YouTube.
Back on topic, gameplay videos do pretty well on Pornhub, and a handful of notable content creators — such as FapTape — regularly sail those murky waters.
Getting Started
If you've got a PC, you have everything you require to become a successful adult gaming content creator. And you don't even need a massive schlong to do it.
Simply find an adult game you want to play, capture the gameplay with recording software (OBS, ShadowPlay, Fraps, etc.), and upload it.
As a cherry on top, fans of adult games tend to prefer their content without commentary. That's right, becoming a Pornhub gaming streamer might even be easier than gunning for a similar YouTube career, as you won't have to think of what to say.
Like animators, Pornhub gamers will need to go through an additional step to get verified, as you can see here.
How To Sign Up For the Model Partner Program

Now that you know how to make money on Pornhub, it's time to put that knowledge to use. The first step to doing so is to sign up for the model program.
And if you want to be a Pornhub animator or gaming content creator, you will need to take an additional step, as explained further down.
Step 1: Create A Free Pornhub Account
All you need is a valid email address, username, and password.
We don't advise using your real name as your username (fully or partially), so you can be as creative as you want with your sexy alias.
When you finish signing up, you'll receive an email to verify your email address and complete the process.
Step 2: Get Verified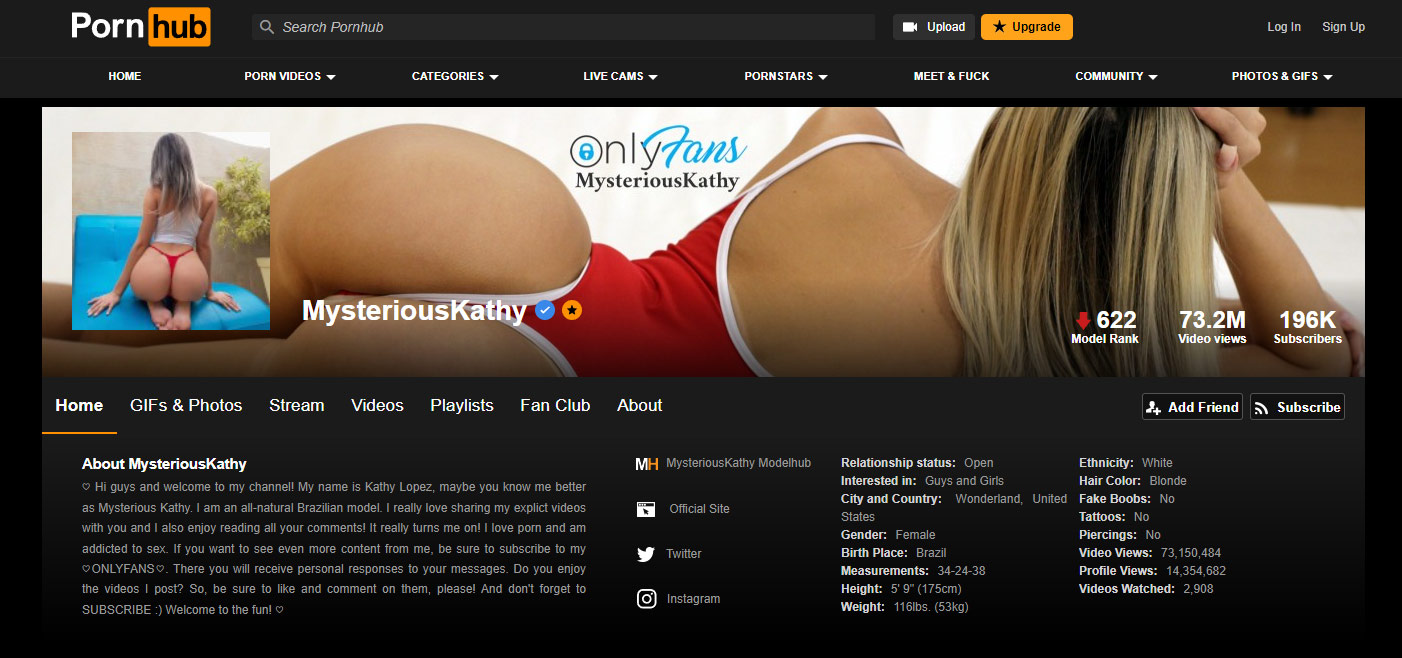 After signing up, you can follow this link to the verification menu, where you will need to do two things: provide a photo of your ID and perform a live face scan.
ID Photo
Depending on where you live, you'll be able to use a driver's license, passport, or state ID. Pornhub doesn't accept all three for all regions, so check which one you can use here.
If you're going with a passport, you will need to upload a photograph of its picture page. As for the state ID and driver's license, you can simply take photos of their front and back sides.
The image needs to be crystal clear with a visible hologram, so make sure to place the document on a plain background with good lighting before snapping the picture.
Live Face Scan
You can get this done via webcam or over your phone.
If you're doing the face scan on your phone, you'll have to use Chrome or Safari. If you're using a PC, though, Mozilla or Edge will also work, in addition to the aforementioned two.
Follow the prompts on your screen during the process. Ensure that your face is well lit (while avoiding reflections) and in the correct position before pressing I'm Ready.
Step 3: Submit Your Model Application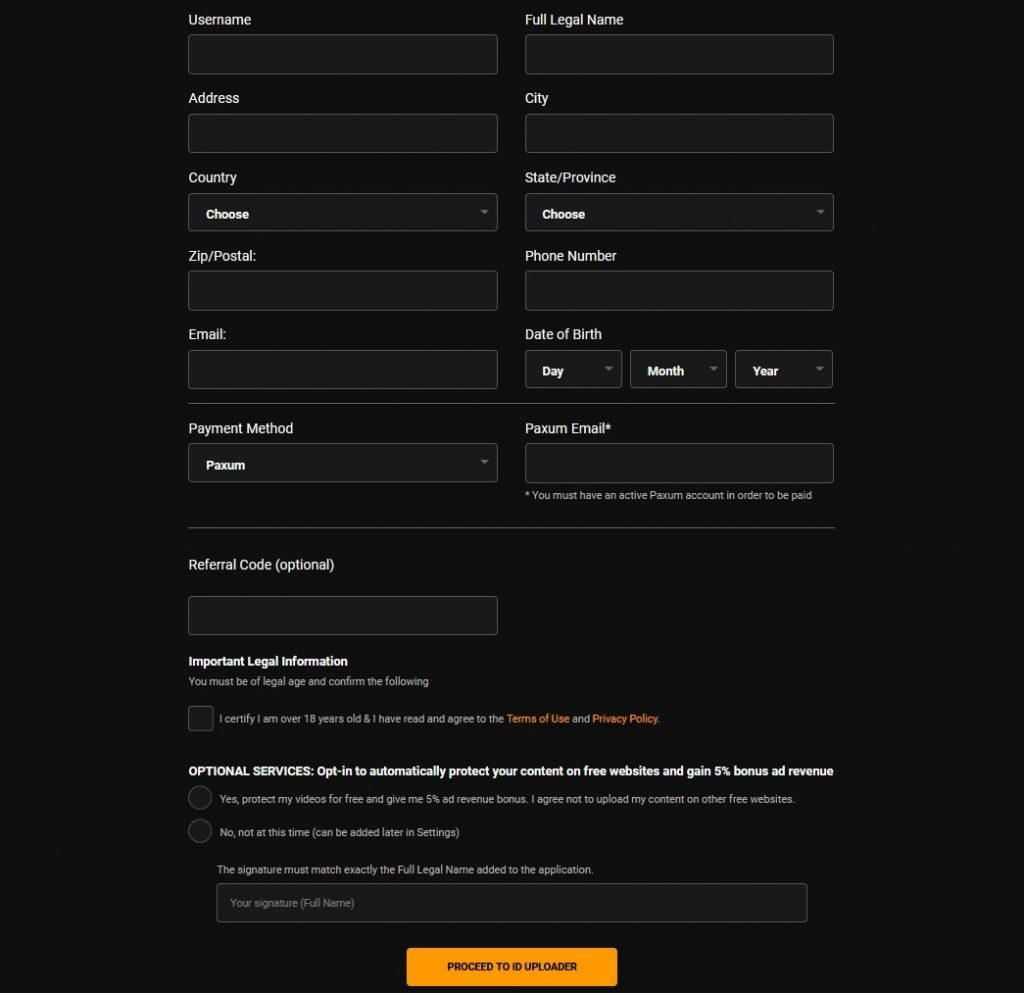 Finally, you'll need to fill out the model application form with your personal information: name, address, preferred payment method, and whether you'll perform optional services, like creating custom videos.
Pornhub's team typically reviews submitted applications within 48 hours, then sends emails informing candidates if their application was approved or changes are needed.
After submitting your application, you will have two weeks to provide all that's required and get verified. If it turns out that you need to re-do something, make sure to do it in that time window. Otherwise, you will have to start the process from scratch.
For Animators and Gamers: Monetizing Your Channel
After passing the third step of the verification process, you can start uploading — which is where things get a bit complicated. Namely, the first video you upload will be flagged and demonetized within 24 hours, and Pornhub will inform you that they've done so because you weren't in it.
Don't take it personally. All you'll need to do is prove that you've made the video, and that it doesn't display any unwilling or underage participants. To do so, you'll want to challenge the flag on your video.
When writing up your request, state that you're an animator or gaming content creator (based on what you actually are, of course) wanting to monetize their channel, and that you're willing to do what is required. After a few days, Pornhub will reply with an email, asking you to provide proof that you were the video's actual creator.
So, how do you do that?
To start, you'll need to place a camera (a cell phone will be fine, but here are some exceptional cameras for when you want to upgrade) so that it captures you, your face, and your monitor. Next, you'll want to record yourself either working on an animation or editing a gaming video.
Feel free to comment on your creative process, as doing so will help persuade Pornhub that you know what you're doing. Keep the video under 90 seconds in length and 50MB in size, so that you can attach it to an email.
Send the email. If Pornhub is satisfied with what you provided, they will let you know that your video will be re-monetized within 24 hours.
From that point on, if any of your videos happen to get de-monetized, you'll be able to fix that by simply emailing the link(s) to Pornhub. You won't have to repeat this process.
So, How Much Can You Actually Earn On Pornhub?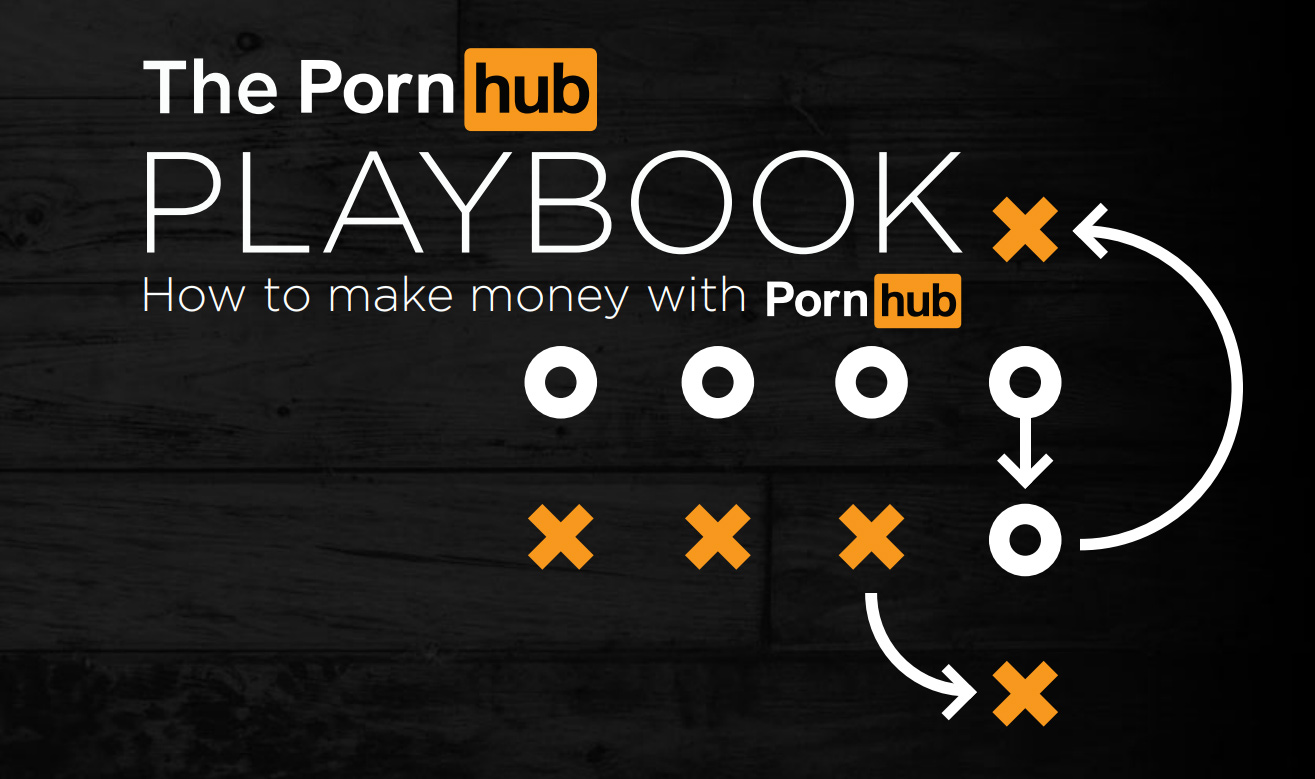 Here's a brief rundown:
Ad revenue – $0.64 per 1,000 views (free videos)
Video sales – 65% sale price
Custom videos – 65% sale price
Tips & fan club – 80% recurring
Model referrals – $50 per model
Pornhub premium – $45 per 1,000 views
Downloads – You set the price
Export to partners – Depends on the partner
Contest prizes – Depends on the contest
As you can see, you won't be paid per uploaded video, but rather based on the number of views that you can get — alongside sales and prizes.
The system is similar to the one on YouTube, but better and more flexible. On Pornhub, you can get paid per video, and even set prices for some of them.
Yes, a supposedly notorious porn site treats its creators better than the largest video platform in the world. Kind of makes you think, doesn't it?
How To Protect Your Identity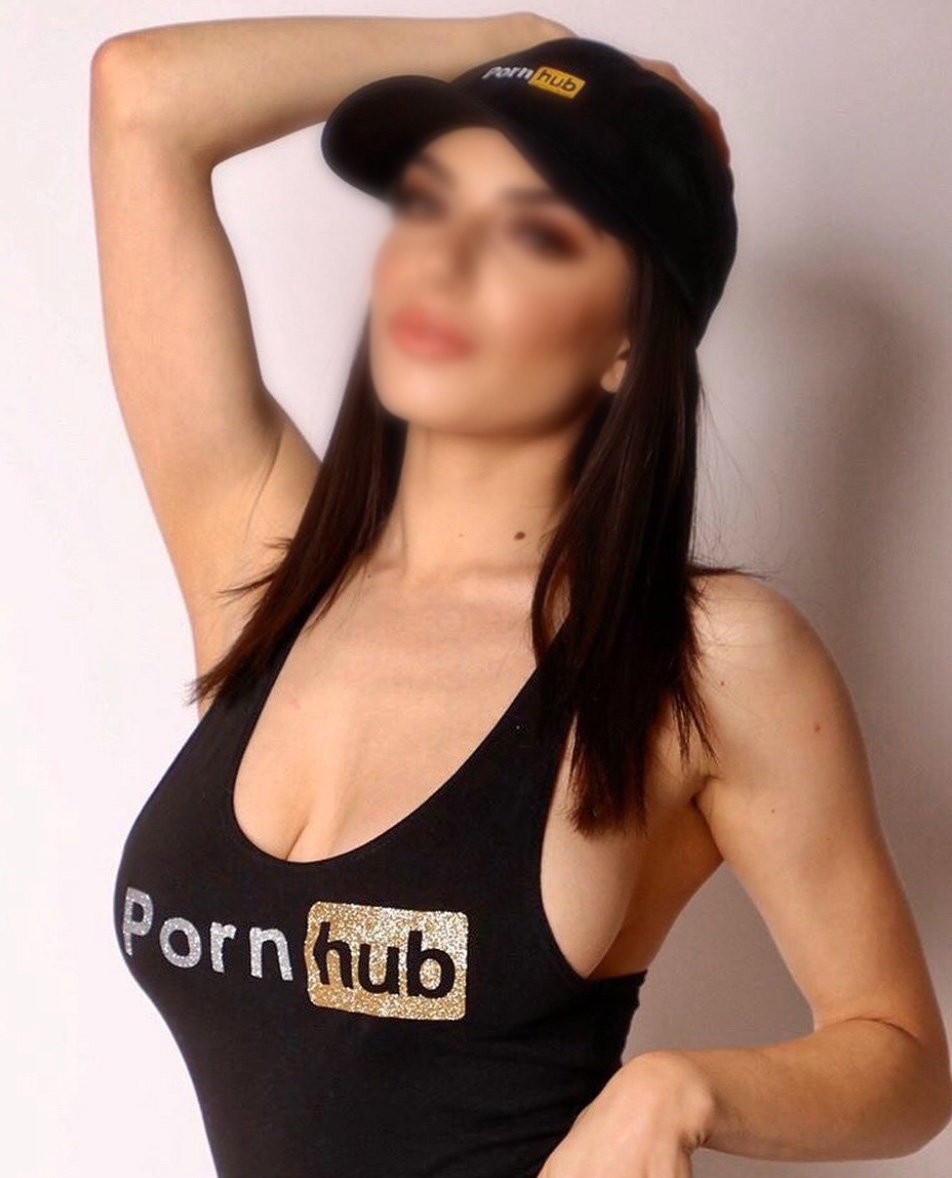 After seeing all the different ways to make money on Pornhub, anyone would be enticed.
However, not many people end up taking a skinny-dip into the porn pond. Why? Simply, they're worried about being seen by an unwanted audience (friends, family, co-workers, etc.).
Valid concerns, to be sure, especially if you happen to go huge. However, if you take the proper steps to protect your identity, you will minimize those risks.
Here's what you can do:
Only share your real name, phone number, socials, or other personal information privately — with Pornhub staff as needed. You absolutely won't want to share that info anywhere it can be publicly seen and traced to your Pornhub account.
Create an alter ego — a new name, different look and personality, separate socials, etc. — as it's one of the best ways to ensure your privacy while practicing your hobby.
Use the geolocation ban feature. With it, you can ensure that your videos aren't available in a specific area. This way, you can be active and make money on Pornhub without anyone you know ever finding out.
These three tips will practically ensure that your identity is protected and well hidden, but if that isn't enough for you, here are some creative ideas to keep things even more low-key.
Cosplay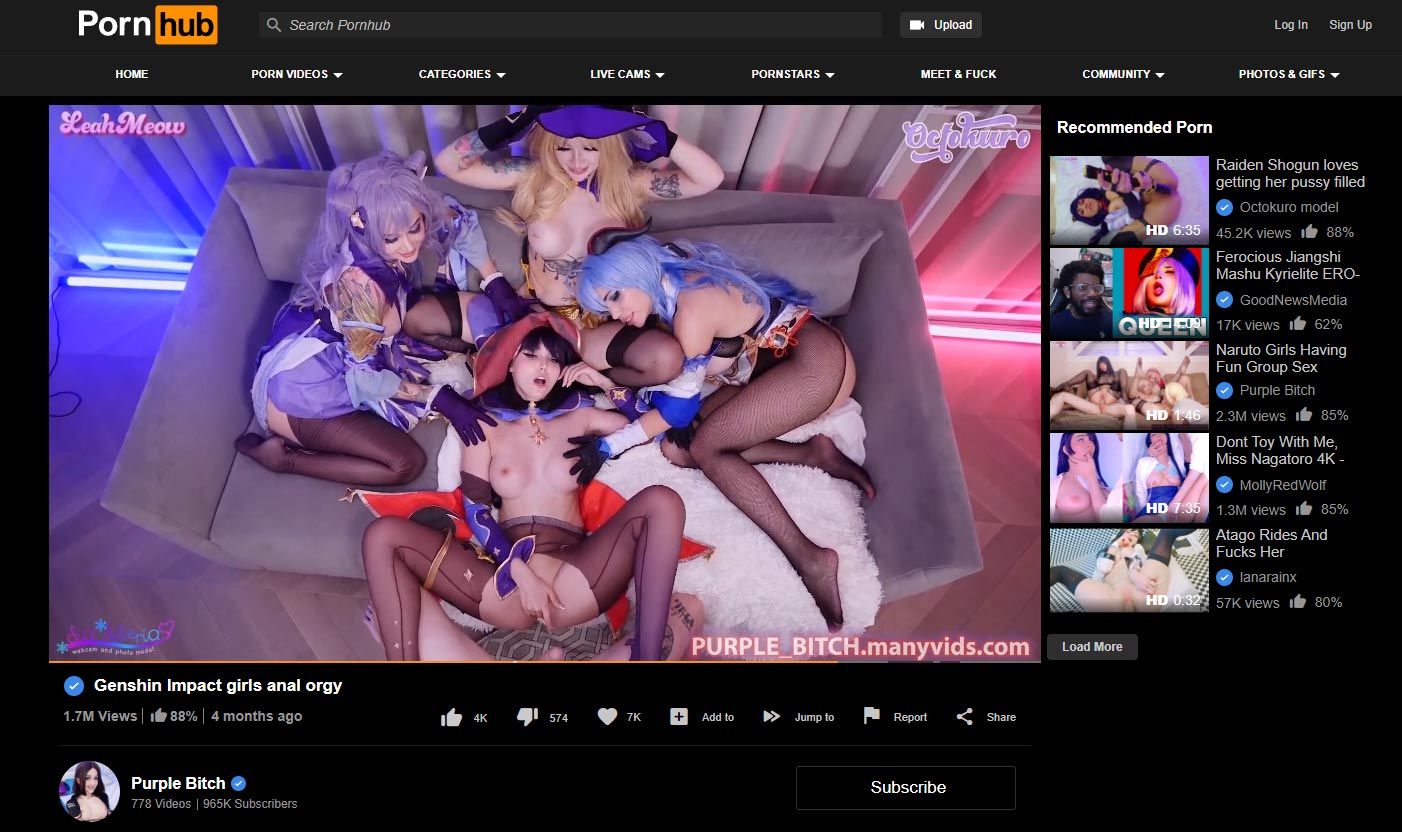 At its inception, cosplay was a simple and innocent phenomenon. Cosplayers were using it as a means to channel and dress up as their favorite fictional characters.
Not long after, anime conventions started appearing and provided a way for fans to share their enthusiasm for certain fandoms and meet people with similar interests.
The trend quickly went global, and today includes pretty much all fictional characters and media franchises.
Predictably, the hobby's innocence got tarnished as soon as people realized that they could use cosplay to make porn while staying anonymous. After all, if you were going to have sex dressed up as Wonder Woman, why not record it and get paid?
These days, the demand for cosplay porn goes up every time something new becomes popular, as people want to see a kinky version of their new favorite character. In fact, it's one of the most popular porn niches in the world.
Below The Waist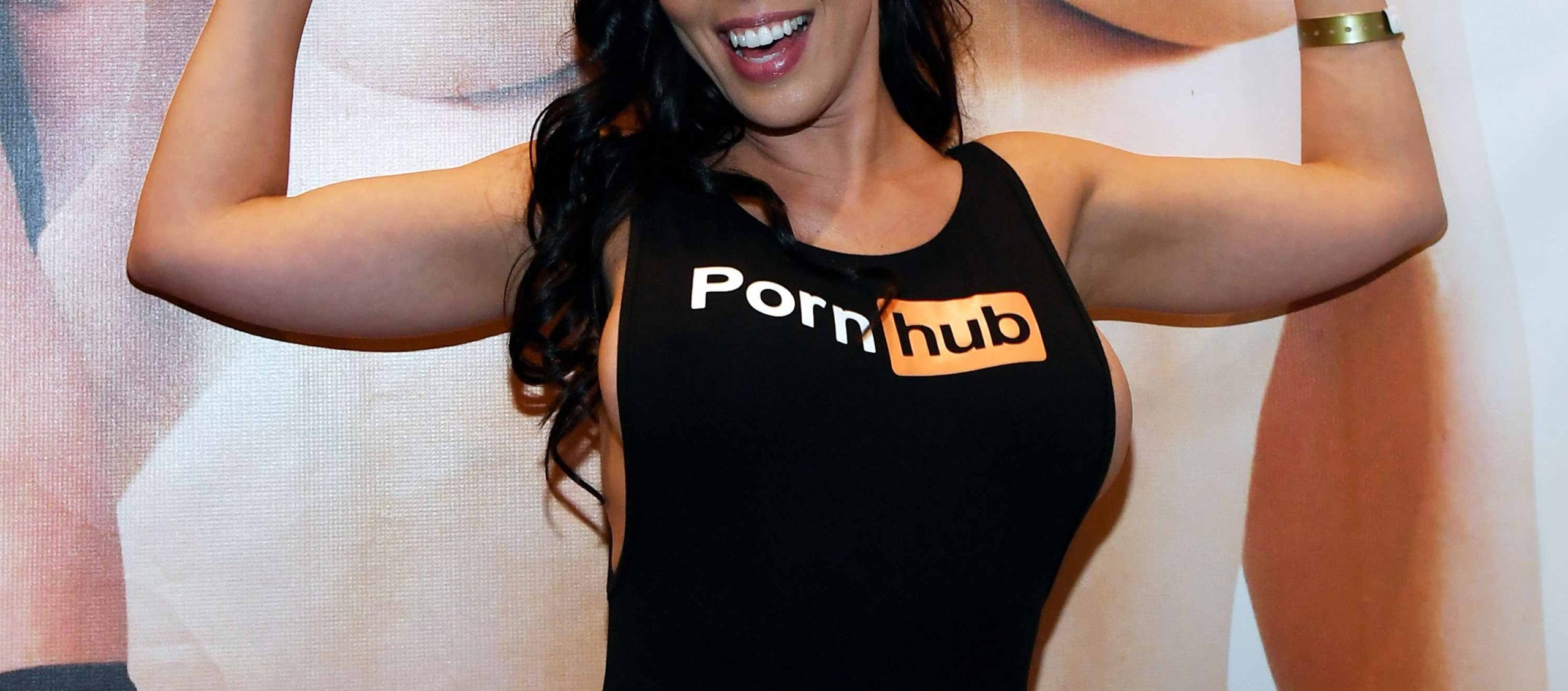 If you don't want to show your upper body because you have distinct tattoos, markings, or something similar, filming yourself exclusively from the waist down is the way to go about it.
You might be thinking that you'd be significantly lowering your earning potential by doing this, but there's definitely a market for Sleepy Hollow's ladies of the night — the headless cowgirls. Yes, there are angles and positions that will let you create A-grade content with half the raw materials to work with!
For example, POV Doggystyle (doggy recorded from below) and cowgirl positions in which the camera reaches up to the stomach, are great to keep not one but both performers' identities a secret.
Even if your place's layout won't let you record videos that only reach up to your waist, you can instead shoot more conventional videos, and alter them before uploading. With editing software, you can cut or censor anything you don't want to show, with minimal time investment.
Masked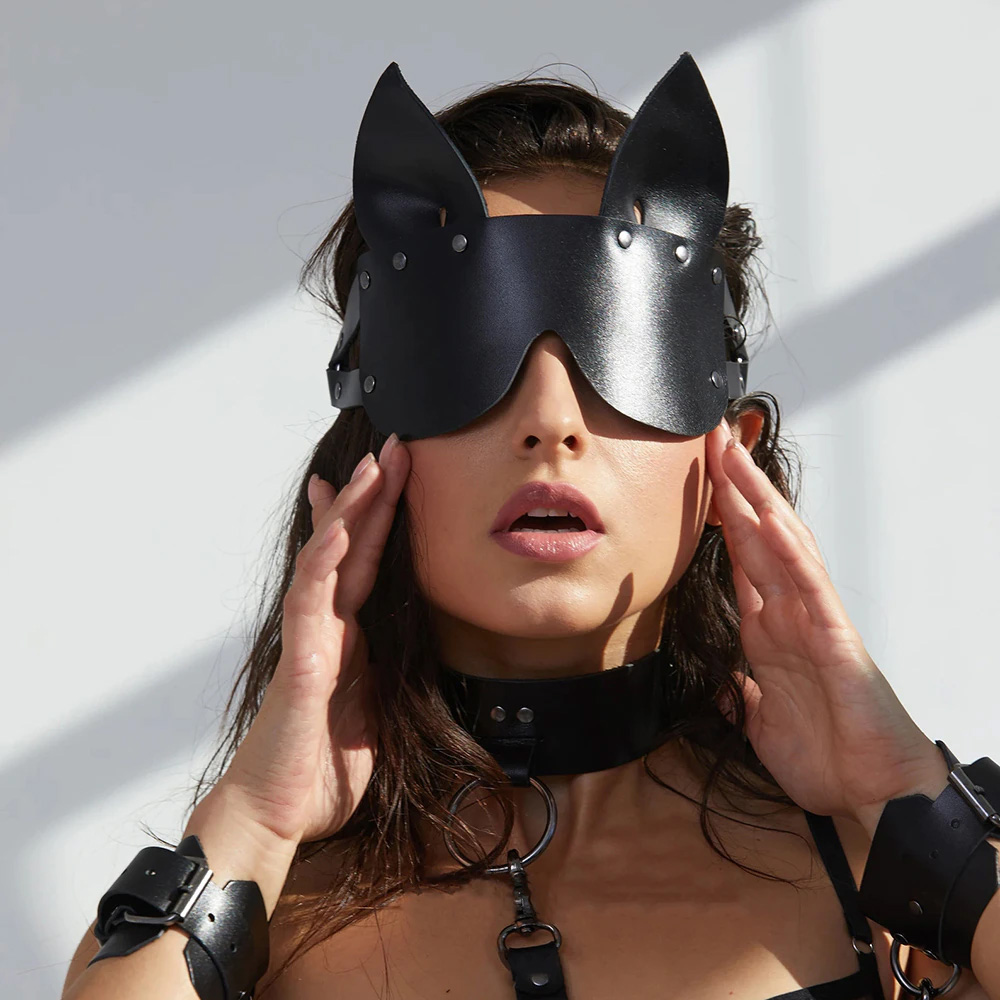 Considering the times we live in, it's only natural that the first thing that comes to mind is the medical mask each of us had to wear due to COVID.
Said masks do fall under this category, and there's a whole niche around them, hazard suits, gloves, etc. But we don't recommend those, as they don't actually hide your identity.
We're talking full face masks, possibly with headgear or wigs. If you're particularly good at it, even heavy makeup might do the trick.
By the way, since we're on the topic of putting things on your face, a latex mask with a suit can open some new doors for you to explore — wink, wink.
Feet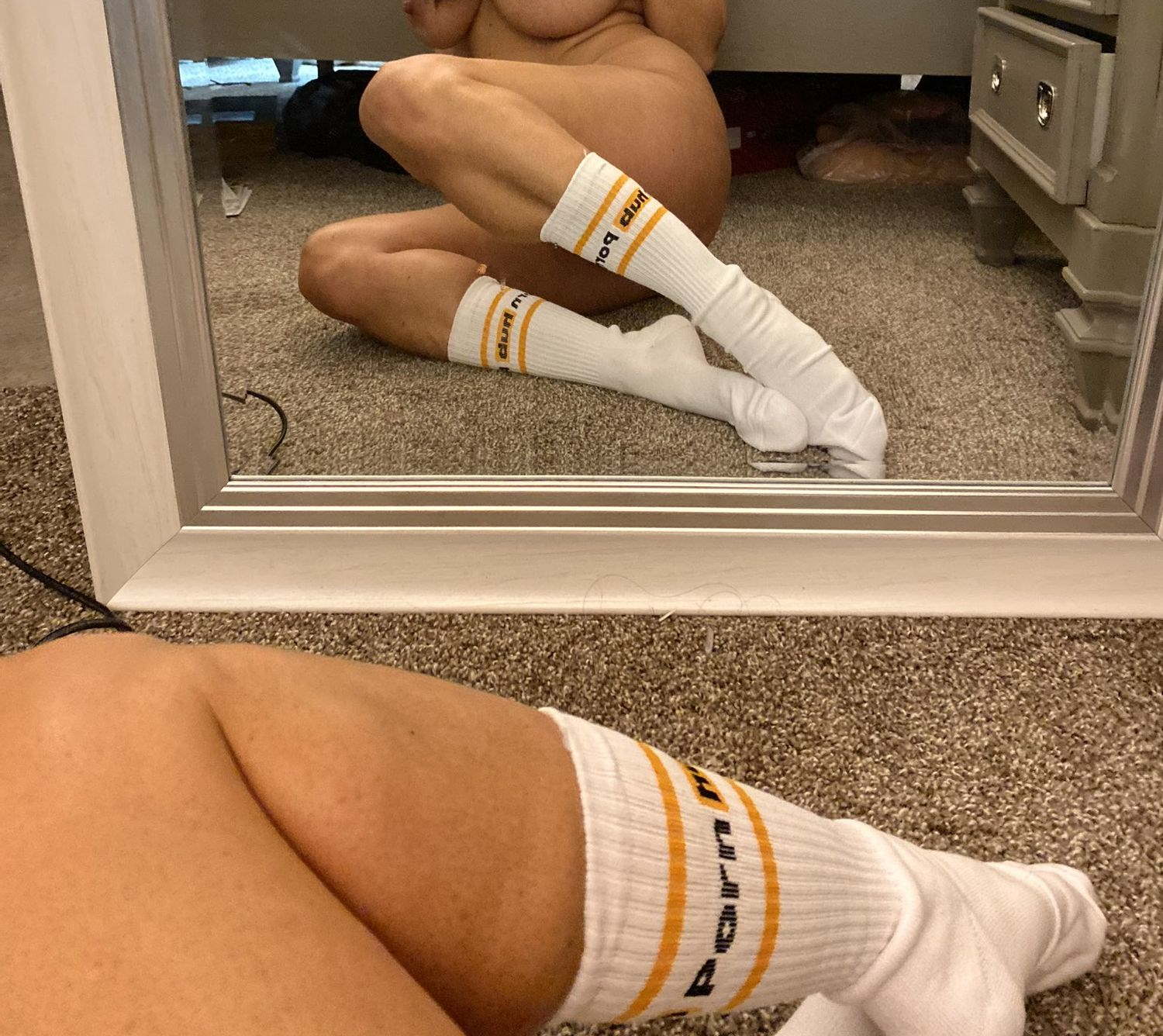 Has anyone ever complimented you on your feet? Possibly during a date? If your first urge wasn't to use those same feet to run away, then you might have the makings of a foot model.
Yep, feet — even dainty ones — are a pretty big deal. Not only do people fantasize about them, they are also willing to pay hefty amounts for photos of them.
The price for feet pics ranges from $5 to $100, but footies have paid more. And if we bring logic into this totally sensible story, videos should have even greater value.
Dr. Powell, a sex therapist, claims that the foot fetish is "shockingly common" — say, what? — usually among straight men.
She explains that people with submissive streaks tend to have a desire to "worship" at someone's feet by kissing and massaging them, and even by giving pedicures.
Some, however, enjoy the aspect of humiliation and being stomped on, or having smelly feet on their faces.
Whatever their reasons are, you'll still get to bring home the bacon while lowering the possibility of being found out to an absolute minimum. Unless you happen to shove your feet into everyone's faces in real life, as well.
Tips For Maximizing Revenue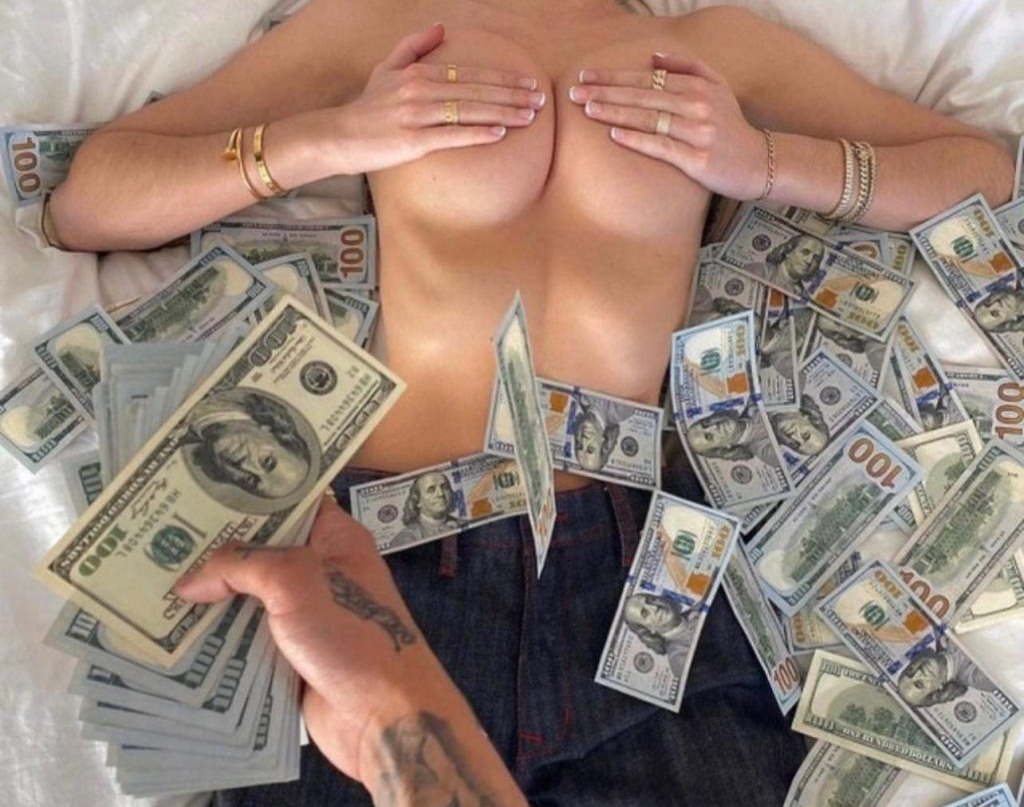 There's no way to go around it — making a lot of money on Pornhub is better than making some money on it. That's why we've prepared some tips to help you get the most out of your sexcapades.
Quality Over Quantity
Many amateur models fall into the trap of uploading the same video, over and over again. What else would you call submitting 2-4 minute clips each day, in the same position, with the same thumbnail, lighting, facial expressions, scenery, sounds, etc.?
The same this, the same that — it's the same damn video!
Having a lot of content is undoubtedly good, but it's not the best way to stand out and grow your audience.
In fact, following trends and keeping an eye on what the best are doing is a much better way to leave your competition in the dust. And according to Pornhub's research, most top 100 models upload 1 to 2 high-quality videos per week.
Simply put, you'll want to spend more time preparing each video than on the actual filming.
What time of day do you have the best lighting? Is the setting right and natural? What about the video and audio? There's a lot that you should figure out before you start rolling.
Top performers' videos might sometimes appear improvised, but you can bet your ass that a lot of planning took place so that spontaneity would look as good as possible for the camera.
And make no mistake, the audience notices and appreciates high quality and hard work. That appreciation will often manifest in the forms of Fan Club memberships, tips, merch purchases, etc., so you should always try to do the best job you can.
Thumbnail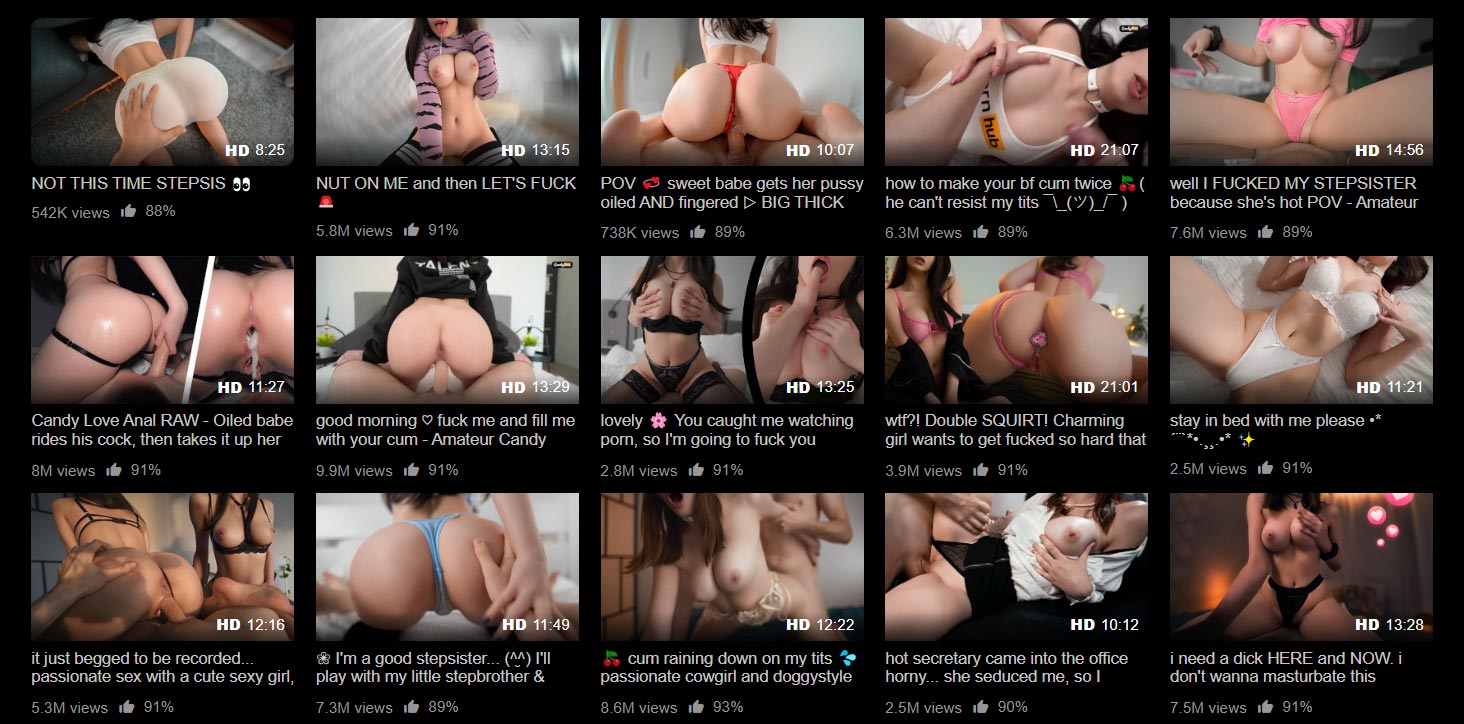 Don't underestimate the importance of a good thumbnail.
The eye delivers 80 percent of the information we need to perceive the world. And that is exactly the percentage of people who will skip your videos if the thumbnails aren't appealing to them.
To make things easier, you can do mini photoshoots while recording, and end up with a bunch of high-quality photos of the scene.
Here's a step-by-step guide for making successful thumbnails:
Use a program like GIMP or Photoshop's free basic app for mobile phones.
Make a new file with a resolution of 640×360 pixels.
Add your image.
Adjust the image's size while keeping the ratio in mind (the shapes must look realistic).
Save it as a PNG to preserve the image quality.
Schedule your video to be uploaded a few hours ahead of time. Upload your thumbnail after the rendering process is complete. After that, it's up to you to decide when to publish the video.
Downtime Content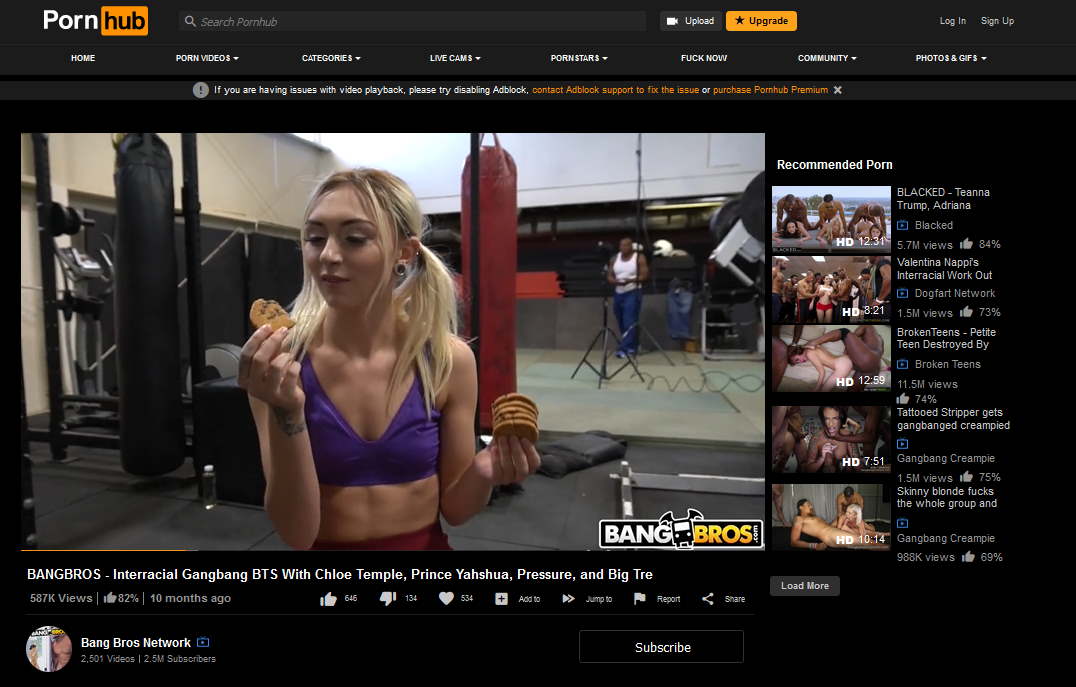 Custom albums, picture sets, tributes, and anything behind-the-scenes count as downtime content. It's a great way to fill up the time between uploads and keep your fans eager and engaged.
Behind-the-scenes content also shows your more intimate side, which usually attracts even more people.
Exclusivity
Seeing your porn videos uploaded to other tube sites and earning zit for them is almost as bad as starring in a Facial Abuse production.
That's why Pornhub offers exclusivity deals to all models interested in joining the Pornhub Network.
The program offers a distinct set of perks. Let's go over them.
Protection
Pornhub will act as your representative and file DMCA takedown notices to other free platforms such as xHamster or XVideos (they removed 250,000 infringing videos just last year). You can sit back, relax, and let them do all the work.
Because the takedown system is fully automated, though, you can't post your content on other free sites. But why would you even want to do that when the auto-export feature exists?
Unlike the leeches, partnered sites (YouPorn, Redtube, and Tube8) will send some cash your way. And the system recognizes them as such and doesn't target them.
It's Completely Free
There is no catch here. While services similar to the aforementioned protection cost roughly $200 a month, Pornhub offers them for free.
The only requirement is being a verified model and remaining exclusive.
Extra Revenue
That's right, everyone who joins this program will earn a 5% ad bonus from all their free videos.
Ownership Rights
While Pornhub will take down your content from other free porn sites, you will remain the content's legal owner.
That means that you can use your content on other premium websites such as OnlyFans and Patreon, or on your own model site, should you decide to create one.
Exclusive Category
Given that more visibility is always a good thing, you're in luck. Pornhub-exclusive models have their content appear in the Exclusive category on the site.
No Contractual Obligations
You can opt in or out at any time, no strings attached. But be wary; once you opt out, you will lose all of the benefits mentioned above.
Social Media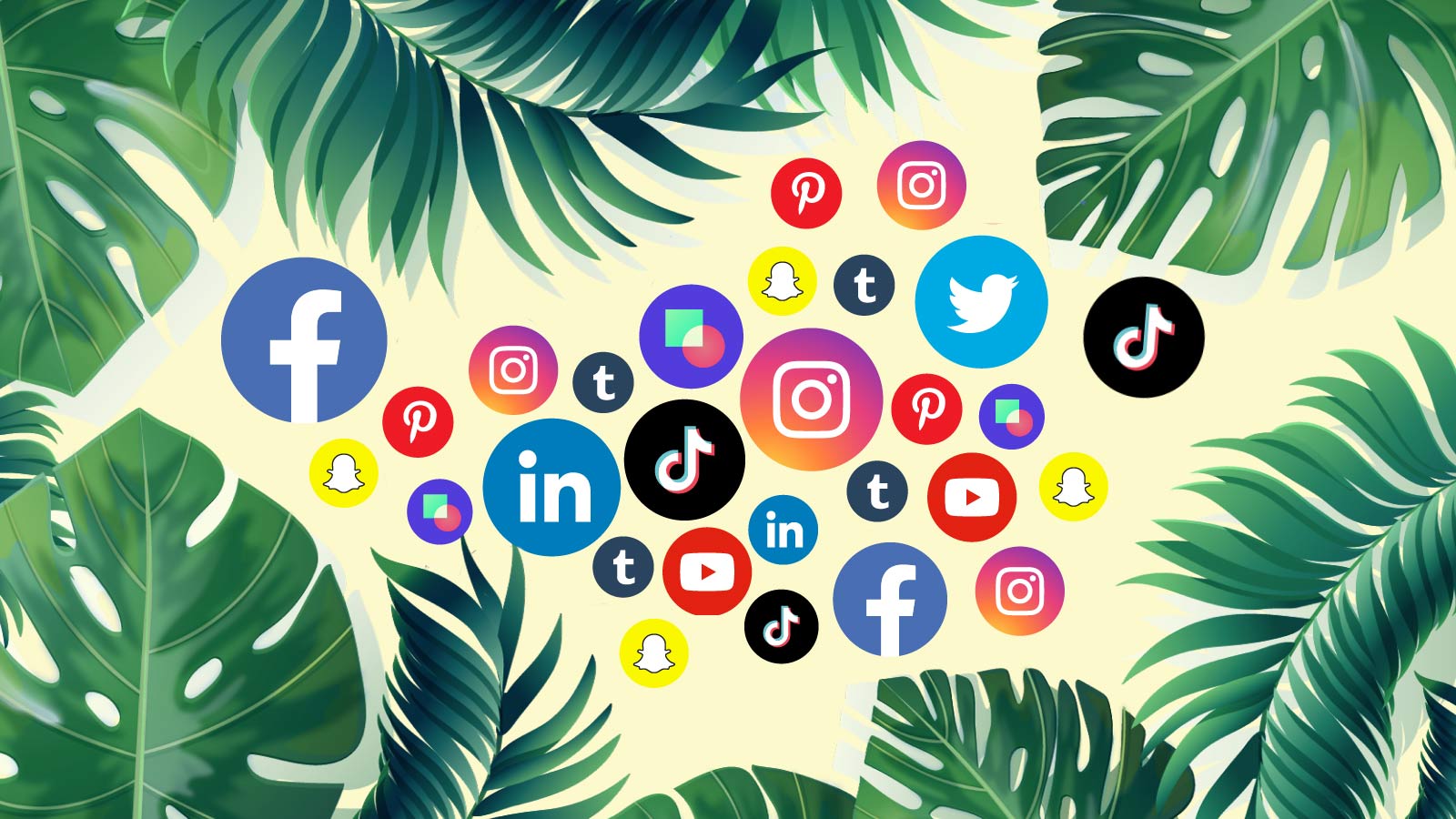 Pornhub and social media go together like tits and milk. You can do well for yourself with just the former, but add the latter into the mix, and you'll get your milky way to stardom.
Below is a list of relevant socials and the best ways to use them for promotion, and make even more money on Pornhub.
Twitter
Twitter is adult-friendly, and tweeting your content from Pornhub has never been easier with its Twitter integration.
To enable this option, go to your Model Settings and turn on automatic retweets for your content.
Instagram
If you want to show a more personal side of yourself, Instagram is the place.
Although IG won't let you post anything NSFW, it's a great platform to gain and redirect potential fans to your content on Pornhub.
TikTok
TikTok is home to many NSFW trends and a relatively young and ambitious audience. It's a great place for anyone to get discovered and potentially grow overnight, and Pornhub performers are no exception.
For example, look at how Cardi B's WAP dance has gone viral. Many models have profited by jumping on this and other TikTok trends, then redirecting the audience from there to their Pornhub, OnlyFans, etc.
Snapchat
Premium Snapchat is also a great way to make money, and numerous Pornhub models have turned it into a valuable source of income.
Even though Snapchat's official policy prohibits nudity and explicit content, the platform is essentially the social media hub for adult internet personalities. Just make sure to keep things PG-rated.
OnlyFans
Can you name a better duo than Pornhub and OnlyFans? We'll wait.
They're like hot fraternal twins. You can have a good time with each separately, but it's so much better when you put them to work together.
A popular platform to begin with, OnlyFans has skyrocketed in popularity during the Covid pandemic in 2020, and it's not stopping anytime soon.
Many Pornhub models use OnlyFans to produce exclusive and personalized content. It's similar to the Fan Club on Pornhub, but with different benefits.
Patreon
Patreon is a website where fans can leave monthly donations, and is very popular among content creators of all kinds.
What few know, however, is that it's also open to adult content.
Well, "open" might be the wrong word to use since they blatantly ban pornographic material and "sexual services." However, if we check their Community Guidelines, we'll see that Patreon does allow certain kinds of NSFW content behind paywalls.
"Works depicting real people in the nude in sexual contexts," animations or illustrations of nudity and sexual encounters, and "audio content that features simulated sexual interactions" are allowed.
Therefore, if you keep your Patreon account somewhat tame, you can easily make it a valid revenue stream. You'd be surprised how little encouragement dedicated Pornhub followers need to become actual patrons and start throwing money your way.
Discord
A favorite of gamers, Discord is a cross-platform chat app where like-minded people from around the globe can come together and connect through text, audio, videos, and photos.
If you are looking for a great way to promote your page, grow your fanbase, and interact with one or several communities, look no further.
Pornhub also has its official Discord server with over 450,000 members. This ever-growing haven of adult fun offers a place to interact with models, users, and staff.
Reddit
Reddit is full of students and freeloaders, so you might not find big spenders to buy your merch and videos or become your patrons, but you can undoubtedly funnel a lot of people to your Pornhub page. And as we know, viewers equals money.
So, how exactly do you use Reddit's traffic to earn on Pornhub?
Like many other platforms, Reddit has an "upvote" system, which boosts high-quality content, thus making it more visible on each subreddit. People will see it and get thirsty, so they'll come to the well — your Pornhub page.
With that done, all that's left is to actually collect your money, which we'll explain in the following section.
Getting Paid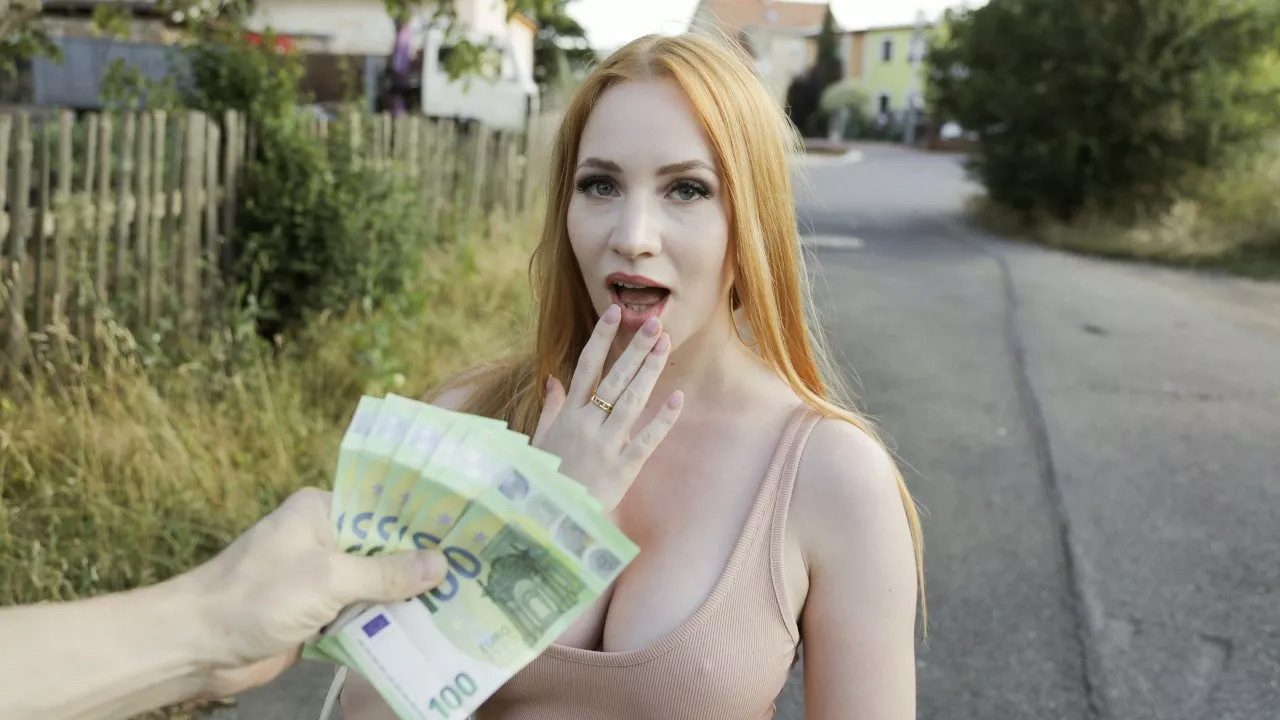 Threshold
Pornhub pays its models during the first week of each month, but only when their balance exceeds $100. If you don't cross this threshold by the first day of the month, your earnings will carry over into the next one.
The time it takes to process a payment will depend on the payment method that you choose, and can take anywhere from 7 to 10 days.
If Pornhub's team happens to require additional information to process your payment, they will contact you via email. So, make sure that the email address linked with your account is up to date and that you check it regularly.
Payout Options
We saved the best…for the next-to-last.
Unfortunately, Pornhub will neither work with PayPal nor credit cards, but you shouldn't let that kill your boner.
Here we have a handful of options for getting the money that you shed — hopefully not blood and tears — but definitely sweat and other bodily fluids to make.
Direct deposit
Paper check (only issued in USD)
Paxum (Europe only)
Cosmo (primarily available in Europe)
Cryptocurrency: USDT and Verge Currency (you will need a valid wallet ID)
We suggest checking out the Pornhub Help Center for more information regarding earnings and payments.
And if you have difficulty accessing that page or find something else that doesn't work on their site, then the following way to earn on Pornhub might actually be for you.
Pornhub Bug Bounty Program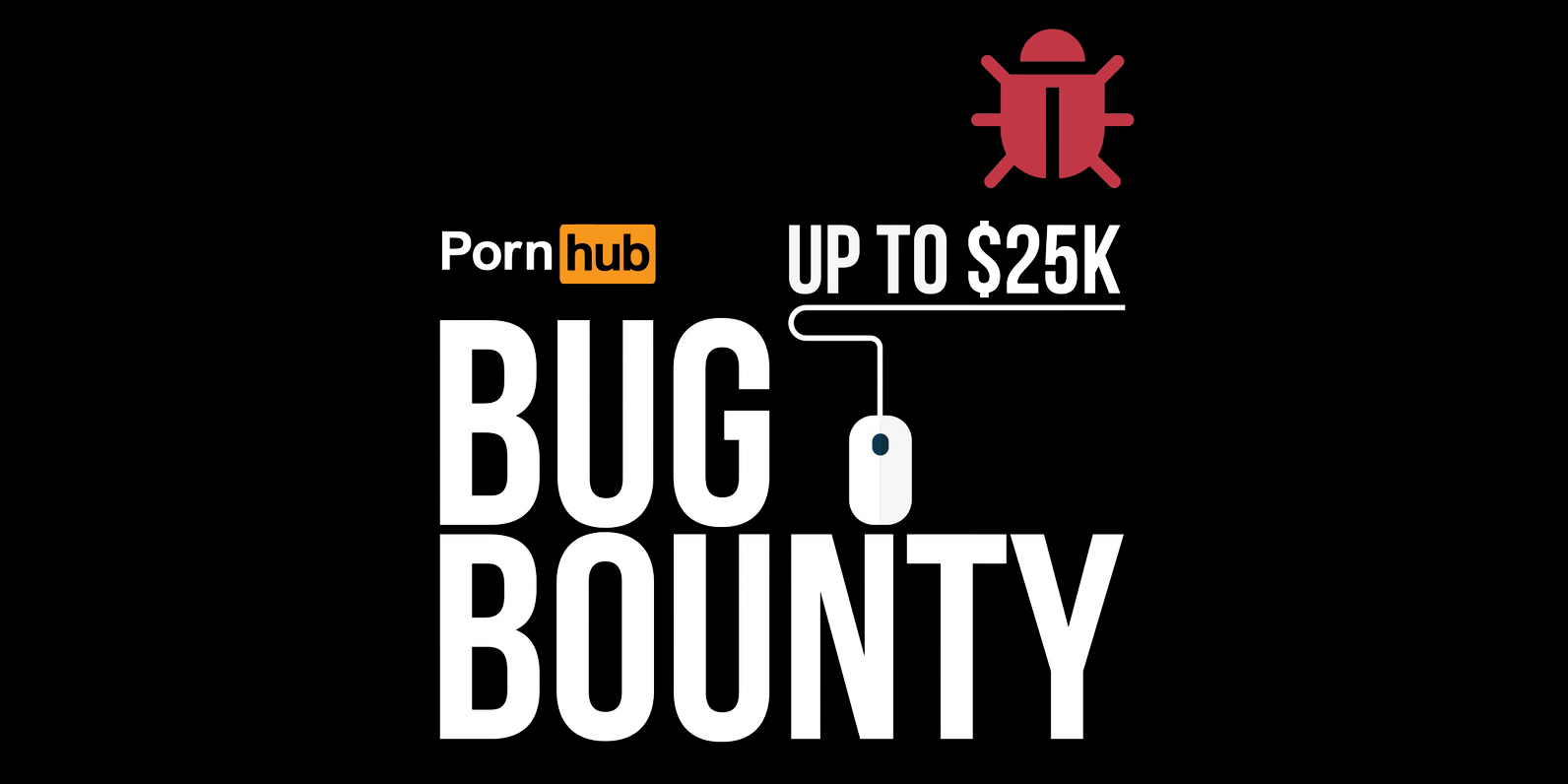 If you know your way around code, you could make good money by being the first to discover and report errors and vulnerabilities of the world's No.1 adult website.
You'll get a sum in the $50 to $25,000 range for each bug that they end up squashing thanks to your aid. The rewards depend on the identified vulnerability, and Pornhub gives them at their discretion.
To be eligible, you must:
Report a technical security vulnerability.
Include a detailed textual explanation of the bug report with instructions for reproducing the vulnerability.
Attach screenshots or proof-of-concept code as attachments.
Make sure that Pornhub is the sole recipient of the vulnerability report.
As you can see, while the program does pay out decent amounts, it's not exactly fun. Getting naked and shooting sexy videos is a much more fulfilling (pun intended) way to earn on Pornhub.
Conclusion
You've now learned everything you need to know to make money on Pornhub, the largest smut platform on the net. The world has changed a lot since they invented porn, and we wouldn't have it any other way.
A job in a growing industry (rare in the current economy) that you can do from the comfort of your home while being your own boss? What's not to love?
If there is anything you should grab by the balls and never look back, it's opportunities like this!