Like naming your porn site, coming up with a great Pornhub nick is an important step toward success. Whether you want to rebrand or just add something to your existing ID, we'll teach you how to change your Pornhub username.
This article will give you all the necessary info, including:
Keep reading to learn how to do it!
How to Change Your Username on Pornhub
When they join an adult platform, be it OnlyFans or Pornhub, people often don't think about their username too much. After all, they're usually busy getting verified and finding ways to make good money.
However, a great username can help you stand out in a sea of other porn stars. If you already picked one back when you joined and aren't pleased with it, though, that's not a problem.
Just follow the process below, and changing it will be easier than sliding a finger between Mia Malkova's legs.
1. Step 1 — Go to Settings
First off, you'll need to visit Pornhub.com and log into your account.
To do so, click on the profile icon in the top right corner.

This will open a drop-down with two options: Log In and Sign Up.
Since you already have an account, click on Log In, which will open a login pop-up.
In it, enter your username into the Username field, your password into the Password field, and click the Sign in button.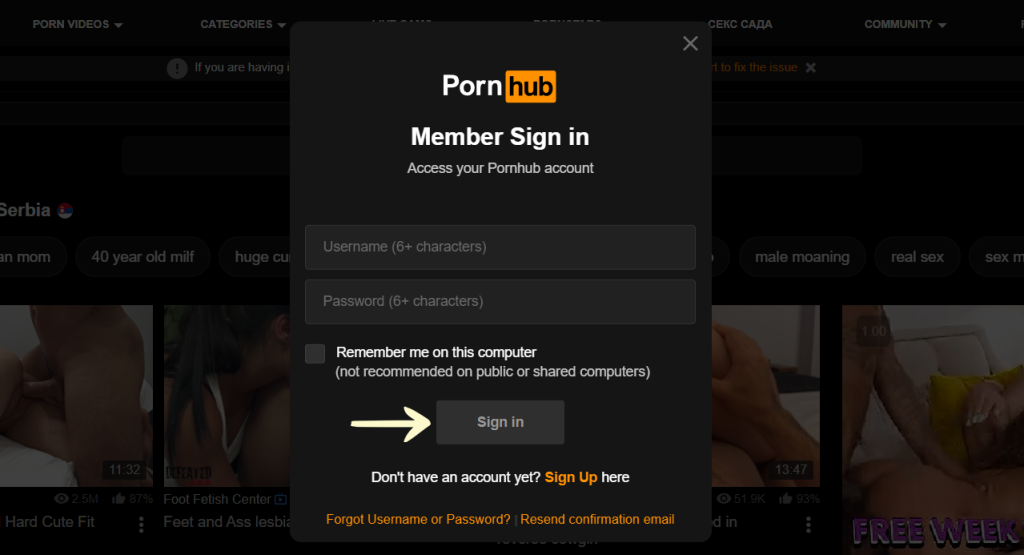 Once you're in, resist the urge to touch yourself to the featured content and focus on your profile pic in the upper right corner.
Click on it, and select My Settings from the drop-down menu.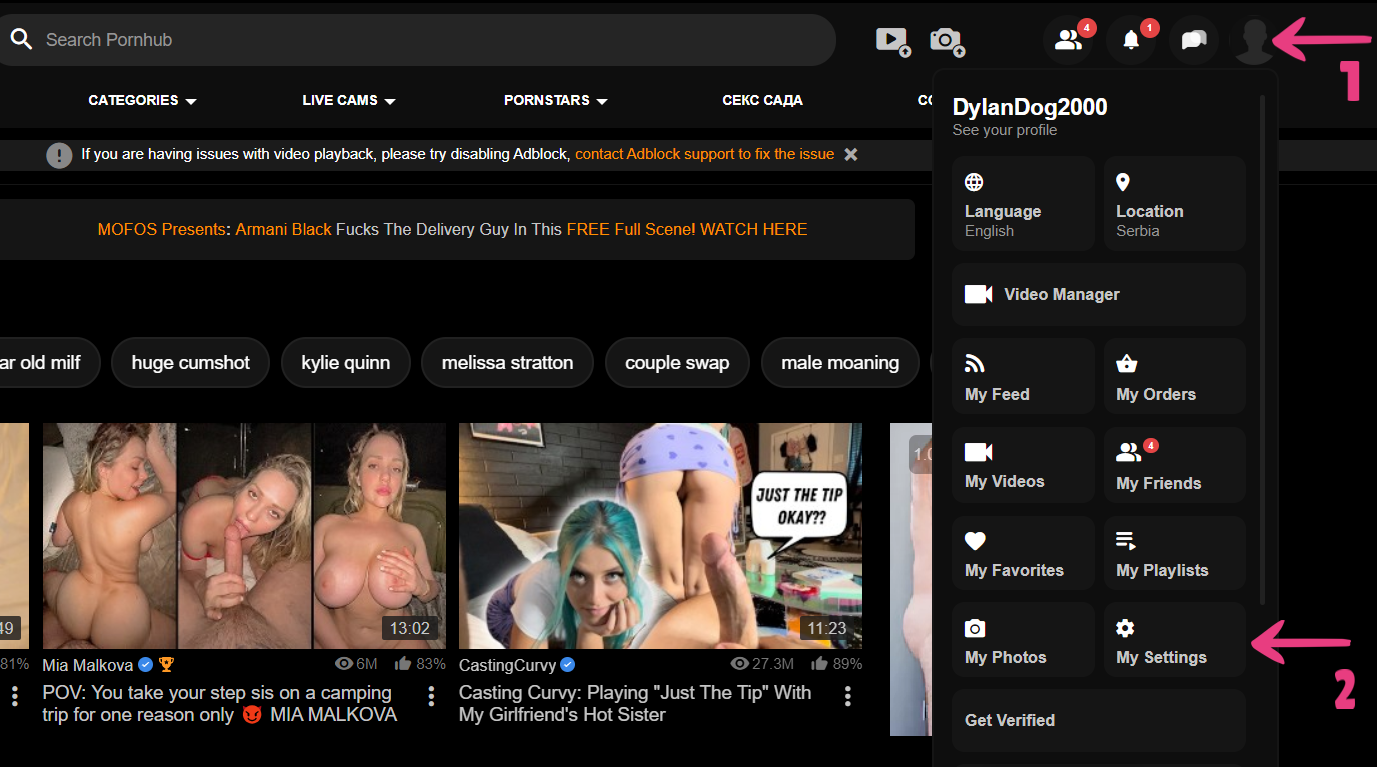 2. Step 2 — Head to the Security Section
On the new screen, click on the Security section in the horizontal menu.

Next, tap the Email and password button.

3. Step 3 — Change Your Username
You'll find the Change Your Username option right under the space with your email address.
Now, all that's left to do is to come up with an available and catchy username, as no two accounts can have the same one.

In case a username isn't available, you will see a message in bold red letters: Error! Please enter another username.

In most cases, adding a number or an additional letter will fix the issue right away. As soon as you don't see the error note, you're good to go.
Also, you should note that Pornhub usernames can only be alphanumeric. In other words, you can only use letters and numbers without dots, underscores, and dashes.
4. Step 4 — Save the Changes
Once you have a username both you and Pornhub approve of, you can scroll down to the bottom of the page.
Complete the captcha, then simply click on Finish Editing.

The page will reload, displaying a Profile Updated notification above the horizontal menu.

And that's it! Your username is now brand new, and you're ready to win over the site's massive user base with your homemade goods.
A Few Quick Notes
Before you change your username, you should make sure that you've picked an option you'll be pleased with. We're saying this because once you change it, you'll be stuck with it for a whole month.
That's right; Pornhub only lets you change your ID once every 30 days. Choose yours carefully if you plan on building a consistent brand and collecting views.
This rule is in place to keep users safe and prevent impersonation, and there's no way around it.
Another important thing to keep in mind is that a username is not the same as a stage name on the platform.
Your username is what appears on Pornhub when you post or comment on videos (emmaocean1, for example).

A stage name, on the other hand, goes at the end of the link that leads to your profile, such as: pornhub.com/model/emmaocean1.

The two names do not have to be identical, and the stage name allows dashes, dots, and underscores.
If you want to change your stage name as well, you can do it on your Settings page. Alternatively, you can contact a Pornhub Model Coordinator and have them hook you up with a new one ASAP.
Conclusion
Now that you know how to change your Pornhub username, you're all set to start uploading videos and making fat stacks. So, go on and find your niche, build your brand, and make it rain!