People often joke about how the internet is for porn. While they may not exactly be right, they aren't entirely wrong, either.
Around 25% of total online searches are porn-related. Why? Simply, people love porn. They always did, as adult entertainment is by no means new. There are cave paintings of people having sex, for crying out loud.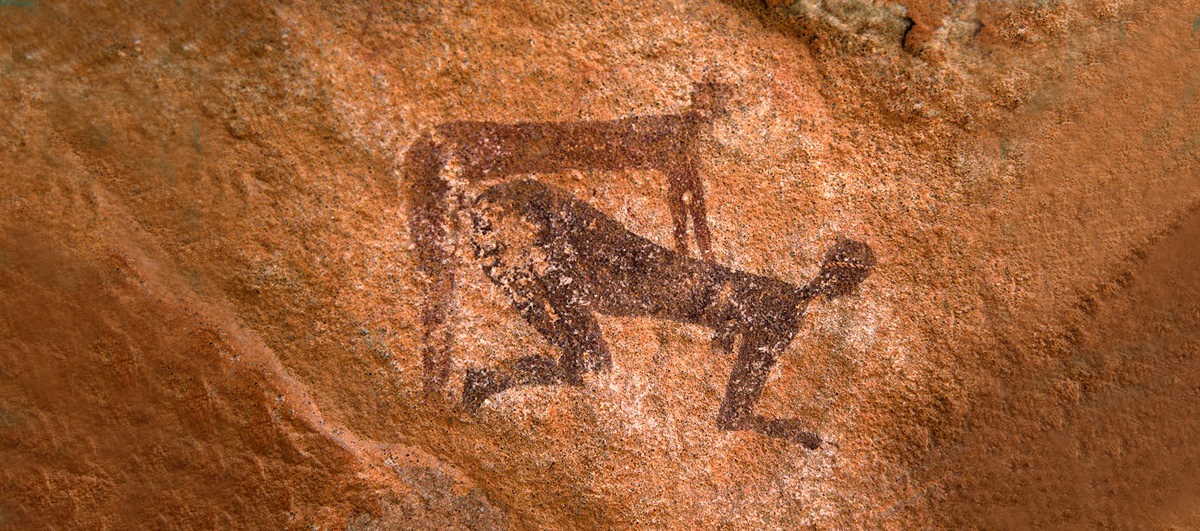 Since they enjoy it so much, people spend a lot on porn — around $3,075.64 per second. In 2022, the online adult industry has reached an annual revenue of $856.2 million in the United States alone. That's a lot of grabbed boobs and slapped butts.
And if anything, the COVID-19 pandemic has only made people love porn more. For instance, Pornhub, one of the biggest porn sites in the world, has reported increases in traffic ranging from 38% to 61% since the start of the pandemic.
But while porn is an unstoppable juggernaut of an industry, it is also painfully hard to monetize. Most payment gateways will flat out refuse to serve a client if they smell anything adult.
Even giants like Pornhub (and models earning on the platform) have trouble with monetization, as MasterCard and Visa have stopped allowing their cards to be used on the site.
This means that many people who wish to claim their share of ass revenue by making a porn site will find it hard to get paid. PayPal will not work with them, and neither will most mainstream payment processors.
However, there are those who will. You will find them in our list of top 5 adult payment processors.
Why Payment Processors Stay Away from Porn Sites
If you check a payment gateway's list of accepted businesses, you'll rarely see any of the following:
Porn websites
Adult video streaming platforms
Lingerie and fetish items
Lotions and lubricants
Sex education websites
Adult video games
Adult photography
Phone sex
So, why are most debit and credit card gateways terrified at the sight of a nipple on their clients' websites? In short, they don't like the adult industry's inherent downsides, which include:
The stigma of being associated with the adult industry
Heavy regulation for adult payment processors on state levels, which can cause legal troubles
The industry's very high chargeback rate, which is over 1%
The fact that porn websites and adult businesses overall are often associated with a high risk of fraud.
So, it's less a case of eww, naked people, and more a case of risk aversion. Payment processors are essentially banks, and banks hate risk. And when we say "hate," we mean they'll gladly use it as an excuse to charge you more.
Visa and Mastercard actually have something called an annual high-risk registration fee. This is something they slap you with when you register an adult business with a payment processor, and it may be as high as $1,000 if you're in the US or Canada, or $500 if you live in the EU or the UK.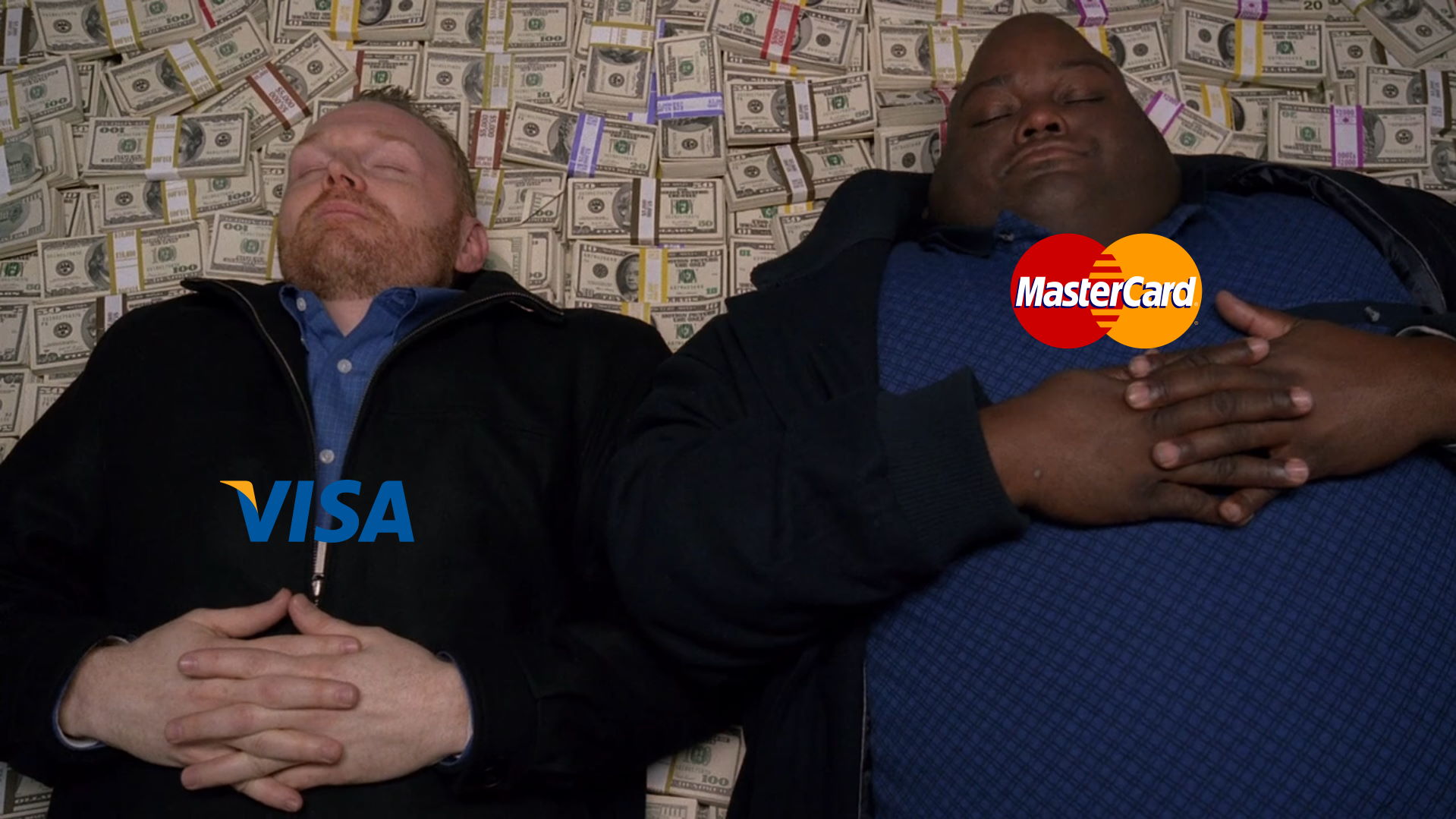 All payment processors will charge you this amount once per year if you are in the adult industry, and forward the amount to the card company they are partnered with.
However, where there's risk, there's reward. And when you know what you're doing, you can minimize risks and maximize rewards.
Be Careful When Choosing Your Payment Processor
But banks aren't the only ones who can be picky. You as an adult entrepreneur should also be careful when choosing a payment gateway.
For instance, you won't want to use PayPal — one of the most popular payment solutions around — for porn or even for withdrawing ad revenue from your porn site. If you try, they will almost certainly shut your account down as soon as one of their people checks your website and hears a moan.
Like many others, PayPal has a specific list of business types they don't work with, which in their case includes drugs, guns, sex toys and — the most dangerous one of them all — porn.
Also, PayPal isn't a good payment processor overall, for many reasons.
For instance, they can ban you and freeze your funds without explanation, even if you follow their Terms of Use. As if that weren't enough, they are notorious for their poor customer service.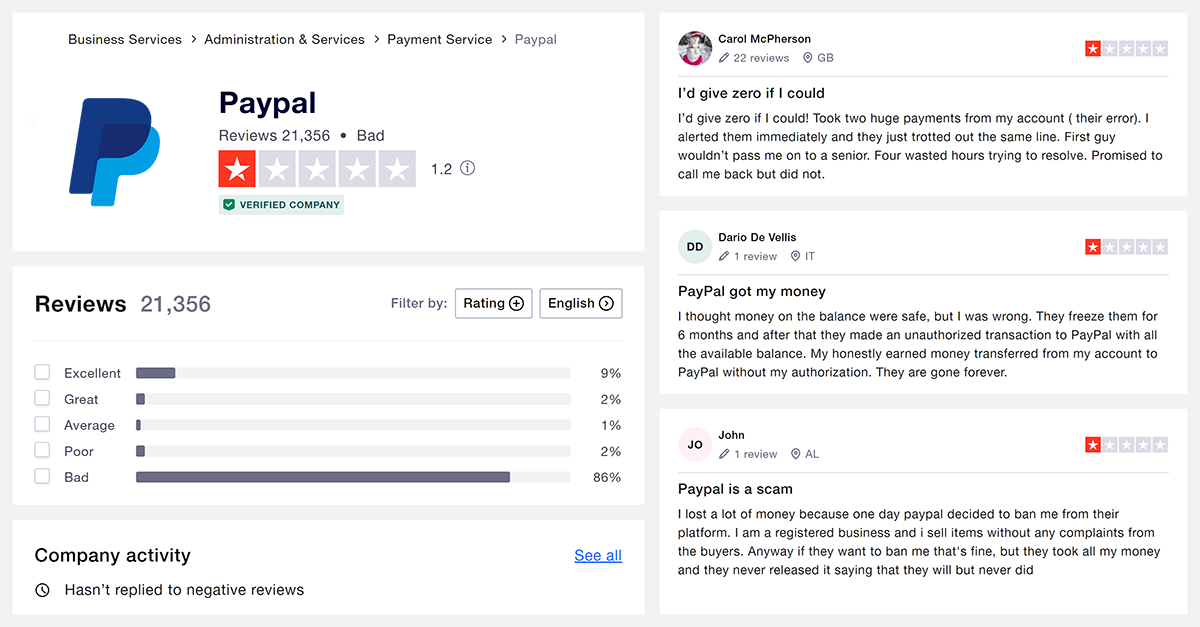 As a result, PayPal's popularity is dwindling and its stock value is at an all-time low. The only reason they're still around is because they're too big to fail, at least for now.
There's no other way to say it; PayPal is not a viable option for an adult business. Luckily, there are plenty of other companies that are.
What Are the Best Adult Payment Processors?
To save you time and money, we've tried out all the notable payment processors one can find on the web. You can see what we've learned in this list of the top 5 best adult payment processors.
They are ranked under the following criteria:
Initial setup process — how easy and convenient is it to create an account at the payment processor and work it into your adult website?
Fees — are there any fees when you transfer money through the platform, and how high are they?
Limits and restrictions — how much can you withdraw at once? Similarly, does the platform restrict you in any other way?
Payout schedules — adult payment processors often pay you out at a specific time, such as each week. That means that you can't start a transfer whenever the mood strikes, so you'll want a convenient schedule.
Contract obligations — what are the terms and conditions you must adhere to when using the platform?
Customer support — what types of customer support does the platform offer? Do you get 24/7 support, and are the customer service reps friendly and good at their jobs?
It's true that compromise plays a big role in any relationship — business or intimate. However, you'll never want to make compromises when it comes to payment processors for your adult website.
You need money to live, and your business needs money to function. To support both, you'll want to go with one of the reliable choices from below.
The Top 5 Adult Payment Processors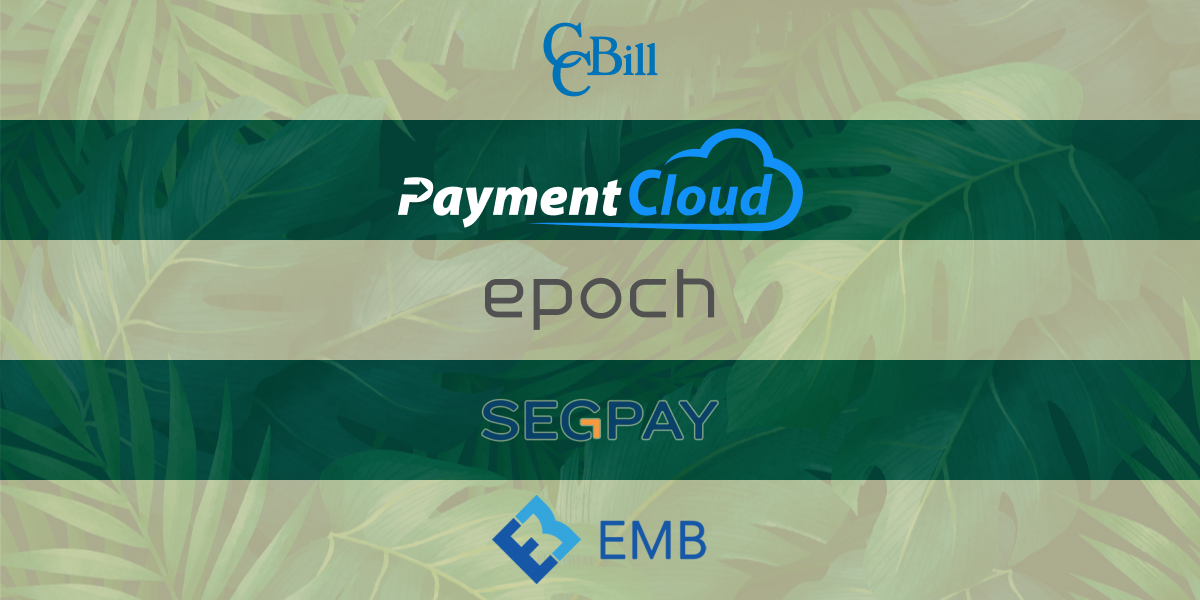 1. CCBill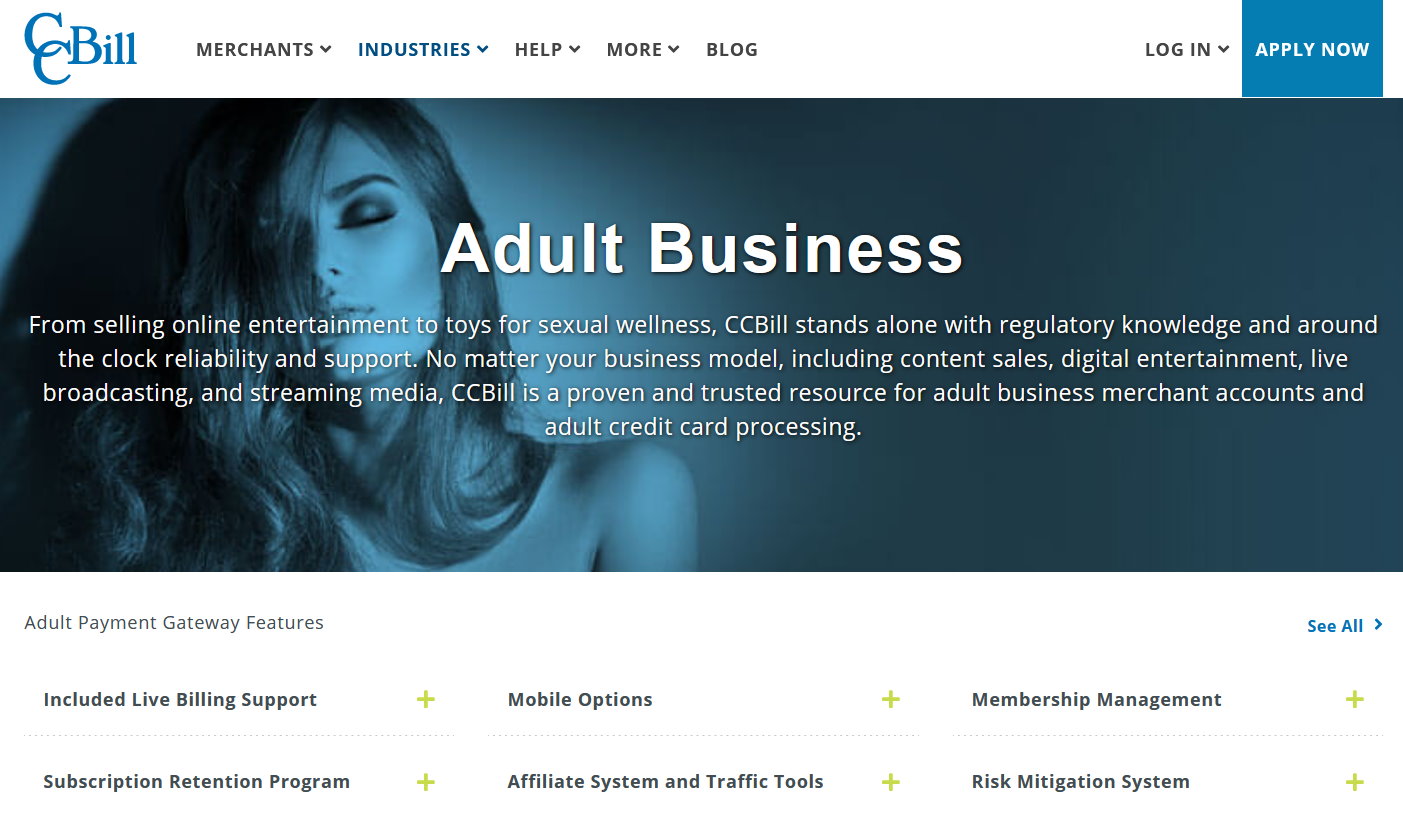 Founded in 1998, CCBill is known for advanced fraud protection and 24/7 customer support. They accept most types of payment, no matter the industry, making them our first choice.
They have many big-name clients, including OnlyFans, Flirt4Free, ImLive.com, and Clips4Sale.
Features
A secure payment processing system, well-suited for adult businesses
Anti-fraud and risk mitigation features
Highly customizable payment forms, including A/B testing and custom payment cascades
CCBill's Merchant Connect Network makes it easy to work with their other clients to get more sales
A global network of buyers, eager to purchase from websites that use the platform
Many useful tools, including automated subscriptions, access management, notifications, and more
Localization features such as currency and language selection
They support a wide range of payment methods
Weekly payouts every Monday
Pricing
CCBill doesn't have any setup fees or monthly fees. However, you will need to pay a security deposit, also known as a rolling reserve.
In practice, you will be charged a small percentage of your earnings for a certain period. For adult businesses, that means 5% of what you earn for the first 26 weeks.
Like all payment processors, CCBill charges a fee for each transaction that goes through their system. Depending on your adult business, the rate for these is between 3.9% and 14.5%.
High-risk companies may also need to pay an annual high-risk registration fee — $1,000 for the US and Canada, and $500 for the EU and the UK.
Pros
CONS

The most popular payment processor for adult entertainment websites
Pricing and fees are flat and transparent
No monthly or setup fees
No early termination fees
Various currency and language options
Excellent customer support via live chat, email, or phone

There is a six-month minimum hold on payout in case you cancel the service
You need to have a rolling reserve
Integration is a bit complicated
The maximum amount that you can charge per transaction may be limited
2. PaymentCloud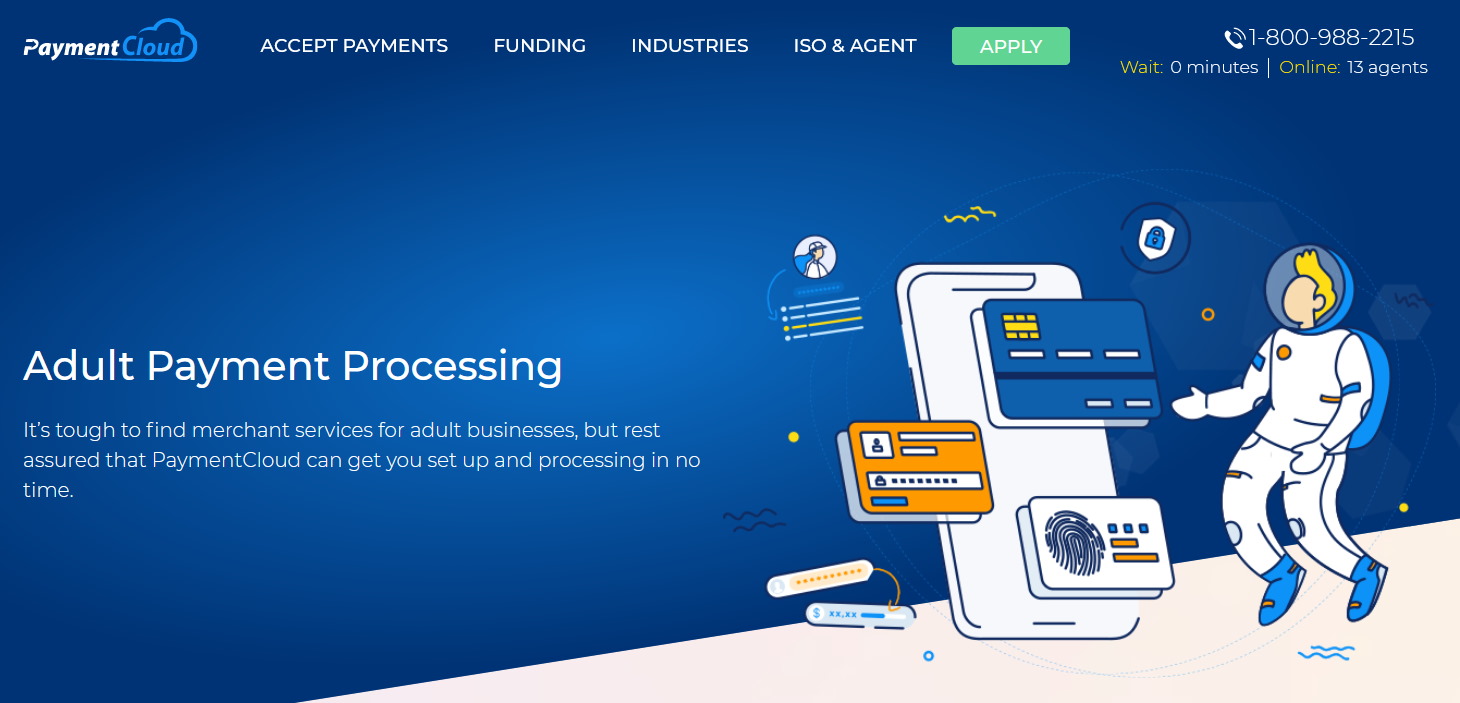 Started in 2015, PaymentCloud offers low rates and personalized services for all business types. That includes high-risk industries such as adult entertainment, CBD, and dropshipping.
He who dares, wins — and PaymentCloud certainly dared. Spoilers: it paid off. Today, they are one of the fastest growing payment processors, already within the top 300 in the Inc. 5000 list.
Features
Fast and easy signup process
Dedicated customer service representative for your account
Easy integration with over 100+ platforms
Convenient and straightforward underwriting process
Advanced chargeback and fraud prevention
PCI-compliant virtual terminals
Weekly payouts every Monday
Pricing
PaymentCloud isn't transparent when it comes to pricing and fees because they offer a custom rate for every client. So, to find out whether or not you vibe together, you'll need to contact them directly.
Their rates vary depending on the industry you are in. Since adult websites are considered high-risk, you can expect a pricier service. Instead of setup fees like CCBill, PaymentCloud charges a monthly processing fee, which can go as low as $25.
However, you will have a processing limit. That means that the platform can only process a limited amount of money for you each month.
They will decide on that amount based on your application and business specifics, but the number starts between $5,000 and $10,000. After three or more months of healthy processing with little or no chargebacks from your clients, the company will increase your processing limit.
Finally, you will need a reserve account for risk mitigation reasons.
What's particularly great is that high-risk businesses can negotiate their processing fees with the company. As a potential (or current) adult webmaster, you qualify for that perk.
To get the best possible terms, make sure to provide your transaction history when applying for a merchant account with PaymentCloud.
Pros
Cons

Ideal for adult websites
Personalized service
Reasonable rates and fees (a minimum $25 monthly processing fee)
No account setup fees
Great customer service via phone and email

Pricing information is not publicly disclosed
The account approval process can take up to a few days
Long-term contract required for high-risk merchants
Early termination fees range between $300-$600
Monthly processing limit
3. Epoch

Epoch started out in 1996 as a payment processor that only served the adult industry.
The company has grown since then, and now works with various businesses, from internet start-ups to multinational giants. They haven't forgotten their roots, though, and will help any adult webmaster get their payment solution up and erect.
Epoch is known for its high security and global reach, so you can safely use them from almost anywhere in the world.
Also, Epoch is user-friendly. You can quickly set up their merchant solutions, and won't have trouble reading and understanding their terms and conditions.
Some of their notable customers include Vixen, Naughty America, and VRPorn.
Features
Made for use in the adult entertainment industry
Exceptional security
60 payment currencies and 29 payment types
17 supported languages
Pricing instantly converts to local currency equivalent
State of the art payment gateway
One-time and recurring billing options, including one-click functionality
Payouts occur every two weeks via wire transfer or check
Weekly payouts every Monday
Pricing
Epoch's processing fees are directly based on your sales volume.
Their rate starts at 15% for an average weekly volume of below $5,000.
As the volume goes up, the rate goes down. It can go as low as 13.25%, and even lower for particularly successful businesses.
Epoch makes its pricing transparent and easy to track, so you know that they won't pull out any hidden rules to squeeze every last dime out of you. We like to keep the squeezing in the bedroom.
Pros
cons

Quick and simple account creation
Many different currencies and languages
Advanced security
Easy to track pricing

Their customer support could be better
15% processing fee for new accounts
4. Segpay

Segpay isn't afraid to get in bed with high-risk industries, especially those in the field of live sex cams. Some of their better known clients include Mofos and Kink.
They work with businesses from the United States, United Kingdom, and the European Union, but will process payments from anywhere in the world.
The company is known for their overall security and reliability. However, they owe a lot of that security to their strict KYC procedures. Because of those, account creation can take long enough to spoil the mood.
Features
Best suited for live cam sites
3D-secure customer authentication that checks for signs of fraud
Many third-party software integrations
Lots of customization options
Built-in affiliate marketing and retention tools
Weekly payouts every Monday
Pricing
Segpay's fees vary significantly, based on the client's business model and cash volume.
Expectedly, their charges for adult websites are higher.
To learn more about the deal they can offer you, you should get in touch with their customer support. Make sure to provide them with your transaction history if you want to get the best possible rates.
Pros
Cons

15 supported currencies
Compliant with the EU Payment Services Directive (PSD2)
Advanced risk mitigation and fraud prevention tools
24/7 support via email, phone, or live chat

5% of your revenue is kept in a 6-month rolling reserve
Account approval can take a week or more
Complicated onboarding process
Mixed customer reviews
5. eMerchant Broker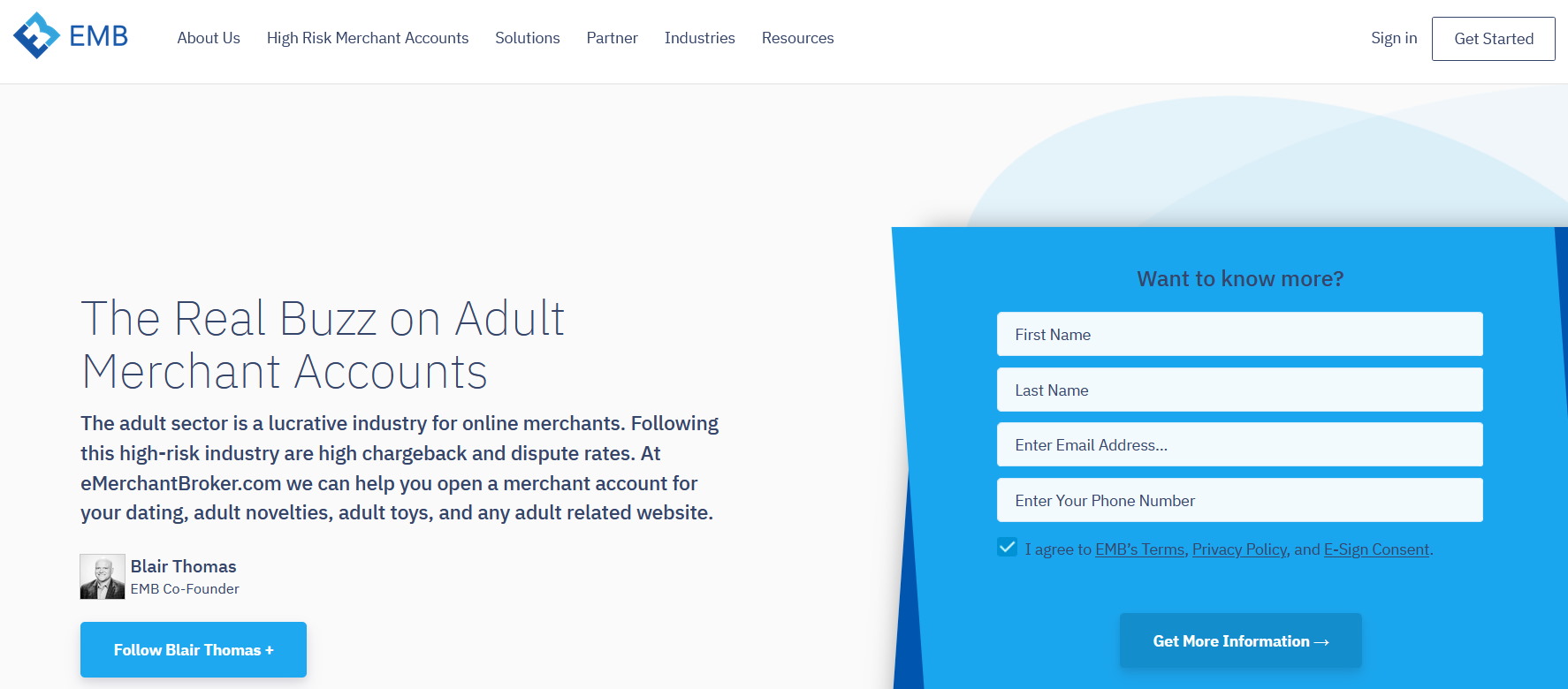 eMerchant Broker was founded in 2011 with the idea that they would only serve high-risk businesses. Of course, that also includes the adult industry. Given that they're still around, they're obviously doing it right.
The platform is safe, secure, and comes with a lot of handy integrations. On the flip side, their fees are higher than most would like.
Despite eMerchant Broker's willingness to take risks, they're all about a committed, loving relationship, so they only deal with long-term contracts. Therefore, you should only consider them if you're in for the long haul.
Features
Focused on high-risk industries and very well suited for adult websites
They support multiple payment gateways, including their own (eMB Payment Gateway)
They support iChecks, Checks by Phone, and Checks by Web
A variety of tools to detect, respond to, and mitigate chargebacks
Cryptocurrency support
Global presence
Weekly payouts every Monday
Pricing
eMerchant Broker's pricing and fees vary based on your business type.
They state that their rates go as low as 2.99%, but that only applies to the highest qualified rate on their tiered pricing plan.
Most adult businesses can expect rates of 4% or higher. In addition, you will need to pay a per-transaction fee, ranging from $0.15 to $0.25.
eMerchant Broker offers an integrated payment platform for your online store. You can get it with one of several plans — each with its own set of rates and fees.
Pros
Cons

Chargeback prevention measures
Lots of third party integrations
Accepts most high-risk merchants
Integrated payment platform

Only works with long-term contracts
Early termination fees of up to $295 for 1-year contracts, and more than $595 for 3-year contracts
The quality of their customer support leaves much to be desired
Honorable Mentions
Apart from the top 5 best adult payment processors on our list, we've also found other great platforms.
Even though they didn't make it to the finals, they still deserve to be mentioned:
How to Create an Account at an Adult Payment Processor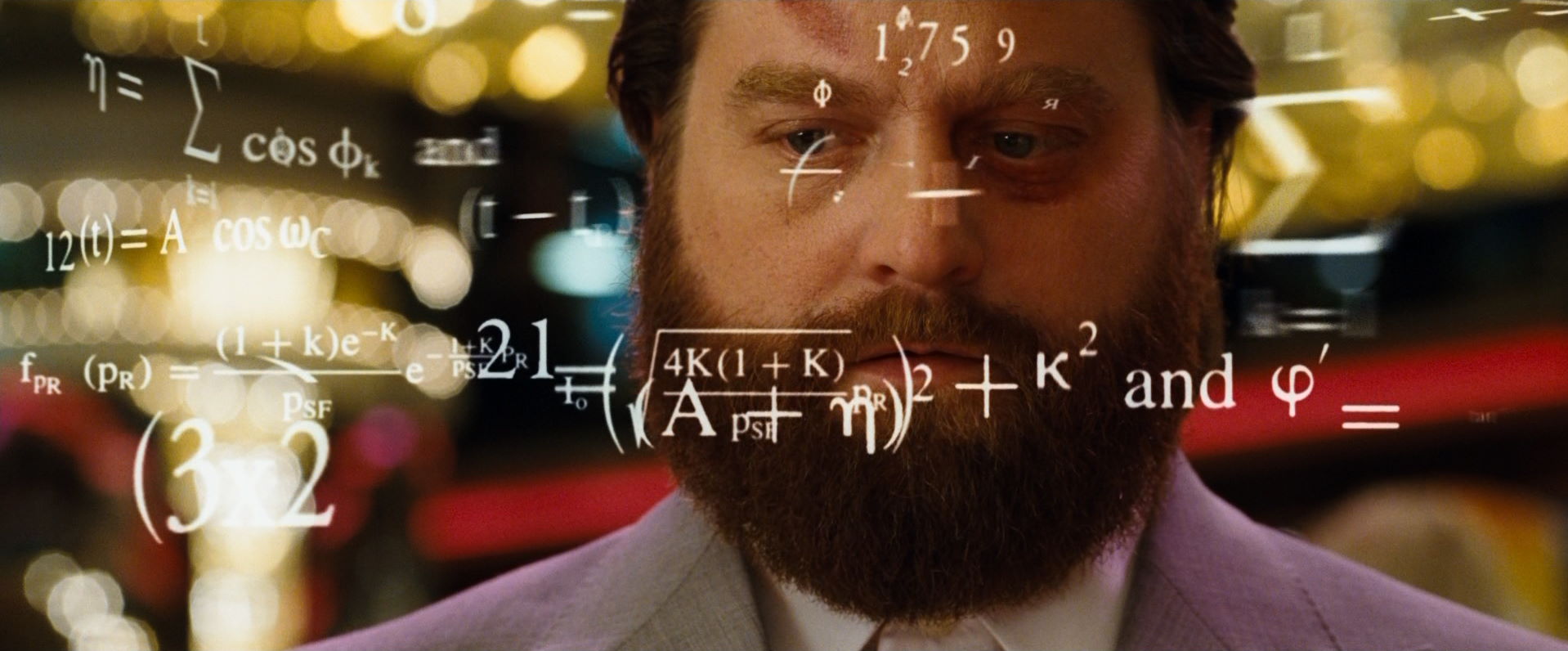 To start using an adult payment processor, you'll need to create an account. You start that process by submitting your requested information and documentation, so that your identity can be verified.
It goes without saying that your personal info and company data will not be shared. Your relationship with your payment processor is not a threesome, unless you want it to be.
The exact information you will have to provide to create your account will depend on the processor you choose.
However, most companies will ask for the following:
Full name and business email
Cell phone number
Your adult website's URL
A valid, government-issued ID, such as a driver's license
A bank letter or a pre-printed voided check (optional)
3 months of your most recent bank statements (optional)
3 months of your most recent processing statements, if applicable (optional)
You should keep in mind that the information above is necessary not just for the company's security, but your own.
A payment processor is your representative in the finance world. You can't expect them to stand up for someone they know nothing about. The required checks will prove to them that you are a legitimate business in need of their services.
You can find similar processes at mainstream payment gateways, and even PayPal is no exception.
Once you and the payment processor are no longer strangers, you can apply their solution to your website.
If you're running one of Vicetemple's website themes, this will be easy. Just let us know — we offer free integration with all our themes.
However, if you had an adult designer hand-craft your site, you could have trouble doing so. In that case, we'll still probably be able to help, but we'll have to look at your case first.
Mainstream Payment Processors' Policies Regarding Adult Websites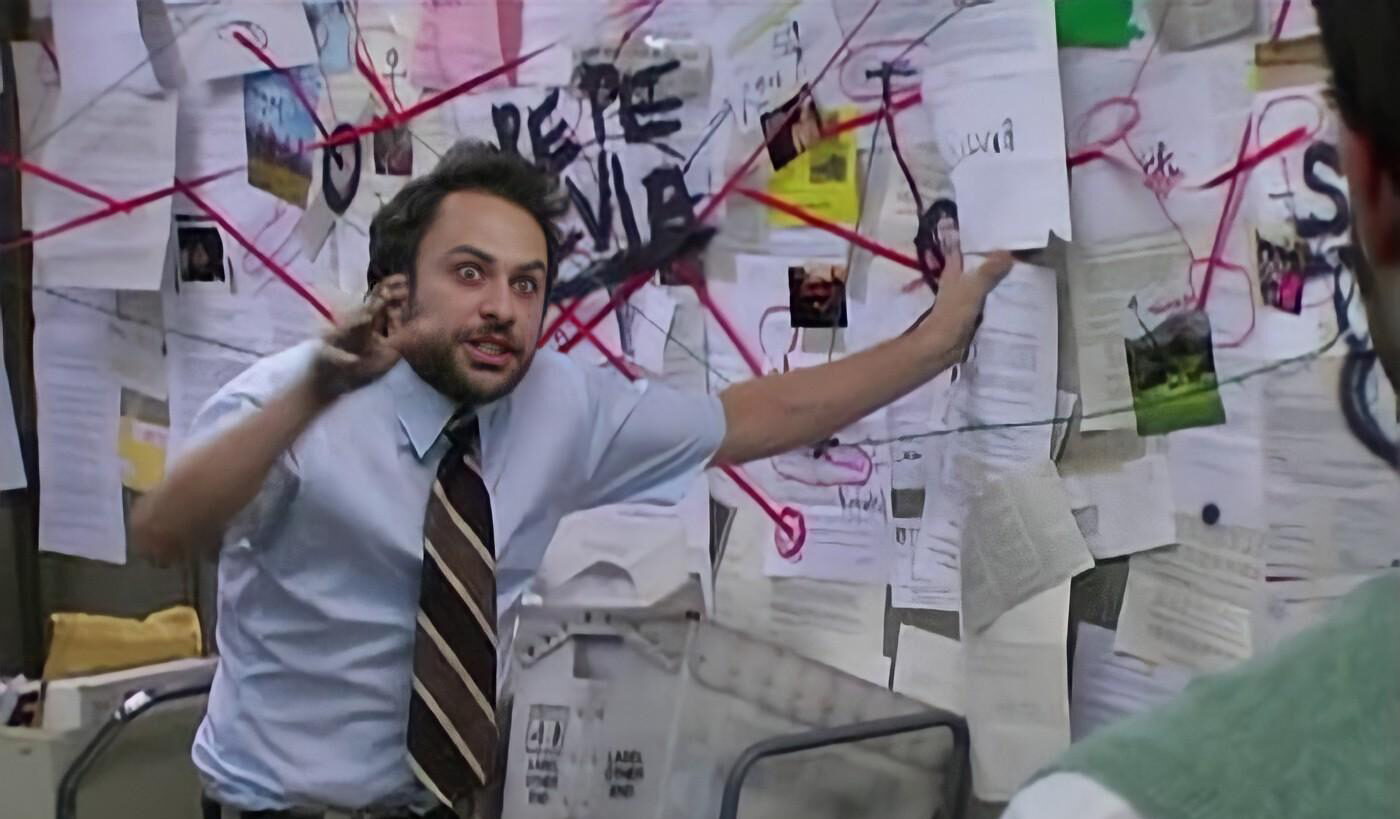 Because going through dozens of legal pages is neither easy nor enjoyable, we hired experts to do it for us. They confirmed what we already knew — that mainstream payment processors will not serve adult businesses.
But we didn't stop there. Just to be extra sure, we contacted those companies to learn if our findings were 100% true. Here is what they said.
PayPal
"We don't permit PayPal account holders to buy or sell:
Sexually oriented digital goods or content delivered through a digital medium. Downloadable pictures or videos and website subscriptions are examples of digital goods.
Sexually oriented goods or services that involve, or appear to involve, minors.
Services whose purpose is to facilitate meetings for sexually oriented activities."
Payoneer
"Payoneer does not service transactions relating to the following Restricted Lines of Business:
Adult Services
Adult massage or other adult entertainment services
Adult pictures, videos, games that include pornographic or obscene content
Adult text chat, video chat or online streaming
Dating Services
Mail order bride, escorting services, prostitution."
Google Wallet
"Unacceptable product – Adult goods and services – Pornography and other sexually suggestive materials (including literature, imagery, and other media); escort or prostitution services."
Skrill
"It is strictly prohibited or restricted to send payments in order to pay for and/or receive payments as consideration for the delivery of a) adult related and pornographic material including but not limited to websites selling videos/pictures and or DVDs of such; b) Escort services."
Stripe
"By registering for Stripe, you are confirming that you will not use the Service to accept payments [for] Pornography and other obscene materials (including literature, imagery, and other media); sites offering any sexually-related services such as prostitution, escorts, pay-per-view, adult live chat features."
WePay
"You will not accept payments or use the Service in connection with the following activities, items or services: Adult or adult-related services, including escort services, adult massage, or other adult-entertainment services; Adult or adult-related content, including performers or cam girls."
Square
"Not accepting payments in connection with adult entertainment oriented products or services."
Finding the Right Adult Payment Processor Is Essential to Your Adult Business
As you can see, mainstream payment processors are both strict and clear about not wanting anything unconventional among their client base. So, if you try to open an account with them anyway, you should expect it to be shut down.
Even worse, any money you have there might be frozen and become impossible to access. We've already said that PayPal is notorious for pulling stunts like that.
In conclusion, if you want to start a porn website, monetize it, and stroke it full size and beyond, you will need a good payment gateway. We're using CCBill ourselves, and it's the best payment processing solution we ever had.
Whichever of the top 5 adult payment processors listed here you end up choosing, though, your money will be in safe hands.