Vicetemple, founded in 2016, is part of a larger network that has been providing specialized hosting services for well over eight years. The company was created to offer a one-stop solution for all adult business needs, including adult web hosting, themes, and scripts.
In addition, Vicetemple is notable for offering large bandwidth for a low price — today a necessity for adult businesses. Its ever-growing team is working both remotely and on-site in their data centers located in Amsterdam, the city of vice.
The GoodFirms team has recently interviewed Dylan Brown, Vicetemple's chief marketing officer. He said: "I spend most of my time creating elaborate marketing plans and strategies to increase our exposure and grow our presence on the Internet. In short, I'm in charge of all the online marketing efforts that the company undertakes."
When asked about the company's beginnings, Dylan commented: "I'm afraid our story isn't nearly as interesting as some may hope. Our team started working on Vicetemple around 2014 when we first realized how hard it is to start a website in the adult industry. Our founders come from a hosting background and had regular contact with potential clients who wanted to start adult websites. We had a pretty good idea about the hosting aspect of starting websites, but we couldn't have imagined how much more there is to running a successful adult site."
He further explained: "When you work in the adult industry, even the simplest things like accepting payments turn into complicated and time-consuming challenges. Credit card companies don't want to offer their services to you, payment processors slap unrealistic fees going up to as much as 25% per transaction, etc. The taboo surrounding sex work is still very much present and we wanted to do something about it.
With insider knowledge from adult industry experts that we onboarded early on, we started working on creating a platform that will welcome all people who want to participate in the adult industry. We wanted to help educate people about the adult industry, tear down old beliefs and taboos about sex work and offer them a way to participate."
"For example, many people still don't quite understand how big the adult industry is. Some estimates claim that up to a third of all websites on the Internet could belong to the adult industry. And while we can't verify that number, it's true that many people underestimate its size. The adult industry is not just porn stars and models, it's also producers, scriptwriters, costume designers, bloggers, social media personalities, and much more. Not to mention that it also covers things like gambling, alcohol, tobacco, and similar products/niches."
Elaborating on the company's services, Dylan stated that Vicetemple's private server solutions have been developed with the core goal of enabling and supporting adult businesses of all types and sizes. That is why Vicetemple's hosting solutions are globally available to help an unlimited number of users and free them from their geological restrictions.
Dylan also mentioned that Vicetemple's servers are backed up on offshore locations in order to provide maximum data protection and integrity, as well as help adult website owners avoid unreasonable local regulations regarding adult content. Due to that reliability, GoodFirms has dubbed Vicetemple one of the leading web hosting companies in the Netherlands.
The following positive GoodFirms review proves the quality of Vicetemple's services.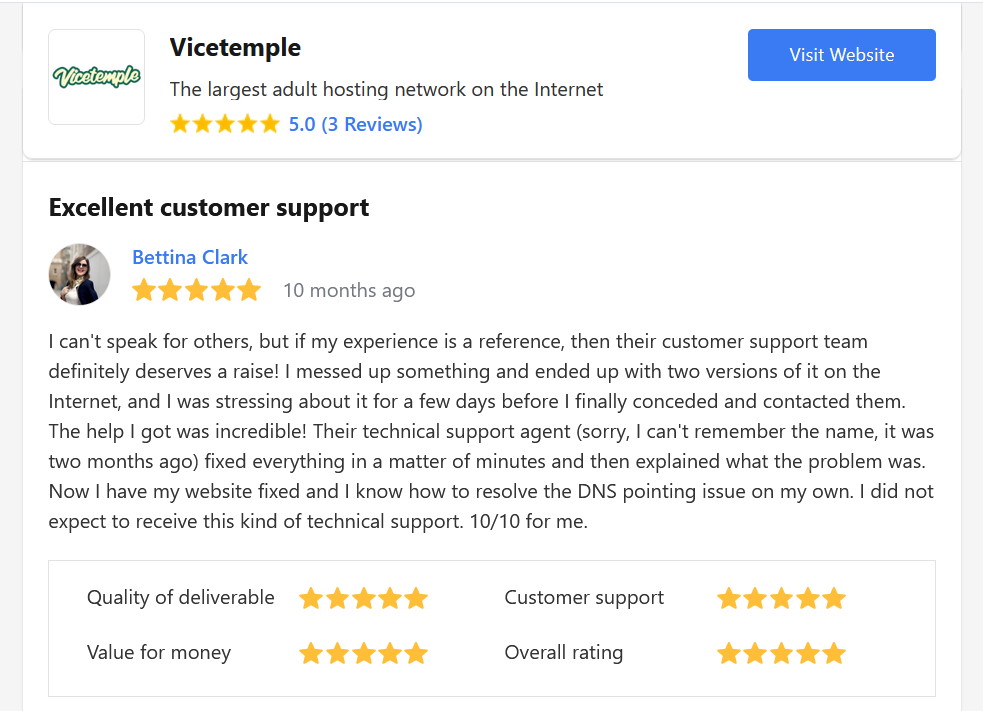 When asked about offering their services through third parties, Dylan stated: "We prefer to do everything in-house as it allows us to set a certain quality standard and ensure that our clients are always happy. However, due to the very nature of the hosting industry and its regulations, we do have to rely on third-party vendors for some services, such as registering domains."
When asked about the company's most popular deals, Dylan said: "Most of our clients approach us because they need hosting services for their websites. In particular, our Princess of Sin plan is a bestseller. Recently, we've started offering adult scripts, such as HubX and RedX, and people are really liking their layouts and features. RedX is quickly becoming one of our bestselling products, despite the fact that it was introduced at the turn of the year."
But Vicetemple hasn't stopped there. Since then, they have released adult WordPress themes and started offering PornX, which doubles as a premade website for people looking to start an adult tube site.
Vicetemple offers a wide range of marketing services, including adult marketing, advertising, and SEO. Their proven track record with clients such as HeavyFetish has helped Vicetemple claim a spot on GoodFirms' list of top digital marketing agencies in the Netherlands.
In addition, Dylan stated: "According to our in-house rating system, the current customer satisfaction rate stands at 92%. When we first launched we had some difficulties keeping our satisfaction rates, so we focused on developing an elaborate customer support system that ensures the satisfaction of our clients."
"For example, we have a policy that says that all customer queries have to be answered within an hour. The issue is either resolved immediately or escalated to level 2 support and given a timeframe for the resolution of their problem. Either way, the client is always informed about what they can expect from us. We believe that transparency and special attention to our clients ensure high customer satisfaction rates and our internal system is proving us right."
Regarding the company's long-term vision, Dylan elaborated: "Vicetemple has already grown into a strong player in the web hosting market, but we believe there is still a long way for us to go in the adult industry. We're always working behind the scenes to offer more products and better services, and right now we're focused on developing more WordPress-based solutions to help people build their websites more easily."
"In the longer term, we plan to spread to markets other than the EU and the US, which are currently our primary focus. In particular, we want to make a strong presence in Asia and transform our company into a global powerhouse in the adult industry."
The full interview can be read here, as published on the GoodFirms website
About GoodFirms
Washington, D.C.-based GoodFirms is an independent B2B research and review company searching for exceptional digital agencies. GoodFirms' extensive research process ranks those companies to boost their online reputation and help those in need of such services find the right tech partner.